Strong Women in Country Songs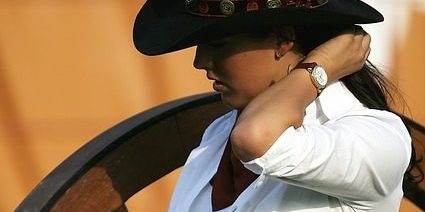 A few months back, the pop culture mavens at Jezebel's The Muse took on women in country music. or the lack thereof, as they've noticed there are slightly less women being played on the radio than there have been in the past.  I started to write about this, and stopped because it didn't seem that important.  But then I saw a PBS piece on the exact same topic recently and what seemed like a nothingburger began to look more like a somethingburger.
Criticizing the number of women in country music, to me seems like walking up to the nicest, friendliest, most welcoming person at a party and kicking 'em in the nads for not offering you a beer quick enough.  Because country music has always been really welcoming to women – lots of prominent female artists, lots of excellent songs, and even a good number of songs written and sung by (gasp!) men that portray women as human beings rather than barefoot-and-boobied pickup truck decor.  Even if things on country radio are a little less female friendly than they have been historically – and it's true, country has been a little bit more good-ol'-boy centric the past couple years – on average, the country music genre is a great place to find strong female voices telling women's stories that in most cases feel a lot more authentic and relatable to me than the glossy, superpackaged grrl power anthems do.
If I was an ungenerous person I'd even go so far as to say it feels like a salvo in the culture wars.  Like Jezebel and PBS are going after country rather than the far more exclusionary and misogynistic genres like rap and metal because they believe country music fans may have possibly voted for Trump or something.
Luckily I'm not an ungenerous person so I'll just consider this a misunderstanding that I'm only to happy too rectify.
Here are seven decades' worth of country songs that'll make ya want to shout yee-haw! and throw off the yoke of patriarchal oppression.
---
Kitty Wells' "It Wasn't God Who Made Honky Tonk Angels" was the first number one song by a female artist on the country charts.  Its subject matter (holding men accountable for sexual peccadilloes and suggesting that "fallen women" may have a story of their own to tell) was so controversial it was banned by many radio stations and the Grand Old Opry till the song became so popular they had no choice but to play it.
Kitty Wells - It Wasn't God Who Made Honky Tonk Angels
---
When Patsy Cline's husband refused to let her pursue a career in music, she divorced him and succeeded anyway, despite the cultural stigma towards divorced women at the time.  She dared to sing about female desire in songs like "I Fall To Pieces" and helped blaze a trail for those who followed her.
Patsy Cline – I Fall To Pieces
---
One thing I love about country music is that it doesn't shy away from taking a hard look at marital relationships.  While there are certainly some country songs that idealize marriage, but there are many many more like "Jackson" by June Carter and Johnny Cash (this video takes a minute to get rolling, but it's cute)
Johnny Cash & June Carter - Jackson
---
Many women have found that the people around them, their partners included, have the expectation that ladies will always be cheerful and perky sunbeams – that female sorrow and anger isn't allowed.  Lynn Anderson dismantles the notion in "I Beg Your Pardon, I Never Promised You A Rose Garden".
Lynn Anderson - I Beg Your Pardon, I Never Promised You A Rose Garden (BBC Top Of The Pops)
---
Loretta Lynn obliterated the stereotype of country women as barefoot and pregnant in her song "The Pill".
---
Tammy Wynette may be associated with standing by her man in most people's minds, but she had a great many other songs that explored the life experiences of women with honesty and depth.  Including "Womanhood", a song about a girl trying to balance her religious beliefs and familial expectations with her sexuality.
---
Dolly Parton is a one-woman wrecking machine – songwriter, country star, pop star, movie star, cultural icon, and a spunky personality to go right along with that.  In "9 to 5" she addressed the challenges women faced in the workforce during the 70's and 80's.
---
Barbara Mandrell was the first person (man or woman) to win the Country Music Association's Entertainer of the Year award twice, in 1980 and 1981.   "I Was Country When Country Wasn't Cool" is her signature song (and my mom's fave).
I Was Country When Country Wasn't Cool - (Duet With George Jones)
---
Hearing the name "Judd" in 2019 conjures up a whole 'nother person, but in 1989 The Judds were a mother-daughter country music duet.  I like "Why Not Me" because it's a great example of a confident woman making a play for a guy she's interested in, without the underlying air of Sadie Hawkins desperation similar songs often have.
---
Some may roll their eyes at Reba McEntire's "Fancy" being a feminist anthem, but I endlessly admire any woman who does what she has to do and uses every weapon in her arsenal to get herself out of a bad situation.
Reba McEntire - Fancy (Official Music Video)
---
Personally I hate this Mary Chapin Carpenter song because I can't stand a quitter (I'm joking, although I do hate this song for reals) but it's certainly what a lot of people think of as being feminist – the good girl who tries hard, the husband who doesn't appreciate her, but "He Thinks He'll Keep Her" anyway.
Mary Chapin Carpenter - "He Thinks He'll Keep Her" Lyrics
---
I cannot think of a single rock song that's about overcoming abuse (share em if you got 'em) but there are several country songs about that very topic, most of them sung by women.  Martina McBride's "Independence Day" is a great one.
Martina McBride - Independence Day (Official Video)
---
There's a whole branch of country music dedicated to celebrating rather than slut shaming women for having a wild streak.  Or in the words of Shania Twain, "Man! I Feel Like A Woman".
Shania Twain - Man! I Feel Like A Woman (Official Music Video)
---
The Dixie Chicks say "Goodbye Earl" in a song that's a both a celebration of female friendship while at the same time pointing a finger (and maybe a couple heaping scoops of rat poison) at abusers.
The Chicks - Goodbye Earl (Official Video)
---
Terri Clark has a fun little song about honesty and unrealistic expectations being a two way street – after all, "Girls Lie Too".
Terri Clark - Girls Lie Too
---
"Suds in the Bucket" is a bittersweet Sara Evans song about girls growing up and choosing their own destiny no matter what kind of future their parents had planned for them.
Sara Evans - Suds In The Bucket (Official Video)
---
Whether you relate to this song personally or not, staying in touch with your roots and celebrating where you come from is an important thing for a lot of women, even a "Redneck Woman" as Gretchen Wilson would tell you.
Gretchen Wilson - Redneck Woman
---
I don't know why but from the first time I heard the Sugarland song "The Incredible Machine" I found it incredibly empowering.  It just speaks to me on some level – women's bodies are such commodities that it was nice to hear a song that didn't reduce a woman's body to just a pile of parts.
Sugarland - Incredible Machine
---
Miranda Lambert sings about intrasexual competition and the many joys of being an unladylike woman with a big ol' potty mouth.  We're just like you, "Only Prettier".
Miranda Lambert - Only Prettier (Official Video)
---
Carrie Underwood's "Blown Away" is another country song dealing with surviving abuse, in this case with a little help from Mother Nature herself.
Carrie Underwood - Blown Away (Official Video)
---
Women suffer from impossible expectations coupled with a desire to make everyone happy.  It can be crazymaking to try and balance all the competing messages we receive.  Kacey Musgraves says just "Follow Your Arrow" instead.
Kacey Musgraves - Follow Your Arrow (Official Music Video)
---
While the "Bitchez Be Crazy" trope is not my fave, I must admit I do like this song by The Band Perry an awful lot.  We hear so much about happily ever afters, it's refreshing to celebrate the alternative.  Sometimes what looks like a handsome prince is really just dead wood.  Time to get out the "Chainsaw."
The Band Perry - Chainsaw
---
We're often told as women we aren't ok unless we're in a relationship.  There's a lot of pressure to jump back into the dating scene before we're ready.  It's kinda nice to think about just taking a break from it all, a "Heart Break" as Lady Antebellum puts it.
Lady Antebellum - Heart Break
---
And last, but certainly not least, Maddie and Tae skewer the cliches about "The Girl In A Country Song".
Maddie & Tae - Girl In A Country Song