Sunday Morning! Rewatching Antonioni
Michelangelo Antonioni was a lion of European art house modernist cinema during an era- primarily the 50s, 60s, and 70s- in which the art house theatre was still a thing, along with the 24-hour diners where you would drink late night black coffees and chew over the films you'd just seen. He's also one of my favorite horror film directors, although I know he's not often taken that way. Nevertheless, many of Antonioni's mid-term movies unnerve me in a way like few others, even as they're basically character studies of exhausted and dissolute middle class people. Let's call them "emotional horror films".
Our recent discussion of setting in stories got me thinking about the end of L'Eclisse, which I still find terrifying for reasons that I can't quite explain. We can get to that in a second: spoilers will follow. But setting is really a central figure in Antonioni's movies. He once said:
"Some filmmakers decide to tell a story and then choose the decor which suits it best. With me, it works the other way around: there's some landscape, some place where I want to shoot, and out of that develops the themes of my film."
A friend recently commented that the conversation on setting made her think that different places have their own character and "it feels like Hamilton is trying to get rid of me these days". Many of Antonioni's settings are that way: they contain people who seem locked off from their surroundings in some way, as if they don't really belong there.
Not always, though. Interestingly, one of Antonioni's first films is a short entitled Gente del Po about the people who work on the Po River and how they interact with their surroundings. It's a lovely film in which he romanticizes the worker in a way fairly typical of neorealism, and what he idealizes is the way the way these people work together with this formidable landscape.
Of course, though, most of Antonioni's films after that aren't really about laborers. Antonioni called himself the black sheep of Italian neorealism for a reason. The neorealists tended to shoot movies about working people in difficult circumstances, staged in real locations often with non-actors in the roles. Partly this was simply because the post-war filmmakers didn't have access to studios, so it was easier to shoot outside. But also their recurrent theme was the alienated relationship between the common individual and the social structure. Antonioni seems more interested in an alienated relationship between the individual and existence-as-such. And his characters were drawn most frequently from his own class, the upper middle class.
At times, his sympathy for the bourgeois can seem a bit ridiculous, given the economic struggles in Italy at the time. A character in Le Amice (The girlfriends, 1955) delivers an ironic line that sounds like a parody of the bourgeois: "If I go to bed late, my face feels all puffy. Life can be so trying." But Antonioni really does take seriously the spiritual pains of these people. This film, an early feature, revolves around a comfortable and accomplished woman who has attempted suicide partly because her "life has been reduced to deciding which dress to wear." The film touches on the typical topics for the comfortable class: their boredom, the over-easy love affairs, spiritual lassitude, etc. What's unnerving, though, is the way Antonioni's characters seem more annoyed that their friend attempted suicide.  She is simply tired of "My friends, my life, my days." It seems more like the type of suicide the sociologist Émile Durkheim called "anomic": a natural response to a society that has turned upside down. It's not clear that she's better off having lived.
L'Aventura (1960) made Antonioni and Monica Vitta international stars and had a profound effect on the language of film. It still feels like one of the first modern films for its languid and ominous tone and the way it subverts everything we expect to happen Here, the Mediterranean and its Aeolian islands play a menacing role at odds with the character's intended vacation. The landscape feels pitiless and it's almost no surprise when one of the wealthy young women goes missing. Before long, it seems as if the characters aren't terribly concerned that their friend has vanished, except for her best friend (played by Vitti) who is, nonetheless, soon in a sexual relationship with the vanished girl's boyfriend. The film evokes a deeper fear than the possibility that we might vanish one day- positing that our friends and lovers might not care if we did. Even more uncomfortably, it suggests people in this milieu, focused on their careers and unhappiness, might not be able to care.
Antonioni's follow up, La Notte (1961) is about a marriage crumbling in Milan. Because it stars Marcello Mastroianni as a novelist attending the parties of the rich and famous, it feels a bit like a Fellini movie, but again we're with people who are busy partying because they're tired of living. Jeanne Moreau plays his wife and there is no better actress at conveying the sense of having too-much-knowledge about life. Monica Vitti, who always seems like she's about to have an orgasm followed by a crying spell, plays the temptress. The marriage slowly comes to an end. The night of the title acts almost like the Mediterranean sea in L'Aventura, threatening to swallow these people who have no moorings to hang onto.
Which brings us to L'Eclisse (1962) and that haunting ending. The film essentially tells of two sophisticated and attractive young people who meet cute and fail to muster up enough emotion to fall in love. "I wish I didn't love you. Or that I loved you much more" Vitti tells Alain Delan's smooth stockbroker Piero. Neither of them seems quite capable of human emotion; when his car is stolen by a drunk who subsequently drives it into the river and drowns, Piero is irritated about the repairs he'll have to pay for. It takes place in a ghostly Rome that seems to be drained of life, except for the Rome Stock Exchange, which is bedlam. The mood is mysterious and dreamlike- David Lynch would get to this place in a few decades.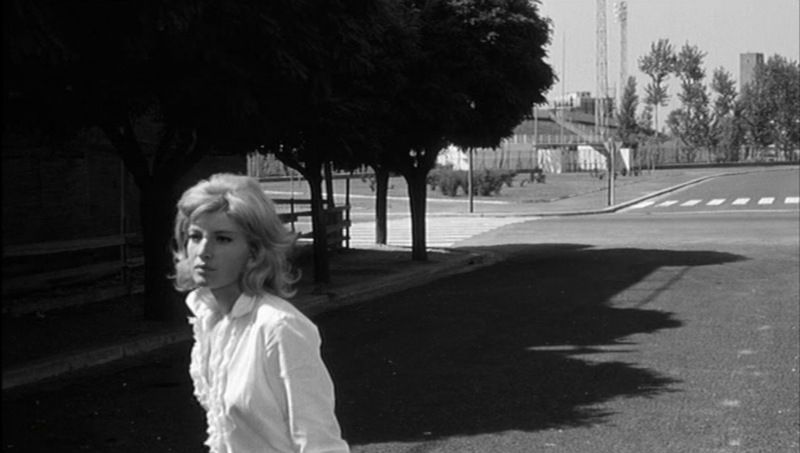 And, then, the couple,  who can't really connect, make plans to meet up and maybe give love another go, but then vanish completely from the film. The last seven minutes is a montage of the streets of Rome at dusk in which Antonioni shows us the setting without the characters. I'm not the only one to have found this ending strangely terrifying in an indescribable way. The closest I can come to an explanation is that the scene is an eerie reminder of the fact that one day the world will be lacking each of us and it will carry on all the same.
If anything, Antonioni's genius lay in making the world seem strange. Red Desert's (1964) industrial landscape might as well be an alien planet in a sci-fi film. Antonioni's awareness of the ways we're making our biosphere a place where we cannot live was ahead of its time. But it's also background noise, a subtext that only becomes text in the final scene in which (Monica Vitti once again) tells her child that the birds avoid the smokestacks because they emit poison. Otherwise, we're in Antonioni territory, with the wife of a successful industrialist  who is trying to keep her tenuous grip on reality through a failed love affair.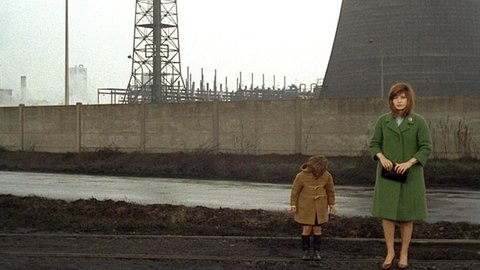 If there's a setting for Identification of a Woman (1982), it's the fog. midsection, in which the characters get lost in a foggy evening is less on-the-nose than it sounds. The sexuality in the film is also more graphic and uncanny than before. His characters have easy sex, but it's as empty as their wealth and everything else around them. Nothing really reaches them. Antonioni is no libertine.
Antonioni's films never really worked when the politics became text. Zabriskie Point (1970 was notoriously a bit of a mess and it's because the stunning visuals are derailed by the confused radicalism. Having the main character imagining an orgy in Death Valley or a luxurious ranch house being blown up in ultra slow motion (to Pink Floyd no less!) is iconic, but what exactly is Antonioni trying to say here? Radicalism never really suited Antonioni- there's something far too conservative in his grief over the death of the feeling intellect and its replacement by an insensate instrumentalism among the sophisticated class.
Antonioni's films occupt the spaces between the "real" world and Eliot's "unreal city". His characters are free from any traditions or loyalties that might ground them. Like the sorcerer's apprentice, they're in a landscape constructed by themselves and people like them. Yet they're no more participants than the audience watching them, and they are just as radically free as a ship at sea with no compass, crew, and no land in sight. They still unsettle me.
So, what are YOU watching, reading, pondering, or playing this Easter Sunday?