A Vigil for Lyra McKee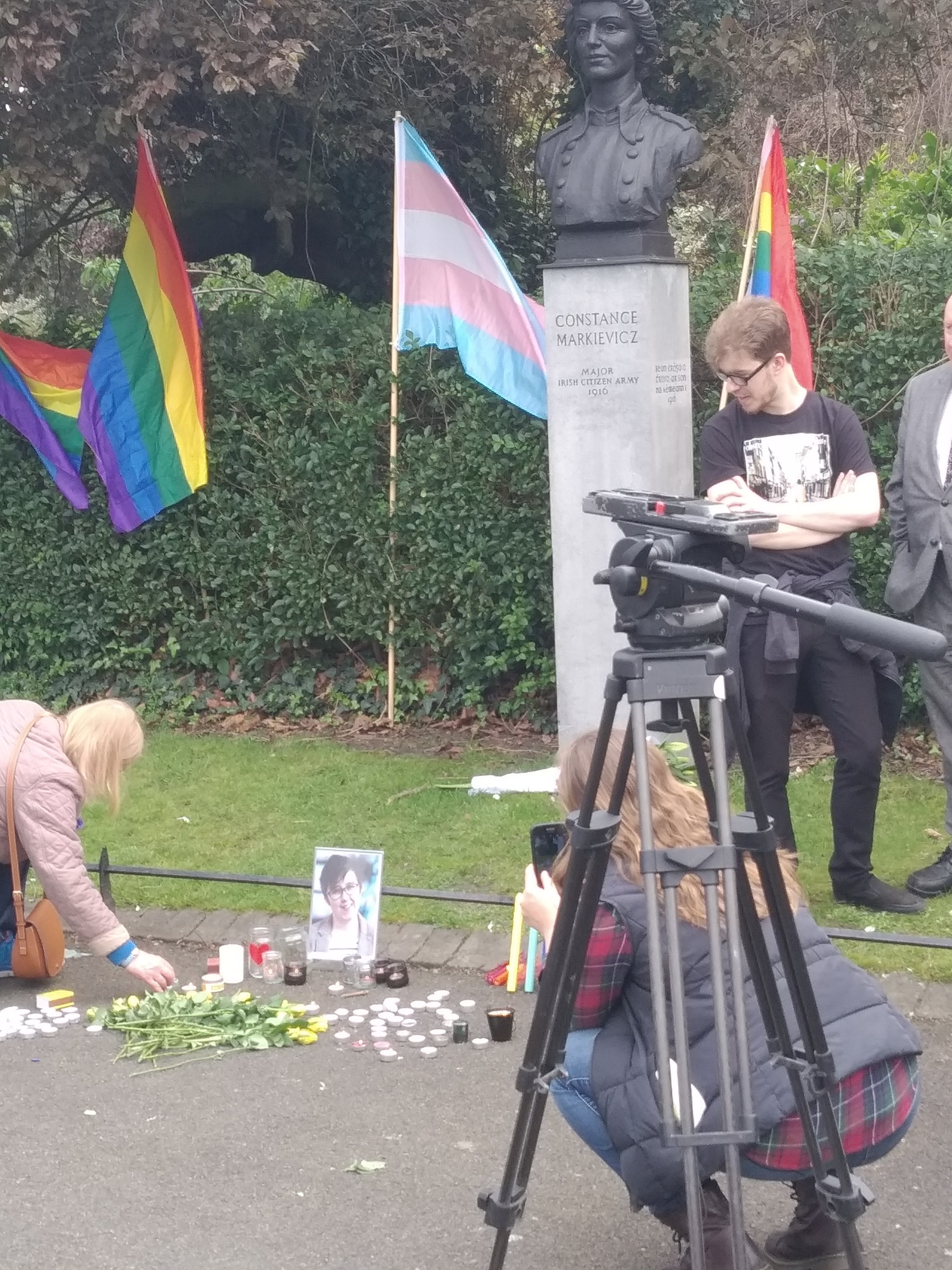 It was late on Holy Thursday in Derry, Northern Ireland. A demonstration organized by the 'Derry 1916 Commemoration Committee' had taken a turn for the worse. Petrol bombs were thrown, igniting vehicles and started blazes that burned through the night. Police struggled with the growing disorder, trying to contain the fury of a protest in a city that had already seen too many spiral into chaos and destruction. A shot was fired into the onlooking crowd, tragically claiming the life of a young journalist, Lyra McKee.
Consider, reader, what date you might put on the above events. It describes a scene that was all too common during The Troubles, an ethno-nationalist and sectarian conflict that ravaged Northern Ireland from the late 1960s to 1998. But this tragedy is much more recent. Lyra McKee was killed on the 18th of April, 2019.
I attended vigil for the late Lyra McKee in St. Stephen's Green in Dublin today. I never had the fortune to meet her, but I wanted to pay my respects and understand what kind of person we had lost. Towards the end of the ceremony, one of the organizers described Lyra's talent as a journalist. Her ability was in chronicling the lives of ordinary people. She would take issues that were polarizing and divisive, and she made them ordinary. Made them problems that normal folks had to deal with, something that she, as a proud member of the LGBT+ community, knew all too well.
Lyra was the personification of Northern Ireland's post-Troubles potential. Her stellar work as journalist made it to the prestigious pages of The Atlantic, where she detailed the plague of youth suicides in Northern Ireland. She advocated passionately for LGBT+ equality, most movingly in a video made for her 14-year old self. She was a young, rising star who worked beyond sectarian divisions. A Northern Ireland with more Lyra McKee's would – and I truly believe will – be a beautiful place indeed.
Lyra's tragic death has a lesson for us all on the precious fragility of peace. Lyra was killed by hatred and intolerance, by a refusal to live and let live, by a thug fighting wars in his head. So much blood has been spilled in this way in Northern Ireland already, contained only recently at great cost. That peace, however uneasy it can seem, is priceless. Preserve it. Defend it. Cherish it.
Lyra's death was senseless. It is an appalling injustice that she is no longer of this world. Those of us who remain have a duty to her, and to all those lost, to keep the peace. Whatever our disagreements and divisions, I can promise you they aren't worth someone's life.
Lyra McKee, rest in peace.