The Immigration Debate is Over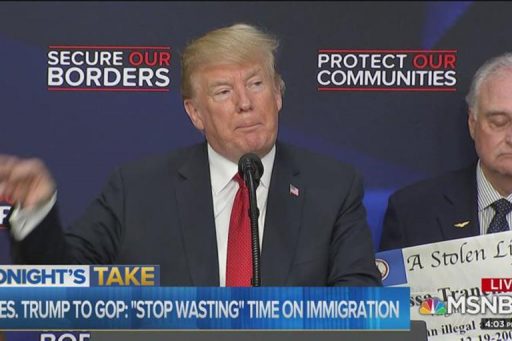 When an immigrant requests asylum at a port of entry, there is no hard rule which determines whether they receive bond, or be held in custody. These proceedings take months and years. Some are released. Some, like Mr Adou Kouadio, or the thousands of children we have in our makeshift for-profit toddler jails, do not. The Trump Administration has defined its immigration policy with the denial of bond to immigrants and asylum seekers and on a marked increase in the prevalence and dollar amounts of cash bond.
And then, as of April 16, 2019, Attorney General Barr directed immigration judges to deny asylum seekers the mere opportunity for a bond hearing. Civil rights groups will challenge the legality of this bizarre and awful directive. Barr intends to further the broader course of Trump's immigration policy, to jail immigrants indefinitely. This is their policy, pitched as an alternative to "catch and release." That term was coined to describe the idea that an immigrant to this country should be permitted a bond, as though someone arriving at a port of entry and seeking asylum was "caught," like a thief, or a murderer. This is despite the fact that immigrants are substantially more law-abiding than the population at large.
Trump has justified these practices by routinely defaming immigrants and asylum seekers. The litany of insults he throws at immigrants, especially black, Hispanic, and mestizo immigrants, is too long to cite. To summarize, he presents a rolling screed. Immigrants and asylum seekers are a population of seedy sexual predators, drug dealers, and otherwise unworthy people. They come from unworthy places. Those unworthy places are unworthy because they are full of unworthy people. They want to come here, and make us unworthy, through cultural miscegenation. Thus, we hold immigrants and asylum seekers in custody, particularly those who enter from South or Central America, as one does with putative criminals. They have committed the conceptua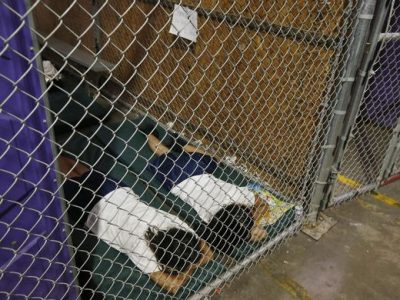 lly criminal act of attempting to become a part of this country. That is their punishment.
So it was initially surprising to see last week that Trump had attempted, unsuccessfully, to order the Department of Homeland Security to "dump" immigrants in major American cities. This is the precise outcome his administration has worked so hard to avoid. Of course, Trump being Trump, he first denied making the strange, unlawful order. And then, Trump being Trump, he turned around moments later to acknowledge that he had done so. Because, sure, why not?
Immigrants on bond live in our communities and cities pending the outcome of their immigration cases. This was how immigration worked. Immigrants, by and large, would live in society. The government needed some actual reason to hold immigrants in jail for extended periods. This is because immigration, of itself, is not a crime. Even illegal entry, of itself, is a civil infraction. Trump's threat, delivered with offhand contempt, was to restore the immigration system to ordinary working order.
To their credit, the mayors who would have to manage the terrifying deluge of overwhelmingly law-abiding people seeking a better life had little patience for this nonsense. People who live and work with naturalized citizen and immigrant communities rarely have patience for the more disgusting flavors of nativist pablum. The thoughtless idiocy and bad faith of Trump's immigrant rants, comically stupid in the abstract, become far less entertaining when one can name the people his administration has elected to torment and abuse.
One could theoretically attempt to draw a logical thread between Trump seeking to "dump" immigrants on New York City. Or it could be one of his legendary jokes. One could also disregard the whole spectacle entirely as episode of a failing mind gone soft, or the profound, self-actualized ignorance of a man with great power and no understanding. But this was no joke, nor an instance of cognitive misfire. This was just racism at its most basic, an expression of thoughtless contempt against a marginalized group.
Every step of the Trump administration's rapidly shrinking chain of command has followed this incoherent logic. Immigrants are deadly dangerous interlopers. They are so utterly suspect they should be denied even the basic right to a bond hearing. We must jail them without exception. But, they are also sufficiently harmless that we can  "dump" them in our cities. Immigrants are both lepers and weapons, dangerous and irrelevant, insidious and safe for the public. They become whatever they need to be to serve the needs of bigotry. Whatever they are, they are not people, not to this administration.
By the logic of Trump, it is largely irrelevant what happens to immigrants. We could incarcerate them, down to the children. We could watch them die in custody. Or we could "dump" them in New York City, where they would receive humanitarian and resettlement assistance. Or, they could tear gas them at the border, or order the National Guards to shoot at them. Trump is on record talking about all of these possibilities. Indifference and contempt are the only connective tissue between these completely divergent outcomes. They only become interchangeable when the welfare of immigrants does not matter.
To the extent this hateful morass can be described as a position, there is no debating with it. The space between immigrants being human beings, and immigrants being inhuman wretches is nothing but air. There is no common ground on which to stand. If the welfare of immigrants means so little that their basic liberty is irrelevant, there is nothing to discuss. The absence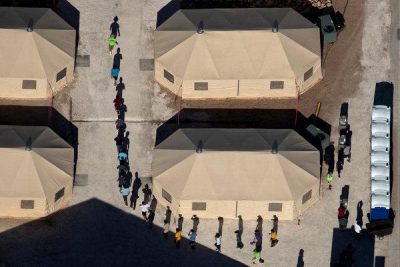 of human dignity is incompatible with a bond hearing.
This is the endpoint of racist nativism, the closest it comes to a logical conclusion. This is also the result of long decades of American history. We have never had a straight position on immigration. We have always exercised racism through immigration policy. Operation Wetback is within living memory. The Chinese Exclusion Act waits in the wings. If you look back far enough in American history, you will find Benjamin Franklin staring back at you. He will warn you that German immigrants are not to be trusted.
It is well past time to stop pretending otherwise and to stop analyzing either Trump's bizarre ranting and his administration's disgusting policies as anything other than what they are. There are children in cages and tent cities — camps, one might say, in which we have concentrated them. We have only begun to reckon with the death toll. We will likely never fully reckon with the psychological harm we have inflicted on those people. There is nothing true in that entire body of bad faith and malfeasance. There is only racist contempt, the ability to inflict suffering, and, above all, the desire to see suffering.
Our courts will likely spare us some of this, theoretically and in the long term. The Attorney General outright forbidding immigration bond hearings seems unlikely to pass constitutional muster. In the interim, though, we will rob thousands of people. We will steal their opportunity to argue for their freedom. Nothing will spare us from the harm that falls in the interim, or the harm that has already fallen. Moreover, nothing will prepare us for what new travesty awaits next week.
In another world, perhaps, there could be an immigration debate. There is certainly space in which reasonable people can disagree as to the particularities of any complex system. But this is not that world. The luxury of such a debate demands ethical and coherent positions from all parties. A debate where one side argues solely through power, incoherently, hatefully, and destructively, is nothing more than an assault. There is no argument with an assault, nor discussion with a crime.