In The Shadow of the Weaponized Rubble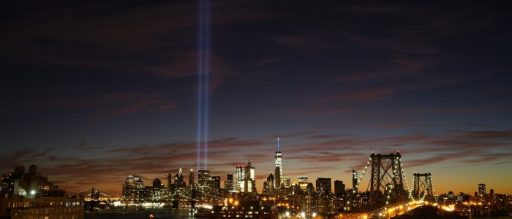 I have never been able to watch the footage.
I have never been able to sit still and observe those colossal aircraft smash into the World Trade Center.  All these years later, my own skin burns watching the towers succumb to ravenous flames. Instantly, I revert back to the frightened 15-year old whose high school cut that day in half; who had to walk miles home past stranded buses and cars; who heard screams and cries of anguish and smelled smoke on her way home to a terrified and uncertain family. I remember looking down at the gravel under my sneakers, one foot after the other, knowing there would be no more balance in life. That is the last memory I have; I honestly do not remember the rest of the day nor the months after it. September 11th changed the course of my life.  It changed who I was on a molecular level. It traumatized me, my family, my city, this country, our chosen home.
And today, that day was weaponized against people like me. I could not finish the video the president of the United States pinned atop his generally hateful Twitter feed. It was harrowing and published with a singular purpose: to take down the outspoken freshman congresswoman from Minnesota, Ilhan Omar and all that she represents.
Let's get this right.
Ilhan Omar represents much more than the 5th district of Minnesota. She is a black woman, an immigrant, a refugee, a Muslim. She embodies all the identities this administration has aimed its deeply prejudiced and discriminatory policies towards. From the moment she leaned into her role as a member of Congress, when she chose to move beyond a smiling, photogenic symbol of America's promised pluralism, she has been a threat to those who would continue to demean African-Americans, immigrants, asylum-seekers and Muslims.
With his tweet, this president has put a target on her covered head, but he knew he had political support. The Republican Party, so adept at otherizing, has been beating the drums all week leading up to this presidential crescendo. Conservatives seized on Omar's recent remarks at a Council of American Islamic Relations (CAIR) event in Los Angeles wherein she stated, "CAIR was founded after 9/11 because they recognized that some people did something and that all of us were starting to lose access to our civil liberties."
It is the underlined they went after, ignoring her intonation and gestures, separating herself from the terrorists. Texas Congressman Dan Crenshaw tweeted "First Member of Congress to ever describe terrorists who killed thousands of Americans on 9/11 as 'some people who did something.' Unbelievable." The Republican National Committee Chair Ronna McDaniel actually characterized Congresswoman Ilhan Omar as "anti-American," going on to say, "Nearly 3,000 Americans lost their lives to Islamic terrorists on 9/11, yet Omar diminishes it as: 'Some people did something.'"
The ecosystem of hate and mischaracterization cannot be complete without mentioning Fox News.  Weekend host Jeanine Pirro, in typical bellicose volume, questioned whether Omar's faith was compatible with the Constitution. The otherizing was in full force.
As I write this, the official White House Facebook page has shared the president's tweeted video. We are witnessing, in real-time, a state-sponsored targeted campaign against a minority congressional representative.
Missing from the manufactured pandemonium is the fact that in her less than three months as a congresswoman, Representative Ilhan Omar has co-sponsored the 9/11 Victim's Compensation Fund. The Fund is running out of money to cover the costs for first responders struggling with illnesses related to their rescue efforts on 9/11.
Missing from the intentional misconstruing of Ilhan Omar as an anti-Semite for critiquing US policy towards Israel is her equally unyeilding assessment of Saudi Arabia, the country from which 15 of the 19 hijackers came, the country which has funded incubators of terrorism all around the world.
Prominent Democrats have condemned the President's attacks, but in the next several days, I along with many others will watch to see which members of the Republican Party follow suit and condemn the President for endangering the life of an elected official. It must be difficult, because this is the party that did not come out full force against the president when he insisted American Muslims celebrated September 11th, or when he implemented the Muslim ban, or when he enacted a policy of separating families at the border, or when he recently mocked asylum-seekers at the US border. It must be difficult to decry the leader of your party when his rhetoric is merely a more brazen example of your party's deliberate obfuscations.
I have sat in rooms full of influential Pakistani politicians and journalists who have had the audacity to politicize 9/11 for their petty political point-scoring, some going so far as to declare those attacks never happened. I could not stay silent and repudiated it as strongly and swiftly as I could. It is in that same spirit I castigate the individuals and systems deployed to exploit 9/11 and endanger the lives of Ilhan Omar and American Muslims.
There exists an undeniable level of corrigendum in several of the congresswoman's statements, but the popular GOP interpretation would cast her as sympathizing more with horrific terrorists than her fellow Americans. The onslaught of intentional fear-mongering against her is underpinned by a history of the GOP's anti-black and anti-Muslim sentiment, and will only lead to an increase to the high danger to her life and the lives of American Muslims.
Congresswoman Ilhan Omar had the grace to take responsibility for how her anti-Israel comments came across and pained others. The president has knowingly fanned the flames against Muslims and there is no reason to believe he or most of the Republican Party will similarly reflect and find another way to address that fact and seek a path rooted in unity as Americans.
Today in Washington, DC, I walked with my head down, placing one foot after the other, wondering how we get to a balance.