Why I Actually Do Care About Trump's Tax Returns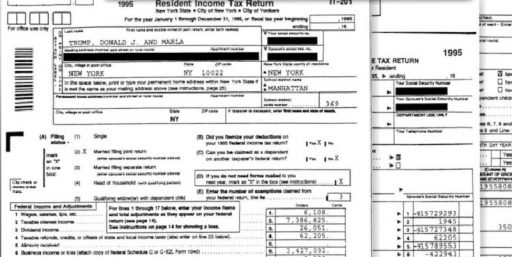 President Trump objects to a legal request recently issued by the House of Representatives to the IRS for his recent tax returns. He has no personal legal obligation to do this, and he and his spokespeople say people don't care about them. But that doesn't seem to be the case; polling indicates that a very large majority of Americans in fact do want Trump to release his returns.
Historically, there have been times Presidential tax returns have raised eyebrows. But I don't expect to actually learn any new big-picture news in those returns that will significantly alter my opinion of Trump. I fully expect to see evidence of a lot of shady dealings with a lot of shady characters. Stuff that would have brought down any other President. Of course, his supporters will dismiss or excuse it, and most of it will become the stuff of desultory partisan wrangling. If there's something more explosive than that in there, okay, but I doubt it.
The issue is one of candor and tradition. Veracity has been in short supply since the beginning of this administration. Trump's tax returns are a symbol of this.
For one, Trump claims he ought not release his returns because he's under audit. This may or may not be true in the first place, but even if it is, I at least am pretty sanguine about pre-audit returns and what they mean. A good-faith tax return for a businessman sitting atop a complex network of assets and entities is going to be a complex document. It's going to be carefully crafted by lawyers and subject matter experts. It will conform to existing incentives baked in to the Internal Revenue Code so as to put the best available argument on the available evidence to minimize the financial obligations of the taxpayer. It may not be the ultimately-correct application of the facts to the law, but I don't hold it against someone for arguing something that plausibly might be true.
A tax return does not give us a complete picture of the economic strength of a taxpayer. Assuming the return is truthful (however Byzantine the mechanism by which that truth is declared) it gives us a picture of some-to-most of the economic activity that taxpayer was involved in the previous year. For most of us, it discloses wages earned, taxes withheld, and deductible expenses incurred. It does not disclose the capital value of assets held by the taxpayer unless those assets are sold, and even then not always. Trump might lose money operating an office building or a hotel, but still realize a net gain by way of the property's appreciation of unreportable resale value. So the tax returns aren't going to answer the question "Is Trump really as wealthy as he claims to be?"
If they're just a symbol that aren't going to actually illuminate anything, then why put much care into them? Symbols matter in politics. After all, the President is fighting to build a wall on the Mexican border which few subject matter experts believe will actually do anything about regulating entry into the U.S. in any meaningful way — since most entries, both legal and illegal, of people and of product, occur at recognized ports of entry. But the wall is a massive symbolic gesture, one which matters to both sides of contemporary politics, one which matters to the rest of the world.
Presidential tax returns were first made into a political chit by Harry Truman, who released them to demonstrate that he was an honest man who lived off of his comfortable but not massively extravagant government salaries. Truman used the release politically, to argue that like the vast majority of voters, he paid his fair share. And it told Americans that Truman wasn't doing anything to sell his office; he was not taking bribes or engaging in personal financial dealings that capitalized upon the power and public trust he held. Did it definitely prove those things? No, of course not – but it did symbolize that he was ready to defend himself against any such accusations.
The release of returns has become a tradition since then, an assurance made by a politician to the public that the politician possesses a measure of integrity, honesty, and commonality with the rest of us.
Trump, of course, does not seem to believe he needs to demonstrate any of these things and perhaps from his perspective, he feels he's been proven right. He refused to release his returns during his campaign and won anyway. His supporters seem to want to hear about his great wealth and luxurious lifestyle even if they do not partake of it themselves, at least judging by the general reaction to Trump at his rallies (which admittedly might be somewhat scripted and filtered for media consumption) and Trump's fairly consistent political-survival-level approval ratings.
Traditions don't have to last, of course; they can and sometimes should change with the times. Presidents no longer wear top hats to their inaugurations; so it need not be carved into stone that Presidents share their tax returns with the public.
As we confront traditions and norms, it is good to ask why we value them. When we, as a culture, recently confronted the question of same-sex marriage, we had to ask ourselves why we valued marriage in the first place, what marriage stood for, and whether it made sense in light of those values to reserve it to mixed-sex couples. We found (not unanimously) that most of the plausible reasons for marriage seemed to apply to same-sex couples as well and for the most part we are coming around to accepting the cultural dimensions of the legal change in our marriage laws.
The tradition of Presidential disclosure of tax returns should be viewed with a similar process. Why do we care that Presidents do this? Does that reason still apply in our current circumstances? As I've argued above, I believe that tax return release is a symbol of the President being candid with the public. It is a pledge to the voters that the President is an honest and lawful person, someone worthy of trust. Do we care that the President possess that sort of integrity these days? Do we care if the President is profiting off of the holding of high public office even while he holds that office?
I submit the answer is "yes," and that is why we should care that the President releases his tax returns, even now, and why it should matter that he resists inquiry into them. When the President sends a signal that he does not want us inquiring into the honesty and lawfulness of his personal financial dealings, it symbolically says to the public that the President considers himself above the law.
Let the record reflect: I would prefer that the President's tax returns demonstrate no more shenanigans than aggressive but colorable arguments about characterizing a variety of business transactions as deductible or exempt from taxation. I would gladly give up the political argument in 2020 that the President is a crook in exchange for an assurance in 2019 that he is not.
I just don't have much hope that's how things will turn out. Still, I'd rather know than not know.