The Signals and Noise of Virtue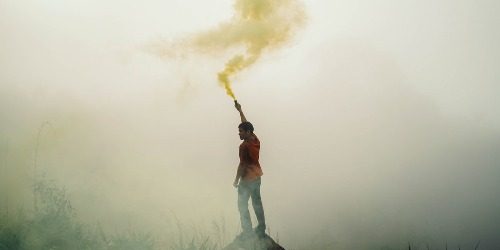 "Whilst shame keeps its watch, virtue is not wholly extinguished in the heart; nor will moderation be utterly exiled from the minds of tyrants." – Edmund Burke[1]
The Conservative Movement has long been enamored of what Peter Berger and John Neuhaus called "mediating structures," which they defined as "those institutions that stand between the private world of individuals and the large, impersonal structures of modern society,"[2] and which are essentially what was meant by Edmund Burke when he made reference to the "subdivision" and the "little platoon."[3] The basic idea is that these mostly voluntary structures—whether they're provided by a social club, a religious institution, or, at the most basic level, an extended family—take on functions which in their absence might become the province of government.  Some of those functions might include conflict mediation, charitable giving, or moral and pedagogical instruction. If people can resolve their problems, if they can get help, or otherwise achieve their ends within the bounds of these organizations and groups, it is less likely they will call on the government to enter and occupy that space in their lives.  Otherwise, where it becomes necessary to make demands on the state, these institutions serve as aggregatory bodies, concentrating the popular will in lobbying for change.
The beauty of these mediating structures is that though they "create statutes, elect officers, debate, vote courses of action, and otherwise serve as schools for democracy,"[4] they arise out of purely voluntary associations and possess no more overt power over their members than that which is granted by the leveraging influence of social pressures from peers and communities.  This all-important quality of social pressure, and the strength of community norms in influencing the behavior of individuals, providing for those in need, and resolving disputes without the need for the intervention of government, has been the focus of much of the Populist Right's panic over declining communities and social atomization.  It also has spurred the Religious Right's concerns about the effects to be observed on the character of our society when religion is driven from the public square.  While Conservatives have long warned of the decline of civility, the shrinking number and influence of these mediating structures and the commensurate damage to the health of our body politic occasioned by their destruction, the content of modern Conservative rhetoric may only be accelerating this decay.
This is so because a remarkable, and mostly negative, change has begun to reshape political dialogue in the Western World of late. The revival of right-wing populism and nationalism has rattled the Overton Window—the metaphorical frame delineating the bounds of acceptable discourse—and in places nearly demolished the wall into which it was set. Across that undefended border of our national debates has run all manner of unsavory character from the outer darkness of political philosophy, from racists to crypto-fascists, and even the odd monarchist or theocrat. They're not sending their best.
Not content to learn the language and assimilate, these interlopers have brought along their own special argot of buzzwords and political patois, giving name to new phenomena, like "incels," "proud boys," and the "alt-right" (their favored endonym), as well as providing terms with no place in polite discussion. These new additions to our national vocabulary serve as both an identifying cant among these new arrivals to our politics and, to interested observers, a kind of entomological taxonomy, helping us put a name to what things have lately crawled from beneath which rocks.
With the ascent of Donald Trump, some of these terms have garnered wider usage in the Conservative Movement. Perhaps most troubling among this profusion of new lexemes is that which names a practice called "virtue signaling." Coined, it is claimed, in 2015 by British journalist and Brexiteer James Bartholomew[5], this intransitive construction describes the practice of making statements that accord with the prevailing ethos of the day for the purpose of costlessly indicating to one's peers how much in agreement with those mores (and thus how "virtuous") one is.
The sense is generally something akin to the "humble brag," or the term "slacktivism," which emerged earlier in the decade to indicate any activity that was undertaken for a socially favored cause, but which demanded very little real effort and accordingly had very little real effect, though one might consider his conscience assuaged for at least having signaled his support. This was all well and good, but virtue signaling has not been confined to tagging only those who made dilettantish gestures towards the support of a socially popular cause.  Instead, in the hands of the Alt-Right, the term went from an expression of annoyance at popular shibboleths and ego-polishing to a full-bore attack on the actual virtues underlying our conception of public decency.
Like "political correctness," across social media and the internet comment sections, virtue signaling has become a term of abuse, the retort of choice for xenophobes and worse when confronted with moral condemnation for their grotesque views. Their implication is clear: it's not that you're really opposed to racism/sexism/xenophobia, it's that you wish to appear to be the sort of person who is, because that's become the socially favored position. This exemplifies how attacks on norm enforcement become attacks on the norm itself.
Meanwhile, a twin phenomenon, which may be called "vice signaling," has arisen to provide those dissenting from the common weal of moral thought a means of putting on their own displays to their peers.  Disclaiming political correctness, advertising a willingness to tell "hard truths," saying "what everyone is thinking," and "triggering" your opponents all communicate to a certain class of individual a courageous unwillingness to be cowed by popular pressures into abandoning "truth." This, of course, pays its own dividends in the adulation of a person's peers if they are of the sort who find the message attractive.  Almost uniformly, however, the message here is a profoundly anti-social and immoral one, embracing racism, xenophobia, and an admiration for violence and authoritarian brutality.  Nevertheless, a veritable cottage industry has sprung up around the purveyance of such messaging, offering vice signalers the possibility of a devoted following as a media figure, and even, when they take to the campaign trail, the chance to occupy our nation's highest offices.
Here we see the profound danger inherent in the condemnation of virtue signaling: the most powerful means of signaling virtue is behaving virtuously and you cannot wholly condemn the signal without condemning what it signifies. "Signaling," a term borrowed originally from biology, connotes a kind of demonstrative communication, as when wolves howl, peacocks fan their tails, etc. As human beings are social creatures with the gift of speech, we do a great deal of this sort of thing with words, and one of its more important functions for us is the maintenance of our social and ethical mores.
We long ago determined that telling people to stop behaving badly was a far better alternative to force majeure, when the latter could be avoided, and so signaling about virtue—both by condemning bad behavior, and by demonstrating good behavior—has always played an important role in the survival of those practices we consider virtuous.  A lot of this work is done by our "little platoons." Discarding the pressure of social conformity, the threat of ostracism, and the reinforcing influence of cultural messaging about morality, not only disarms mediating social structures, it leaves society at large few means short of the intervention of the state for enforcing its mores and standards. Conservatives cannot simultaneously demand a return of these institutions while stripping them of the tools that made them effective.
Moreover, the contrary phenomenon of vice signaling shows that the temptation to communicate one's beliefs and values, whether for good or ill, is an ingrained human tendency that no society—least of all one premised, as ours is, on political deliberation and the free exchange of ideas—can expunge entirely.  Indeed, even setting our flag-hugging, Bible-signing President aside, the Right has very little objection to virtue signaling. The Conservative movement has always been, at least nominally, concerned with the state of moral messaging in our society, whether in media or popular culture.  Instead, what most really mean when they deride virtue signaling is "I don't think <this particular virtue> is worth defending." That's potentially fine. Maybe society has come to view certain things as virtues which are in fact vices, but moral messaging is best done forthrightly and discouraging discussion of virtue and condemnation of vice does more to undermine the maintenance of social virtue in general than it does to suggest changes to what society considers virtuous. There's a difference between offering alternatives and just making noise.
---
[1] Edmund Burke, Reflections on the Revolution in France (1790), at ⁋ 202.
[2] Peter Berger & John Neuhaus, To Empower People: from State to Civil Society (2nd Ed.) (1996), at 148.
[3] Burke, supra note 1, at ⁋75.
[4] Berger & Neuhaus, supra note 2, at 194.
[5] Bartholomew, James. "The Awful Rise of 'Virtue Signalling'." The Spectator, 18 Apr. 2015, www.spectator.co.uk/2015/04/hating-the-daily-mail-is-a-substitute-for-doing-good/.