How I Survived Betomania…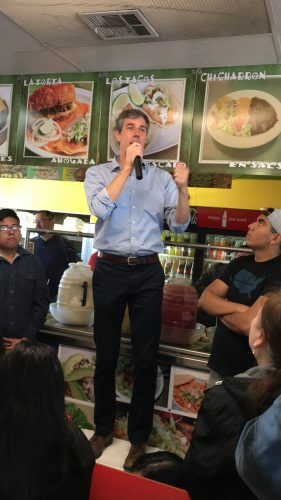 It may appear infrequent for a conservative to attend a campaign rally for a Democratic primary candidate for president. Nevertheless, my acquiescence toward media confirmation bias keeps me determined to seek out the truth on my own. Hence on Sunday while the world waited with bated breath for AG Barr to reveal a summary on the Mueller Report, I spent the early morning driving across the Vegas valley to attend Beto O'Rourke's rally at Taqueria Arandas. This place is in one of the oldest neighborhoods of Vegas, and naturally, I reside on the opposite side of the earth so I had to hustle in order to beat morning traffic.
After steering past numerous construction zones inside the spaghetti bowl, a smile flashed across my face, similar to a sixth-grader ready to cherry drop from the monkey bars on the school playground. I felt like a pro, zigzagging through rush-hour congestion, determined not to miss Betomania. Honestly, what is the fuss over a gangly, skateboarding, punk rocker of the Democratic Party? I decided to discover the draw for myself.
By the time I arrived at the restaurant that with a ketchup-colored rooftop and a mustard-colored body, the entire block diffused an enchanting aroma of fresh el pastor meat from one of the taco trucks parked across the street. I love Mexican Food. Although disappointed that I couldn't exit my car to purchase one with fresh pineapple and sprinkled cilantro, I searched for a parking spot or at least a handicapped one so I wouldn't have to walk a long distance.
No such luck.
Since cars were being towed at Coyotes mini-mart next door, to avoid any mishap I parked across the street next to a motor home in a vacant lot opposite of the Walgreens. I snatched my charged-up iphone, arm crutch, and my canvas backpack then trekked toward the crosswalk on Nellis and Lake Mead. At the light, I received a few odd glances from a group of people but I wasn't sure if it was because of my hobbling or my Adidas workout attire. Doesn't anyone go to the gym on a Sunday?
The thought left my mind once I met a Trump supporter wearing a red MAGA hat and holding up a neon green sign. "Now showing Beto O'Rourke, giant arm and hand movements." Obviously, I had found the right place, and I must admit, I laughed out loud- I couldn't help it. Some Beto supporters in line didn't appreciate my jovial moment so, I decided to suppress my chuckling for the duration of the rally.
I stood in the back of a snaking line that curved and coiled around the restaurant for about fifteen minutes before it slid forward. A youthful crowd lined up behind me in their Beto T-shirts in black and white, red and vibrant blue, and some even said, 'Beto For Texas,' while a few peddlers on the street sold buttons.
In spite of the chilly breeze, the morning sun raised the temperature on the ground about ten degrees along with that aroma of fresh tacos. I became uncomfortable. I couldn't eat, and it's not easy for me to stand for long periods of time. Thanks to my Swiss cheese brain, the nerves attached to my leg muscles tend to quake a bit. I leaned on my arm crutch or support while scanning the street for activity.
No sooner, a young man old enough to be my child, wearing a navy suit and polka dotted dress shirt that resembled a flashback to the 80s appeared in front of the street. I wondered if he was associated with the campaign. "No, I am just helping out some friends." Oh, okay. He asked who I was so I said that I was doing a write up on O'Rourke's visit. "Oh, let me get Taylor for you." Within seconds, he and his I love the 80s navy attire vanished into the crowd. As the line continued to move, a young lady approached me. "Hi, I am Taylor, follow me, please?"
Being the obedient little worker bee that I am, I did what I was told and entered the restaurant through a side door. Inside, the local and national press corps packed like sardines on top of one another, setting up their cameras, tripods, while positioning themselves to get the first picture of the El Paso boy wonder driving up in his silver Dodge Caravan rent-a-car.
Nicknames. It's a thing of mine, nothing personal.
With my legs feeling like toothpicks and ready to snap, I took the liberty of leaning against one of the Formica orange colored booths. To distract myself from the instant claustrophobia, my eyes spied a gold filigree Fleur-de-Lis styled cross hanging on the brick wall above the Rowe AMI jukebox, and a magenta-colored sign featuring a day of the dead skeleton's head in a dusky fedora with a baby blue sash, and tacos stuffed with piglets. 'Tacos de Puerco.'
El pastor Tacos again.
As the Associated Press and other media outlets snapped photos of the selected crowd, I met an interesting, middle-aged man sitting with his wife in the booth next to me. Marvin Guigui (pronounced as oui-oui) was to give the opening statement in Spanish to welcome Beto to Vegas. Within seconds, a box of Mexican pastries made its way through the crowd and landed right in front of me. Oh, Lord, rainbow-colored pan dulce, and I'm on a diet. Rats. "Want some?" the little boy asked me. "No thank you," I said with a tinge of hesitation to my voice.
To distract myself from pangs of hunger, I locked onto a fire engine red-colored ice cooler positioned in the front of the restaurant. I laughed again. Was Beto planning to stand on top of this thing? This seems to be his modus operandi. The man is six-feet-four or close to it; why does he need to stand on top of a water cooler? I glanced at my watch.
Beto was late.
"Would you like to sit down," asked a nice gentleman in the opposite booth. Boy, I wanted to but if I moved from my position, I may not get a photo of Beto entering through the door. "No, thank you, I'm fine," I lied. A few moments later, I received six text messages from a few friends. "What are you doing in East Las Vegas?" asked one. "Hey, Why are you at the Beto rally?" asked another. Now, I remember posting my location on facebook just in case if a certain relative of mine didn't know where I was but I did not expect for anyone to know that was O' Rourke's rally. "No, I saw you on TV."
Say what?
Turns out local Fox 5's live feed had my gray roots on display for the entire world to see. Damn. Make a mental note to see Eva ASAP. At least my fingernails were polished, long, and pretty for the camera. I quickly shot off a few text pics to let people know, "Ah, yeah, I'm working." Yet most of my conservative friends, who would never even think of voting for O'Rourke, couldn't help but ask, "So how is it? What did he say, anything good? Did you ask him a question?" I shot off another text replying, "You can read it later." In a text from my liberal child, living in Malibu she responded kind of non-plussed. "He's remarkably handsome for a politician. But I can honestly say, so far, I don't like most of the candidates in this election, and my vote so far is for Warren in the primaries."
Elizabeth Warren, the voice that grates like nails on a chalkboard Warren?
I bit down on my fist. Be nice, it is Lent so, be gracious, kind and considerate. Yet I had to let it sink in. My daughter was voting for Warren. Yuck. I am not an Elizabeth Warren supporter and my daughter knows it. To me she is Eunice Burns from the movie, What's Up Doc. If you haven't seen it, do so it's Peter Bogdanovich's best flick, and the late Madeline Kahn's first film. My mind started engaging in mental gymnastics. Minus the Marlo Thomas' style, carrot-top colored That Girl wig, Warren fits Eunice Burns to a tee.
With O'Rourke late, it's easy to become distracted with other things like envisioning the dinner table scene where Ryan O'Neal hunkers underneath the table with Barbra Streisand, Austin Pendleton, Randy Quaid, the late John Byner, and for some unknown and strange reason a young John Podhoretz popped into my visual, meditating over whether to let Warren or Babs, two over the top opinionated liberals, dine with him at the same table. I don't know why but he just popped in there.
The life of a writer, go figure.
I see Warren ever so vividly dressed in that poufy 70s powder blue chiffon dress, screaming her head off like a dying cow. "Who is that dangerously, unbalanced woman?" asks Austin Pendleton's character. "John, John, tell them who I am. I insist that you right now tell them who I am." John looks at her for the longest time as Babs whistles under the table then he states, "I've never saw her before in my life." Sorry, for that brief intermission, it just popped in there.
But back to Betomania…
Inside of the restaurant there had to be at least fifty in the press corps. So, how many people did they expect to show? I asked several in the campaign and still couldn't get a straight answer. One stated that the turnout "was more than they expected." While there was a high overflow of people outside, inside it was fairly small. On Facebook, the attendance level of interest was to be 572; by Saturday 172 were signed up. I did hear that later that O'Rourke had another rally planned after Arandas' that tripled the size compared to the Taco Shop. There were pics of him surrounded by a crowd of people while technically bouncing on top of the roof of his rent-a-car, so I suppose standing on top of a red ice cooler isn't as interesting?
Hope he's insured.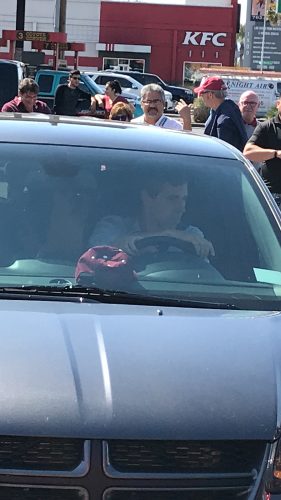 After four booming microphone checks, finally O'Rourke pulls up in the silver Dodge Caravan. And he's driving it himself. I must admit, I did not expect that. The last presidential rally I attended had secret service SUVs flooding the street as if it were a funeral procession. This felt like the local high school teacher arrived for a school pep rally. According to a few of his fans from El Paso in attendance, this was Beto's thing driving cross-country.
After waving at the onlookers engulfing the curb of the restaurant, he went to the front of the crowd and thanked everyone for coming. The press immediately turned around to snap pics through the windows of Beto with the microphone in his hand. I did too. After a condensed speech, O'Rourke entered the restaurant to chants of "Beto, Beto, Beto." I didn't chant but my stomach did. I reminded myself again to buy one of their tacos after O'Rourke finished.
Although he didn't kiss any babies, he hugged several little kids. So many kids were in line to meet him from the ages of four to eighteen. It was quite endearing to watch. I enjoy seeing little children's eyes light up in wonder after meeting someone that could be president.
After the chanting for him subdued, Marvin Guigui gave his heartfelt speech in Spanish. "We are the family Guigui, we want to say thank you very much for everybody to come here and support ex-Congressman and now a candidate to be president of the United States, Mr. Beto O'Rourke."
To which O'Rourke replied in Spanish, thanking the family, and Arandas for the welcome on this important moment, and recited his detailed vision for America. "If anyone wants immigration reform, climate change, and to make the country better because we try to make everybody live with dignity and respect for all."
Although he mentioned the president by name at least four times, mostly surrounding the tariff wars, and children separated at the border, he did not bash any republicans. I appreciated that, but sadly, I did not hear anything that would swing a NeverTrump voter towards Betomania.
O'Rourke while mentioning his road trip in Wisconsin, plans to court union workers, and farmers in the Midwest. Clearly, he's vying for Bernie Sanders millennial voters and he just might get it. In 2016, Sanders promised Millennials everything under the sun from free-college, healthcare, jobs, and union work. Now the wanna-be-Tony Hawk skateboarder is doing the same but identifies more with the high school student struggling to go to college, and the star-struck fourteen-year-old that thinks he's "dreamy," and wishes she could vote for him at sixteen.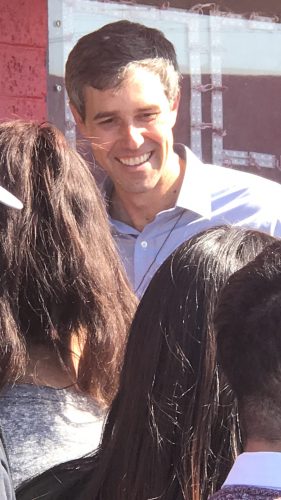 This should be a no brainer for the Sanders campaign: Bernie=old. Beto=young. He is the high school science teacher that lights a spark for every teenager's Bunsen burner. If it's any indication to the amount of teens and twenty-year-olds at the Taqueria, he plans a vigorous campaign in courting them. Unlike Sanders, O'Rourke vows to support whoever is the Democrat candidate because for him, "its about beating Donald Trump." For Sanders, it's always about Sanders. He is the left's Donald Trump, and it amazes me that so many haven't seen the parallels yet. But what do I know? I'm just a conservative writer spending her Sunday morning starving inside a local Taqueria chasing Betomania.
Still not feeling it.
As the microphone got passed around, the questions, although fluent, felt pre-selected. The first question was from a gentle, blonde fourth grader named Ruby Becker, asking about putting an end to gun violence. Now to be fair, here in Vegas, many children are still suffering from PTSD after the Route 91 mass shooting, so her question is understandable. But it still felt over-seasoned for the press. "I want to know how will you make schools safer with gun safety?" Beto responded by telling a story about his eight-year-old son Henry, and his teacher who Beto quips, "is probably working a second job because we do not pay our educators a living wage, who chances are has pulled eight hundred bucks out of her own pocket."
Shrug. Talk about veering off course, here…
He then explained that most teachers in Texas wind up paying for hot meals for their students, classroom decorations, supplies, etc. Important issues for the crowd, but that wasn't Ruby's question. He's getting back to the gun safety answer, or his son Henry, anytime now right? Not for another two minutes. Politicians are notorious for leading you down a primrose path before quietly responding to a cultural wedge issue. Guns in Nevada are a hot button. I own and have a CCW and lost a friend in the shooting, so this topic was important to me. Not once does O'Rourke mention banning bump stocks after our shooting, but goes for gusto about removing AR-15s. This is truly a liberal left's dream scenario.
But back to Betomania…
He finally returns to the story about when Henry and his classmates were told to get inside a closet for an active shooter drill, "to prepare them for what many feel is inevitable," says O'Rourke. How unfortunate that this is where our country is now. I can still recall as a child climbing under my desk for earthquake drills but this? No child should have to endure such terror inside a classroom. I do agree with him there, but we have a fundamental difference in the solution. "I say preventable because either this is our lot in life and our fate, there's something inherently violent and deadly and evil about being an American, or this is a human cause problem with a human solution," he says.
Whoa.
Those comments got my attention and the crowd. "You asked, what do we do?" Yes, Ruby asked four minutes ago. O'Rourke motions to the crowd with his hands and says without hesitation, "Universal background checks, that is without exception, for every American that buys a firearm, and ensuring that weapons designed for war and the battlefield, weapons designed for the purpose of killing people as effectively, and efficiently, a greater number as possible, stay on the battlefield are not sold into our community."
Yeah, that will not work with independents, center-right and the second amendment absolutists here in Nevada.
But this is clearly a liberal pipe dream because if this speech gets replayed in Nevada, O'Rourke wouldn't carry a tenth of the state. "That will make us safer, and that will ensure that we can protect more lives," and then with a grin, Beto looks down at Ruby and says, "and then you can focus on learning, on getting ahead and that teacher can focus on you going forward."
This is why I deduced earlier that this may be a peppered question that attempts to kill two birds with one stone, I guess?
Another example, a former high school student from El Paso that just happens to be living in Vegas now asks Beto about student debt. Scrunching my lips together as if I were Laura Holt from Remington Steele, my left vs. right side of my brain attempted to decipher if this is a genuine moment.
Beto says, less than five feet in front of me, "Great question, in our hometown of El Paso we are now investing in early college high schools. You can graduate at 18 years-old, not just with a diploma, but an associates degree under your belt, taking on no debt, not a dime, added to the one point five trillion dollars in outstanding student loan debt that our fellow Americans many of you in this room that are carrying on their backs right now."
O'Rourke advocates for every American to attend community college, at a public university, publicly financed, debt free. Bernie Sanders has some hefty competition here in Nevada because the teen crowd loved that answer, and are fawning all over O'Rourke
O'Rourke prattles forth, this time about the greatest generation surviving during the Great Depression, and World War II. He paints with a broad brush that Americans need to return to the traditions of blue-collar Roosevelt, democrats, emphasizing the importance of having trade skills.
"Investing in each other and building to organize, and use our leverage in the workplace to ensure that we not only have better wages, and working conditions but that we are trained for the skills today and for tomorrow insuring, that we are college ready and career ready," says O'Rourke "So that at 18 years old, you can join a union, enter an apprenticeship, have a trade and a skill that will make you competitive for your life, being able to work where you live. Nevada is now a leader in insisting that at least 15% of the infrastructure and public works jobs that are created that five percent of those are first-year apprenticeships."
What is Bernie's slogan again besides being just a crotchety old man, giving away free stuff to college students, and taking on the unions to be president? Let's be honest, this message doesn't work well for a man approaching eighty, and it may not even work for Biden. O'Rourke, already likened to Bobby Kennedy by his own party, doesn't help Sanders or Harris break out with an image of their own with Millennials. But time will tell in the next few months. I still say this is Biden's race to lose, and the rest of the pack is vying for his VP slot.
Not to be nit-picky here but except for the pearly-white smile, I just don't see O'Rourke as Bobby Kennedy. Every time I glance at Beto's charming, ski-sloped nose and boyish grin, he reminds me of a Japanese anime drawing from a Ranking Bass cartoon, whereas Bernie Sanders comes off as too intense, almost brooding, like Larry David in a pissed off mood. O'Rourke mimics a high school teacher that energizes his classroom before a pop quiz. Neither, in my opinion, acts presidential. However, to be fair, I did not attend Sanders' rally the weekend before. It was St Patrick's Day, and an Irish girl needs her shot of Jameson's for Irish car bombs, and corned beef and cabbage. So the old man loses.
But back to Betomania…
A person asks about child separation in the border detention facilities, and this I would say is O'Rourke's most passionate answer. With his voice now gravelly and strained, his response electrifies the crowd inside and outside. "Though we would like to lay the blame for this at the feet of the president, who deserves much of it, in a democracy where the people are the government, and the government are the people, for as long as these conditions persist, for as long as those kids remain separated from their parents, it is on every single one of us. So, not only must we follow our own asylum laws, and be there for those that have no other home to go to, who pose no threat to this country, in fact, contribute far more than they're ever able to take, from America." After a long pause for applause, he continued. "I want to make sure that we completely rewrite our own immigration laws in our own image. In the image of Las Vegas, in the Image of El Paso, in the image of the United States of America."
Okay, I'd like to interject here. Do Democrats realize we do indeed have an immigration crisis at our Southern border? O'Rourke isn't addressing the facts and this is where the left lose the bigger argument. There are undocumented immigrants living under the bridge in El Paso, O'Rourke's hometown, and we as a country do not have enough border patrol stations to hold every migrant. This is what you call a frog sitting in a pot of boiling water, unaware of the temperature change.
But back to Betomania…
At this point, I'm gazing at Arandas' green flier above Beto's head, marketing their mouth-watering fish tacos in lime juice, and my tummy whispers…I want a taco. I still cannot get over the fact that he is standing on top of a fire engine red ice cooler. Picky me, checking to see if Beto's Buster Brown-like shoes pop the look of my old 80s science teacher. Pretty darn close…
O'Rourke answers a question from a local high school student that followed his senate campaign and asks how to inspire young people to vote. O'Rourke explains although he came short, the youth turnout in Texas went up 500% in his senate race against Cruz, and that he is counting on that to be the vanguard of his presidential campaign.
"They [the youth voters] are the ones responsible with the fact that although we came up a bit short in the senate race, two Republican seats are now held by Democrats in the House of Representatives, from Texas." O'Rourke's microphone shorts out for a bit but he keeps going, raspy voice and all. "A county that voted for Donald Trump by 96%, we showed up there, because I hope that you agree, they're every bit as deserving of being respected, of being heard, of being listened to of being fought for and I do not expect them to vote for me, or with us unless we first show up and earn their respect."
Once, Cynthia, his campaign assistant passed the microphone to another person from El Paso, Beto greets him with an enthusiastic handshake, "Hey, good to see you." It turns out that this man is a veteran advocating for suicide prevention in the military and is now living in Las Vegas. O'Rourke adds, "Last year we lost over 150 thousand, of our U.S Americans, human beings to drug overdose, deaths, and suicide. Veterans that have an honorable or in-honorable discharge, it is twice as high and thanks to you and other veterans in our community were able to write a bill signed by President Trump, supported by Republicans that allow those Veterans with OTH discharge to now get into the VA and see a provider."
Then Beto shifts back to Wisconsin, the dairy farms, and trade wars. I suppose he is linking this issue now to suicide and opioid addiction? He then explains the largest mental health facility in America is the county jail system. "People throw a chair through a window to get arrested on purpose for their schizophrenia, bipolar disorder, or their depression to go to one place: A county jail cell that provides a roof over their heads, a shirt on their backs, food before them, and psychotropic medications prescribed that are otherwise, unaffordable outside of that jail cell that make life bearable even if only temporarily for them."
O'Rourke jumps from one subject to the next, as if he's running all the yellows at every intersection. Now on the topic of Obamacare, he says the one thing that guarantees that he won't receive the entire Catholic Hispanic vote, a large chunk of Independents, or center-right on the fence pro-lifers: abortion. "High quality, universal healthcare, primary healthcare, mental healthcare, and every single woman in this country making her own decisions about her own body." Have Democrats considered the possibility that late-term abortion legislation currently being pushed may alienate voters in their own party? It did my mother, a life long Democrat now an Independent who will not vote in 2020 for any candidate pushing abortion.
Something to consider…
Although O'Rourke, passionate about running, easily connects with young voters like Barack Obama did, like the former president he has a natural capacity to step on his own messaging the moment he gets the crowd's attention. "Is there anyone here from Las Vegas in the room?"
Ouch.
Yeah, it's not a good sign if the majority in attendance asking questions are from El Paso. To be fair, I met an enthusiastic Beto fan, Ryan McGurk from Long Beach, California. Ryan is so passionate about Beto, he holds up a photograph of himself with the El Paso boy wonder, in an attempt to get him to sign it. After Beto's final speech McGurk stands in line like a star-struck teen as if he were a celebrity at Comic Con.
After twenty minutes, McGurk's effort pays off just before O'Rourke's about to make a mad dash to his Dodge Caravan. As Beto pulled out, animated beyond measure, McGurk couldn't wait to pledge his loyalty. "I heard everything I wanted to hear, I'm voting for him, volunteering, going to knock on doors and do anything he needs." I found it whimsical that while inside his dad's rental, Ryan's fixated on Beto's Caravan, leaving the parking lot.
I asked a few more attendees what their reactions were to meeting Beto. Two military families: one refused to go on record yet proudly took her picture with O'Rourke, and the other originally from San Diego, brought her 14-year-old. While her daughter loved O'Rourke's charm and dreamlike persona, she chooses to remain neutral. "I want to hear what the rest of the candidates have to say first before I make any decision."
Before leaving, I caught up with the kind man willing to offer his seat to me inside the restaurant. "I'm really interested in him. He reminds me a lot of the late Bobby Kennedy," says local Vegas resident, Tony Valenzuela. "He's got so much of that, you know…" Honestly, I don't know how this comparison came about unless it's about O'Rourke using his hands while he speaks. Still, Democrats welcome the comparison. "The issue about the separation of children, he hit it right on target, and I'm going to do whatever I can to help him."
As the crowd thinned relatively quickly, I made it back towards my vehicle. As I pulled into traffic and headed for the freeway, I realized that in my pursuit to interview a few Beto fans, my Swiss cheese brain forgotten something extremely important.
I didn't get my fresh, el pastor street taco.