Tenshot: Executive Decision (1996)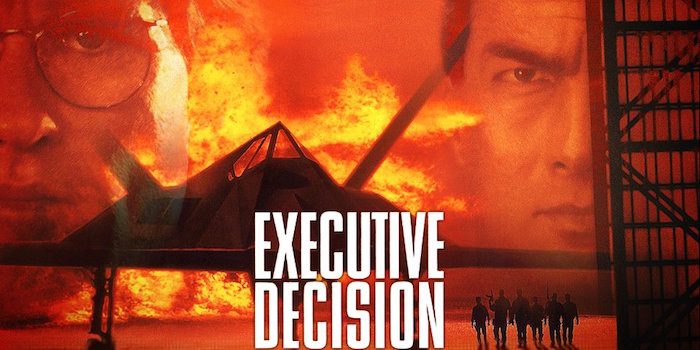 -{This "Tenshot" contains spoilers, but the sort of spoilers likely to make you more interested in seeing the movie than less.}-
Executive Decision was a 1996 movie starring Kurt Russell and, if the marketing is to be believed, Steven Seagal (more on this below). The basic story is a hijacked airplane and a military unit with two civilian specialists (Russell and Oliver Platt). Isolated from command on the ground, the action takes place on the plane. The "executive decision" is whether or not the government should shoot down the plane.
This movie came out at the same time as The Rock, which is unfortunate because this movie was better and that movie got a lot more attention.
The movie may not appeal to you because Steven Seagal, but that is actually the best reason to see it. The movie sets up a very stereotypical movie with action hero commander Seagal and pencil-pusher Kurt Russell teaming up and gaining a begrudging expect for one another. Instead, Seagal dies early (and spectacularly). There is the description of the movie I give above, and there is the actual story: What do you do if you're a part of an action hero's team and the action hero dies? It's actually a good concept. While the rest of the movie is "Speed But On a Plane" that part is more unique.
The underbilled actor turns out to be John Leguizamo. He was not an unknown at this point, but his resume up to that point included a skit show and being Luigi in the Super Mario Bros movie.
Also in the movie was Halle Barry. I mention earlier that much of the movie can be described as Speed But On a Plane, and I wonder if Barry's presence in the movie is related to that. She famously turned down the role in Speed that launched Sandra Bullock's career, and her role in this movie is nearly identical to that one.
Oddly, for a movie called Executive Decision the president isn't in it at all. All of the decisions are made by the Secretary of Defense (who will be familiar if you've seen, among other things, Blue Bloods). That's still "executive" I guess, but I'm curious the reasoning behind that decision.
Seagal's only purpose in the movie, apart from marketing, is to die. And he still wasn't very good.
The movie also had Marla Maples Trump in it in a role only notable because it's Marla Maples Trump in it.
My only complaint is that it ran a bit too long On the whole, I recommend the movie if you want a couple hours of mindless entertainment and/or to watch Seagal die. It's not high cinema nor does it aspire to be. But when I'm flipping through channels on cable and run across it, I usually stop flipping. At least for a while.
Between this movie and Lost, never fly Oceanic Airlines.