Never Say Never NeverTrump: Dems Far-Left Fringe Will Re-Elect Trump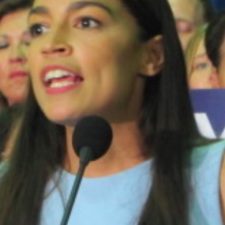 After three months of taking possession of the gavel, Democrat leadership are just as dysfunctional as the GOP when it comes to controlling their revolutionary caucuses. Pelosi's Justice Democrats, in its sublime superiority, gnaw on the hand that fed them by cramming a radical, all or nothing agenda at America's feet. With the striking double standards inside of the liberal caucus that are too fanatical to ignore, and without a GOP primary, center-right is forced to vote for the lesser of two evils once again. NeverTrump conceded their personal beliefs by supporting democrats in an effort to take away Trump's blank check. Country over Party, remember?
Some principled conservatives like myself, abstained from voting red and blue while others rode the blue wave. They won 40 house seats from red districts. Is Speaker Pelosi foolish enough to believe those seats won't flip in 2020? As long as Democrats move further toward populism the future is clear.
Center-right will re-elect Trump
It appears that the House majority slighted the plentiful premonitions from Trump critics as to why the GOP is split. For a run-down, let's start with Trumpism's lack of conservative principles, integrity, its silence on racism, anti-Semitism, and oh, let's not forget about Russia and for the heck of it, let's pitch in the excessive, over-the-top-polemical hedonism from floor-flushing pundits in the party as a bonus. Far-right populism isn't conservatism. Yet the House majority chose to make Russia's job a whole lot easier by elevating their contentious mini-Trumpkins as the newest trolls on Twitter instead of putting forth responsible legislation to bring the country together.
HB-1 allowing Green card recipients to vote, state legislation condoning full-term abortion, attacks on AIPAC, campaign finance violations, and finally, a disastrous green new deal mouthed by insufferable, unmanageable, anti-Semitic, fringy freshmen. Such extreme ideas to entice voters in the rust belt, southern desert, and the heartland is heads and shoulders above the GOP? Marxism doesn't mesh with kitchen table values, and the constant flinging of monkey-poo at the center-right by the left's wanna-be-cast members for DC's Clueless reboot may be a deal breaker for on-the-fence-conservatives.
Rep. Jim Clyburn's full-throated, inexcusable defense of Ilhan Omar is absolutely breathtaking. It is this kind of imperceptiveness on the left that empowers tribalism on the right and keeps culture wars alive and kicking. Republicans get it, elections have consequences. But NeverTrump, unlike the Democrat pundits, became far more critical with our own party.
Obviously, that was a colossal mistake.
Calling balls and strikes is how it should be with every administration. That should also include either party's inability to reign in their own. To be quite honest, I'm not witnessing much of that on the left. Currently, Democrats are the architects for the country's radical blueprint for America. Yet when mathematics fail they refuse to take responsibility and instead, double-down. Sound familiar?
So, DNC, it looks mighty hypocritical using embellished talking points in 280 words or less, asserting that Republicans are a bunch of racists or are in bed with the Russians while your faux Democrat presidential candidate Bernie Sanders' connections with the Kremlin are out for all-the-world-to-see. Quite the irony, deprecating Republicans and Trump for wanting a wall to control illegal immigration after denying that we don't have an immigration crisis- yet we really do have a real immigration crisis.
We also have a human trafficking pandemic in America and at the southern border that repetitively gets ignored as a national emergency. Because of these red-hot button issues never getting the slightest mention by the left, Trump will win in 2020. The left's ongoing desire to ravage lucidity for their self-destructive identity politics is why moderates in their party are becoming extinct.
Radicalism in the backward style of Abbie Hoffman is on the rise, festooned with autographed selfies, socialist graphic novels featuring stories on how to soak 70% of the country's money, why gas-guzzling cars are bad for the environment, except when your aunt drives you to work in her gas-guzzling mini-van, how anti-Semitism is now selective, and finally a how-to-trolling manual for Twitter, conceived by an oblivious, self-absorbed, narcissistic acronym. AOC's self-destructive tirades have re-branded the Democratic Party for the worst. House leadership enabling that behavior during a must-win election is an embarrassment.
After three years of Trumpism, one would think the Democratic Party held some kind of common sense regarding the dangers of radical populism. And yet, their proclivity for identity politics and sugary dalliances with their fringe-box is the ultimate self-own for Nancy Pelosi.
Across the U.S., Democrats are pushing full-term abortion legislation. This led to principled Senator Ben Sasse introducing a bill banning infanticide on the senate floor. The heinous move by Democrats to defeat the bill is pretty much about ensuring that abortion doctors and clinics are not liable for failing to provide care to infants who survive abortion. "For years a terrible form of violence has been directed against children who are inches from birth, while the law looked the other way," said Mr. Bush.
For many center-right Christians, W's words still resonate today, as I mentioned in my previous article the culture on abortion is changing. Nearly two decades ago, Bush's presidency ushered in a new era of pro-life voters, a monumental shift, and another losing message for Democrats. Planned Parenthood's death grip and out of control lobbying is just as toxic as the NRA's stranglehold on the GOP. Now with a conservative court, a breaking point is inevitable. Only three Democrats voted for Sasse's bill. Sadly, my senators in Nevada weren't among them.
Pro-life voters won't support any candidate that defends late-term abortions, nor will principled Zionists support a party where their own tribal leadership defends anti-Semitic diatribes from two of their own representatives. Justice Democrats is just a synonym for revenge toward everyone on the right, including NeverTrump. Take the latest comments from the ham-fisted representative from New York at SXSW2019.
I'm like, totally bugging here!
She attacked Ronald Reagan, called him a racist, and attacked capitalism. The Berlin Wall came down before she was born. The Little Mermaid was the Disney movie. I mean, really? What the clueless, social media acronym fails at discerning is that the Generation X conservatives and moderates from the Reagan era whom she viciously attacks will eventually put her party out of power.
As if!
Does the selfie generation believe somehow that DC is nothing but an extension of the reality show Survivor or Big Brother and the winner gets to be on Keeping Up With The Kardashians? Have they contemplated the possibility that their reality show may hire a new show runner? I cannot fathom the ineffectiveness from Pelosi's freshmen class, relentlessly slurring over 30% of the electorate that they need to remain in power, but whatever! A gift for Republicans, adorned with a shiny, red bow wrapped to perfection.
It no longer matters how contemptible Trump gets because the Democrats no longer have the moral high ground. There's no such thing as "a little hypocrisy," and what-about-ism is ineffective here. Either a party is true to their ethics or not. From my personal view, Democrats are standing in quicksand. As long as the president pushes policies for rock-ribbed conservatives, courts center-right once again while Democrats work in concert to obstruct those bread and butter issues, forget about impeachment, or about remaining in power.
As they say, the definition of insanity is doing the same thing over and over again. Trump's chance of winning re-election, and GOP regaining the House increases daily. Not Russia, not even Biden entering the race can change the trajectory as long as Democrats' radical platform amasses GOP's wish list.
Hating Hillary was just an excuse, not the real reason why Trump got elected. The Russians knew this. Trump himself is just an underlying symptom of populist rage while their counterpart in government likens the Trump brand, manifesting their own version of greedy little Trumpkins while revving up faux outrage against the voters that helped to elect them.
Hold on to your gavel, Madame Speaker. As long as AOC rules your party, you won't have it for very long. Regardless of what the far left's fresh side of hell believes, when it's about voting for the lesser of two evils again I say, never-say-never to Trump.