Not OK With Losing OK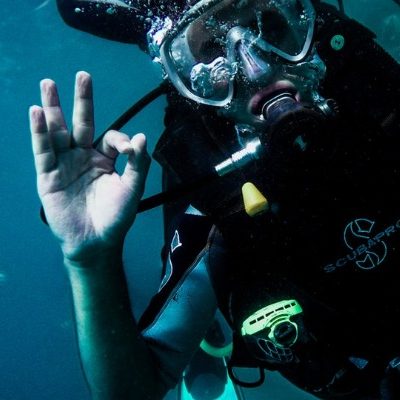 The OK symbol — the gesture of using your thumb and index finger (or other fingers) to make a circle, has been with us for…well, at least a few millennia. But you may have heard some whispers lately that the gesture is now a secret sign of white supremacy, with the fingers supposedly making a "W" and a "P" representing the words "white power"
Wait, what? No. I'm serious. This idea started out as a 4Chan hoax but has now become a part of internet debate. Here's the Anti-Defamation League:
The "OK" hand gesture originated as one of these hoaxes in February 2017 when an anonymous 4channer announced "Operation O-KKK," telling other members that "we must flood Twitter and other social media websites…claiming that the OK hand sign is a symbol of white supremacy." The user even provided a helpful graphic showing how the letters WP (for "white power") could be traced within an "OK" gesture. The originator and others also suggested useful hashtags to help spread the hoax, such as #PowerHandPrivilege and #NotOkay. "Leftists have dug so deep down into their lunacy," wrote the poster, "We must force [them] to dig more, until the rest of society ain't going anywhere near that s***."

Following the cues of the hoax's originator, 4channers created fake e-mail and Twitter accounts and bombarded civil rights organizations, journalists, and others with messages furthering the "OK" hoax. It is possible that some of the hoaxers were racists or white supremacists themselves, as parts of 4chan are something of a haven for them, and the site itself has been a source of adherents of the alt right segment of the white supremacist movement.

The original launch of "Operation O-KKK" sputtered after a few days and it seemed that the hoax had run its course without spreading too far, but it picked up again in late April and this time was far more successful in spreading across social media—and beyond.
The spread of the idea that the OK symbol is a gesture of white supremacy can't be laid entirely at the feet of the 4Channers though. The real culprits were political partisans. Right Wing grifters like Milo started giving the gesture to "trigger the libs" or something. While I'm sure they thought they were being funny, I'm inclined to apply Popehat's Rule of Goats:
Lightly paraphrased — for this family newspaper — the rule states: If you kiss a goat, even if you say you're doing it ironically, you're still a goat-kisser.
The alt-right trolls were "pretending" to be racist but there's not a lot of difference in "pretending" to be racist and being racist, especially if you're in one of the groups the racists don't like. And it's not like the alt-right figures have ever shied away from "ironically" using genuinely racist gestures like Nazi salutes.
But then it got even dumber. Left Wing partisans, determined not let the alt-right outdumb them, started seeing the supposed white power symbol…well, everywhere. Not just in people giving in an innocent "OK" symbol but in people whose hand posture, if you squinted in a dark room, kinda looked like an "OK" gesture. Most notably, they accused former Kavanaugh law clerk Zina Bash of flashing it during the Kavanaugh hearings because of the way she was holding her arms at a couple of points during a day-long hearing (Bash is half-Mexican and was born in Mexico. She's also a Jewish descendent of Holocaust survivors. But sure, she's a white supremacist.)
The pattern of white power symbol accusations has become depressingly familiar to those of us on Twitter. Right wing political figure uses the OK symbol — sometimes "ironically" but mostly completely innocently. Left wing partisans — either because they believe it or because they're desperate to portray Right Wingers as racist — claim it's the white power symbol. Right wing partisans respond with pictures of Democrats giving the same symbol. Left wingers reply, "But it's the context; we know conservative politicians are a bunch of racists." Ultimately, the debate is useless because no one involved actually cares about whether the symbol is racist or not; they're just arguing from rank partisanship.
But this silliness became much more serious this weekend when the alleged Christchurch murderer flashed the symbol at reporters:
In case we're still debating if this is a symbol of white supremacy. https://t.co/hPWDXuZNYz

— Soledad O'Brien (@soledadobrien) March 16, 2019
So what started out as an internet troll, became a way for right wing twerps to troll left wing twerps and then became a way for left wing twerps to accuse innocent people of white supremacy has now migrated not only to a real white supremacist but a mass murderer. Does this, as O'Brien claims, end the debate? Does this make the OK symbol a white supremacy symbol now and forever? Twitter seems to think so but Twitter ain't the world.
It wouldn't be unprecedented. The straight-armed salute was lurking around in various corners until the Nazis adopted it. Now that salute is considered offensive and is even illegal in some countries. But I'm not sure that comparison is appropriate. The Nazi salute was not nearly as ubiquitous before the Nazis adopted it. And the Nazi salute was used by you know, Nazis — a massive movement of millions of people that carried out one of the most vicious genocides in history. The Nazi salute was not given by three dudes; it was thrown by thousands of people at rallies and millions across the Reich.
My gut reaction is to push back. It's galling to think that a friendly gesture used for centuries by millions of people could suddenly and stupidly be hijacked by a group of trolls. And it is even more galling that an act of appalling evil could make that troll into a reality. Will and I talked about this once on Twitter (long before the New Zealand shooting) and his response was, "[the racists] don't get to have it."
I'm inclined to agree. It's not just that we would lose a previously friendly gesture; it's that the white supremacists of the world would gain it. Conceding that the OK gesture is some kind of "Hail Hydra" white supremacist sign would gift them a rallying symbol of their supposed power. The door doesn't just swing one way. If we get to accuse people of being white supremacists based on an innocent gesture, the white supremacists get to claim them as their own. Imagine one of these people being able to tell a gullible young man that literally every leader in the world has secretly shown support for their vile cause.
What we should be taking from this incident is not that OK sign is now an irrevocable symbol of white supremacy. It should be that this murderer is so deranged and so stupid that he bought into a hoax, thinking it meant something it doesn't. When he flashes the "white power" sign, our response should not be to panic that he's signaling his hidden brethren who occupy positions of political power all over the world. That buys into his delusions and fantasies. No, we should recognize it as the act of a deranged lunatic frantically calling to the void, hoping to be heard by a fellowship that isn't actually there, whose positions of power consist of pwning people on Breitbart message boards. We should see it as the desperate flailing of a man that has been passed by history.
I'm willing to concede that this battle against stupidity may be lost. In our age of hyper-partisanship, the simple fact is that any Republican who uses the OK sign, however innocently, is going to be the subject of a river of tweets, posts and segments about how they are secretly throwing a white power sign. And Right Wing grifters will be even more determined to use it precisely to provoke those reactions so that they can mock them. Our pathological need to drag our political opponents through the mud at any opportunity is simply too powerful for us to come to the mutual understanding that would be needed to stop this and deny the racists a victory, however symbolic.
In the end, I think the OK gesture is far too ubiquitous to be killed by internet trolls. But it were rendered extinct, it would not be because of the 4-Chan trolls. Nor would it be because of white supremacists. It would be the doing of disingenuous political hacks determined to mock liberals with faux racist trolling. And other disingenuous political hacks determined to paint every conservative as a secret racist. The hacks and grifters in our political system were determined to make an innocent gesture into an evil one. And now they've succeeded by putting that previously benign symbol literally into the hands of a racist mass murderer.
So…congratulations, I guess.