Sunday Morning! Tarkovsky's "Stalker" (1979)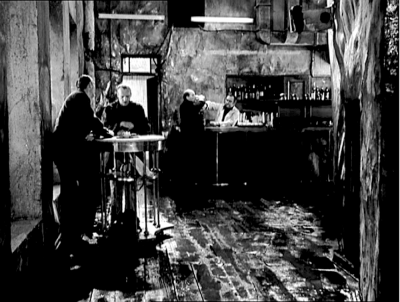 I could have sworn I already dreamed this movie. It feels like a dream: its hypnotically long shots flow into each other with a logic that seems born of the unconscious mind. It takes places in a "zone" where time slows and places change constantly and one's deepest secrets are revealed as in dreams. It even sounds like a dream with Edward Artemiev's path breaking electronic score and its strange elliptical dialogue. But when I saw an early scene in a bar (courtesy of the forthcoming Criterion Channel), I knew that I was mistaken- that image of a very narrow pub, which I could have drawn from memory, was not something from my subconscious; instead, I must have attempted to watch this film years ago, possibly been put off by the languid pace, and given up early, only to have its images keep bubbling up in my imagination, only seeming to be the half-remembered fragments of a dream.
As pretty much anything you read about the film will tell you, the languorous pace is intentional. The director Andrei Tarkovsky was criticized by the Soviet State Committee for Cinematography, or Gosinko, who asked him to tighten up the early scenes so the audience would not tune out, the director angrily replied that the movie needed to be slower at the beginning so bored audience members would realize they were in the wrong theater and leave early, thus weeding them out. But once you accept the film on its own terms- something I apparently couldn't do the first time- it draws you in. The film proceeds according to its own strange logic, and the story seems to accumulate rather than play out. It feels organic and nearly still.
That story involves three main characters: the Stalker, the Professor, and the Writer, who head deep into a government-quarantined area known only as the "Zone" where due to some previous event, possibly extraterrestrial in origin, the normal laws of nature do not apply. It's a dangerous place- supposedly soldiers who went in never returned- so the Stalker is a sort of guide and protector. Within the Zone is a room that grants visitors their deepest desires. But getting through the Zone and past the military cordon is daunting. It's too dangerous to traverse the Zone directly, so the travelers must zig-zag and wander. It looks like nothing more than a feral overgrown forest. Everything seems to be steeped in brackish water. And it's not clear at all what each character intends from the visit. Is this room some sort of miracle? Can modern man even recognize a miracle anymore? If this room really does fulfill the secret desire of every person who enters, shouldn't it be destroyed so it's not used for evil?
For most of the film, we are out there in overgrown abandoned spaces with three men arguing about metaphysical concerns. It seemed to me like what might happen if Ingmar Bergman made a sci-fi movie. This is not coincidental; Tarkovsky famously claimed to only care about two viewers: Bresson and Bergman. while Bergman believed that Tarkovsky was "the greatest of them all". It's really not surprising therefore that I loved Stalker because I've long thought that Bergman is the greatest of them all. This is the first Tarkovsky film I've seen and it's a bit sobering to think that he only shot seven feature films. He apparently shot Stalker three times before settling on the finished film. It was shot in an abandoned power station in Estonia downwind from a toxic chemical plant that may well have caused the lung cancer that killed the director.
Still I imagine I'll watch Stalker a few hundred more times. It's one of those movies that (also like dreams) functions as a parable. But what does it mean? The Stalker says early in the film that "everywhere is a prison" and early images cannot help but remind us of the gulag. Is the Zone a space of freedom? Is there a message in the fact that the Room seems to make everyone who visits it unhappy? Is the Stalker really a "holy fool" or Saint Paul, with the Room as a sort of reliquary? Or is the Room really an image of the cinema itself? And what is with that enigmatic ending? I have a theory… but maybe I should wait to see what others think. Anybody want to watch this movie and discuss it over pie and coffee afterwards?
So what are YOU watching, reading, playing, or pondering this Sunday?
---
Arts Endnotes: Have you ever noticed a subject will sometimes suddenly pop up in the news in clusters? So, Jean-Michel Basquiat is "back" in the East Village with a big show at the Brant Foundation's new space; a Paris art show was shut down for "safety" reasons after the artist,  Guillaume Verda, was accused of "plagiarizing Basquiat"; and a rich family that is unhappy in its own way is caught up in lawsuits as the daughter claims that her father intentionally drove down the selling price of Basquiat's painting "Flesh and Spirit" . It sold for $30 million, instead of the $100 million she'd hoped for, and was originally purchased for $15,000.