The Miracle Pot Pulled Pork Project
I am an Instant Pot devotée. This amazing machine never leaves my countertop (to be fair though, neither does anything else.) I use it for side dishes and main dishes. Whole chickens. Cheesecakes (yep) and soups. I love it and wish to never be without it. What is this marvel?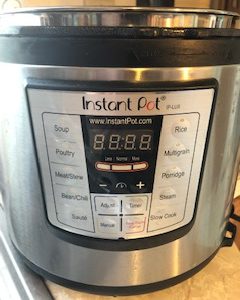 It's this thing. It is an electric pressure cooker, a wonderful gadget for those who recall the hazardous time-bombs that stove top pressure cookers can be. This one is pretty much hazard proof, as long as you don't try to force the lid off before it is ready.
Some people mistakenly believe it is a slow-cooker. And while it does have that function, I think an actual slow-cooker does a better job for actual slow-cooking, because of the surface area being wide as opposed to deep, like the IP. Mine is an IP-Lux 7, which is a few years old. But it works perfectly for everything I want to make in it so I don't see a need to upgrade (unless you want to make yogurt; newer models have a yogurt-making function I can live without.)
Believe it or not, you can make some amazing pulled pork in this thing. It's not the same as BBQ cooked for hours in a smoker, but it's still pretty fantastic.  I found a recipe to use as a base and then made some tweaks, as any home cook is wont to do. It came out so perfectly that I decided to use the recipe as a way of introducing the wonderfulness that is my IP.
For this recipe, I used a four pound half-loin of pork. I got it at Aldi, the best-kept secret in grocery shopping, for about $7. First, you will need to cut your pork into three or four chunks. Don't worry that you'll end up losing juiciness this way; we are going to be searing. RIGHT IN THE IP. You can trim the fat, but do not remove it all.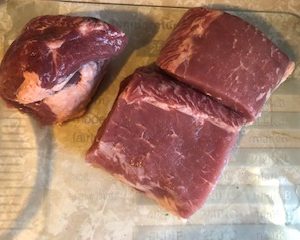 Next, we are going to mix up some spices. I meant to do that thing that is popular lately in online recipes where you spoon all the spices in separately so they look all pretty and colorful in the bowl, but I forgot, and all together they are just basically a brown color so we'll dispense with that. Spices are as follows:
1 Tablespoon packed brown sugar
2 Teaspoons each of paprika (smoked if you have it; if not, you should), garlic powder, and onion powder.
1 Teaspoon each of salt and black pepper.
Half a teaspoon of cumin.
Half a teaspoon of cayenne (optional, but not optional for me).
Mix that all up and rub it all over your pork, all six sides of each chunk. Let that sit for a minute while you mix up the sauce. Whisk together the following: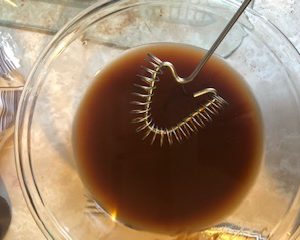 One-third cup of apple cider vinegar;
One cup of BBQ sauce (you may need more to mix with the final product);
One cup of beef broth.
You could also add some liquid smoke, if you wanted.
Now we get to play with the Instant Pot. We are going to sauté. Put two tablespoons of olive oil into the pot and push the sauté button. Do not put the lid on. It will be ready to go in a few minutes- you'll know because the display will change to "HOT" when it's ready! Isn't that handy?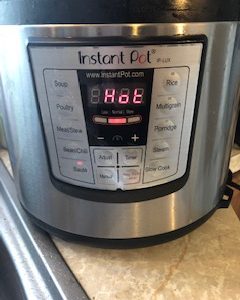 Now, because of the size of the pot relative to the size of our pork, we need to do this in batches (sure, you could maybe do this all at once on the stove, but why dirty a pan?). Since I had three portions, I did the two smaller pieces first and then the larger piece by itself. Put it in the pot and sear on each side for a minute or so.
Remove the meat and set it on a plate; we need to deglaze the pot. This is important for two reasons: First, those crusty burned-looking bits on the bottom are full of deliciousness and you want them in your sauce. Secondly, and more importantly, if you leave a lot of stuff stuck on the bottom of the pot, it won't come to pressure. So turn it off and immediately pour in a quarter of a cup of beef broth (you can use chicken broth, or even water in a pinch though you may lose a little flavor.) Use a wooden or heat-resistant silicone utensil (I like my spurtles) to scrape the bottom until you've gotten all you can off. Leave that broth and scraped bits in the pot, then pour in your sauce, and add the meat. Turn it to coat all sides.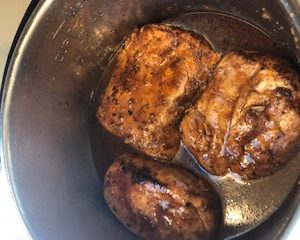 Put your lid on, turn the valve to "seal", and push "manual". Then push the plus or minus button until the display says 40 (that's minutes). After a few seconds, it will beep, and the display will say "ON". It will stay that way for ten minutes or so while the pressure builds, and then start counting down.
You have about an hour to kill from when you set the timer until you will need to do anything else. Go watch some Schitt's Creek or take your dog for a walk or get a shower or something.
After the forty minutes is done, you will hear a series of beeps. Do nothing yet; at this point, you can't remove the lid without releasing the valve and letting the steam out. If you do that immediately, that's called a "quick release", or QR in IP speak. But we are going to do what's called a "natural pressure release", or NPR, which is a better option for meat. NPR just means we leave it alone and let the pressure go down on its own. We will NPR for ten minutes.
When the ten minutes are up, push the valve to the side to let any remaining pressure out. When you hear no more steam releasing, you can remove the lid.  Remove the meat, let cool for a bit, then shred. Add in a cup of your favorite BBQ sauce if you like. When I made it before, it was honestly so flavorful and juicy that it didn't need more sauce, but my husband likes it nice and saucy (which is why he married me! Ba-dum-tiss… boooooo). I set aside some extra-saucy for him.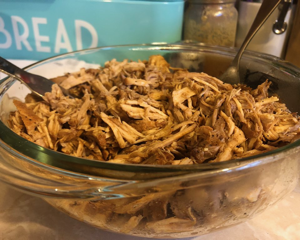 Here is a tip: rather than BBQ sauce, take some of the juice left in the pot and add it liberally to the shredded pork instead. Then decide whether or not additional BBQ sauce is needed.
Another serving suggestion: spoon some of the juice onto the inside of a good bun before you pile on the pork for an unbelievably delicious and juicy pulled pork sammie.
This makes a LOT of pulled pork, which will be dinner tonight and lunch most of the week. The IP is great for making a lot of food. At Thanksgiving I found myself wishing I had more than one so I could make the mashed potatoes in one and this amazing mac and cheese in the other.
There are a number of websites and Facebook recipe groups dedicated to the Instant Pot. There's an Indian butter chicken recipe that is supposed to be amazing. It is a far cry from the canned-soup dump recipes the Crock-Pot is known for.
If you enjoy cooking, or you don't but have to do it anyway and want to make it easy on yourself, keep an eye out for deals on Amazon and consider buying one of these magic pots.
Photo by Marinate Me Baby