Sunday Morning! J.G. Ballard's Shopping Maul
Does the shopping mall dream of its former glory?
Once the dominant temple structure looming over the suburban landscape, malls are today atrophied by age, diminished by e-commerce, subject to constant security threats, mourning the loss of their flagship stores, and growing sadly vestigial, like semi-abandoned colonial outposts from an obsolete culture of consumption. "Dead malls" dot the landscape along with etiolated, half-dead ones that cling malevolently to life. I can't recall the last time I saw a new mall being constructed. The key architectural form of our age seems to be the condominium; fitting as the computer has replaced the automobile as primary instrument of the individual will.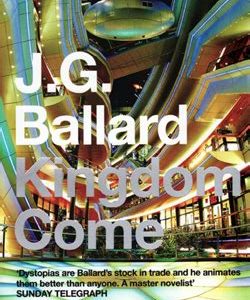 And yet! I recently took a weekend job at the devolved mall downtown, a project in which all of the hopes of the late sixties were invested, but which is today semi-abandoned, half-feral, populated by shambling hordes of street kids, drug dealers, and homeless men cheek-to-jowl with suburban shoppers and booshie newcomers who might be lost.
I did it to save an extra thousand a month, and, as a writer, it's perfect. The juxtapositions are surreal; I've seen office hallways lined with drifters asleep on the carpets, junkies exercising on the roof, horrific acts of violence, and teenaged cell phone shoppers filming someone's relative lying motionless in front of the cinema with blood leaking from his mouth. It feels like the external expression of the social subconscious.
Naturally, I was reminded of J.G. Ballard, who went to these sorts of places before the rest of us. In a recent issue of Granta, Will Self made two strong claims: 1. Ballard's fiction is entirely a post-traumatic response to his boyhood in occupied wartime Shanghai, 2. Ballard is the key British novelist of the second half of the twentieth century. He certainly is the one that most rewards rereading. His books come off first as pranks or bizarre satire and then, within a few years, as troubling prophecy. When I first read Kingdom Come upon its 2006 release, the notion of a bemused neo-fascism arising from sporting hooliganism in a mega shopping mall struck me as the joke of an elderly man stuck in a crowded retail queue. Now, it's not so funny.
Or it's both joking and serious, a vein that seems especially British. Maybe this is why Ballard's work never quite translated to North American readers. Another difficulty is that we've believed since at least the time of Virginia Woolf that a skilled novelist makes their characters "come alive".  Ballard's characters read more like archetypes, like comparing the stereotyped figures in pop art with the fleshy beings in Rembrandt painting. But Ballard never claimed much affinity for novels, which struck him as a hidebound nineteenth century form, while commissioning surrealist paintings for his home. He tends to depict his bizarre characters like an indulgent therapist taking notes. They all speak in the same arch intellectualized style, which takes some getting used to- unless you've already read Don DeLillo..
In Kingdom Come, a recently-fired advertising executive named Richard Pearson returns to the outer suburbs of London after his father is fatally shot by a rampaging mental patient in the Metro-Centre, a huge shopping mall and sporting complex. This is, we are told, a place where "the suburbs dream of violence", along with the bored and cultureless locals it seems. Mob rampages are common, particularly directed at immigrants, sporting events resemble political rallies, and the only common "culture" comes from the Metro-Centre and its in-house cable television. As Pearson observes: 'This was a place where it was impossible to borrow a book, attend a concert, say a prayer, consult a parish record or give to charity. In short, the town was an end state of consumerism. I liked it…'
Before long, it's unclear who killed his father, especially when the shooter is released by the sympathetic testimony of prominent community figures. Everyone seems to have secret motives, including Pearson who eventually finds his calling acting as the Albert Speer to a crock-pot demagogue, a cable chat show host and bad actor without a thought in his head who Pearson hopes to make the Führer of a burgeoning revolution of St. George's flag waving thugs: 'you can say what everyone feels about immigrants and asylum seekers. You're the star in every housewife's dreams…'
The fact that the narcissistic television personality hardly wants to lead anyone is not a problem- the mob just needs an excuse to indulge in their own psychopathology, which the former ad man wants to whip up. Everyone is looking for an excuse to do away with the last vestiges of civic virtue and indulge in some "willed madness" together.
The book received some negative reviews upon its release in 2006 that seemed to focus on its "critique of consumerism" but that seems a bit off. The casual reading is that Ballard is making the hackneyed point that consumerism is the guiding force in the lives of suburbanites. And there is something to this; I have coworkers, for instance, who can talk about very little beyond what they've bought recently. But I think Ballard is saying it only seems like a guiding force because, at root, most people are bored witless and yearning for something to free them from that boredom.
If there's a thesis here, I think it's something like: There's no longer a common culture or binding institutions that command any respect, so consumption is now our only collective endeavor. Consumerism satisfies certain semi-conscious desires, but is ultimately unsatisfying. Yet democracy is even less satisfying, requiring us to accept that our desires will be frustrated by the will of others. Ultimately, what is soon to be born is a "light fascism" devoid of creeds or ideology, but facilitating emotional outbursts and acts of racist violence. Ballard believes we need the catharsis of occasional bouts of madness and the demagogues of the future will be more like indulgent but somewhat unhinged parents (or cable talk show hosts) rather than Svengalis. Again, he was writing this in 2005.
When I imagined Ballard's Metro-Centre, I thought of El Helicoide in Caracas, Venezuela. Construction began in 1956 with plans for a ziggurat-style mall that cars could drive through. Money ran out and it became government property. By the 1980s, it was an enormous state prison and torture chamber.
When I work at the dying mall in the tumultuous city where I live, I see many young transient men approaching middle age wandering the aisles, befuddled by booze and drugs, lugging backpacks, muttering to themselves with surly expressions, looking to fight someone. Could they one day be the paramilitary of affluent advertising men?
Stranger things have happened.
So, what are YOU reading, watching, playing, or pondering today?