The False Narrative of the New British Culture War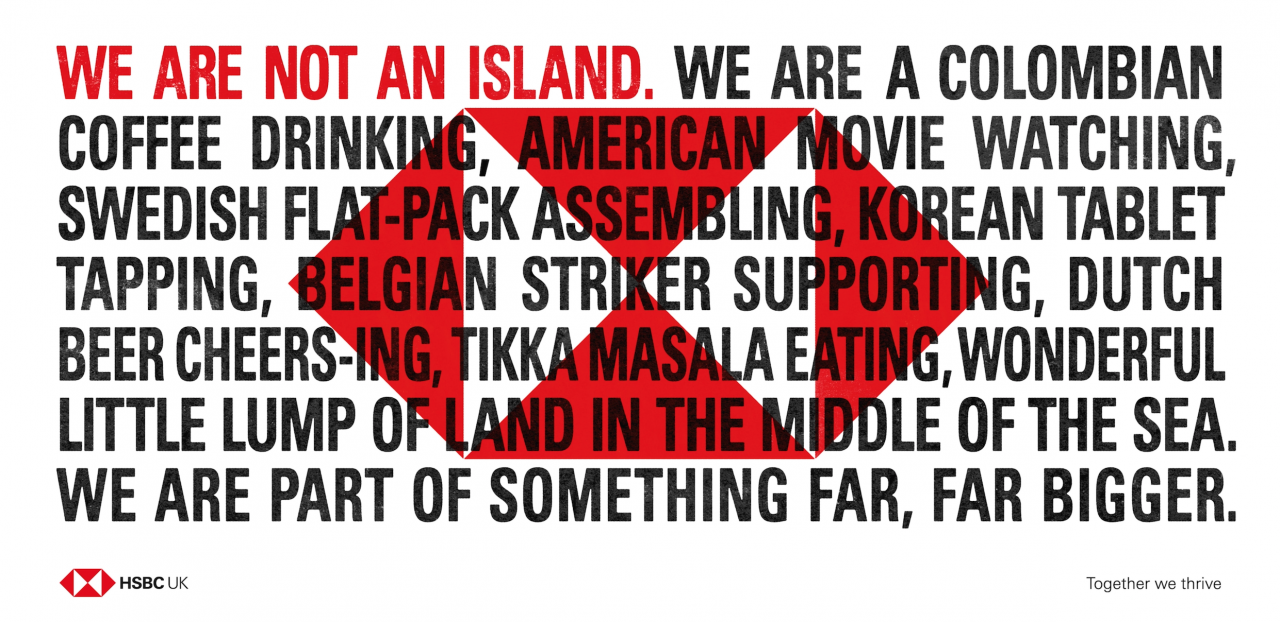 'We are not an island'.
That one of the most prominent salvos onto the UK's cultural battleground should emanate from the marketing department of a multinational financial institution is a development laced with absurdity. But the debate surrounding the contentious HSBC advertising campaign has largely missed the mark. Based as it is on understanding and exploiting behavioural trends and moral psychology, most sophisticated advertising is, at heart, neither sermon nor admonishment. HSBC was not launching a new culture war. It merely recognised an already well-developed cultural narrative and ran with it. It saw that the war had already arrived, and sought to capitalise.
HSBC's target customers in this instance consist of those who view the deep euroscepticism revealed by the Brexit vote as indicative of a persistent and growing tide of xenophobia and insularity in the UK; a culture of widespread 'othering' and rejection of outsiders. It has become a fashionable tendency to talk of two nations—open and closed—with all the moral connotations that this implies.
This perspective abounds on social media platforms, and also in the daily opinion columns of the liberal press. In December 2018, Matthew D'Ancona of the Guardian wrote that "I am forced to conclude that there is now a sufficiency of Britons who just don't much like people of foreign extraction, and certainly don't want many more of them around the place". In his article, D'Ancona offers scant evidence for this conclusion beyond his own beliefs. So does his view of modern Britain actually stand up to analysis? Or is a culture war being promoted on false premises?
The first challenge comes from the fact that linking levels of euroscepticism to xenophobia is an empirical dead end. In recent Pew research, among the ten EU countries measured, only Spain reported a higher proportion than the UK of people saying they 'wanted more immigration'. In the same study, 37% of Brits said they would prefer to reduce immigration. This compares to 41% of French citizens, 58% of Germans, 71% of Italians and 72% of Hungarians. A study conducted in 2017 found that of 8 EU nations, UK citizens (jointly with Swedes) were the least likely to view immigrants as an economic burden. Research from the European Commission in 2018 has shown that the UK ranks 6th among the EU 28 in terms of reported comfort with interactions with immigrants. When it comes to the specific issue of immigration from Muslim-majority countries, Chatham House found in 2016 that only Spain has fewer restrictionists than the UK.
In study after study the UK is shown to be one of the least immigrant-hostile countries in Europe. But the more significant lesson from the research is that levels of xenophobia do not correlate in any meaningful way with euroscepticism. If the most xenophobic countries were also the most eurosceptic, the UK would be somewhere towards the back of the queue to leave the EU, not the lone voice at the front demanding exit. Other European countries that also demonstrate lower levels of xenophobia have mixed views about European integration; they include the relatively eurosceptic Danes and Swedes, as well as the committed integrationist countries of Ireland, Spain and Portugal. The idea that xenophobia can act as a proxy for euroscepticism is deeply flawed.
Despite these comparative facts, it is also true that the leave vote in 2016 was motivated to a large degree by popular discontent around migration control. Specifically, frustration was directed at the EU-wide policy of freedom of movement, which entrenches a labour union among 28 countries. Most other EU countries are relatively relaxed about free movement within the bloc, and are more concerned about immigration from outside the EU. This partly explains the lack of correlation between xenophobia and euroscepticism, highlighted above. For countries more committed to the European project, movement within the EU is not seen as immigration in the same way that external migration is. By contrast, Brits generally have a weak sense of European identity (only 15% of Brits self-describe as European according to a 2015 study) and a strong aversion to immigration policy being determined at the European level. Free movement, in this respect, forms part of the sovereignty debate as well as the immigration debate; it is the clearest and most visible manifestation of the transfer of decision-making powers from Westminster to Brussels. Disentangling arguments about freedom of movement from ones about sovereignty is therefore a much more problematic task than has often been acknowledged.
Furthermore, as @post_liberal argues, the desire to subject immigration from the EU 27 to democratic control is also a more complex issue than the 'open versus closed' narrative would suggest. Although Leave voters were more likely to advocate immigration control, four out of ten Remain voters thought immigration levels were too high at the time of the referendum. If support for immigration control is synonymous with xenophobia, then a desire to exclude foreigners must exist among "not only putative 'illiberal' leave voters but also large numbers of seemingly 'liberal' Remain voters, and a large section of the non-white British population too". Recent Pew research has also shown that three quarters of immigration restrictionists in the United Kingdom are supportive of encouraging high-skilled immigration into the country. Education and skill level are more important drivers of British attitudes to immigration than nationality or ethnicity.
When taken together—the lack of correlation between xenophobia and euroscepticism; the interconnection of free movement and sovereignty concerns; and the complexity of views on immigration control—all cast serious doubt on the culture war narrative propagated by D'Ancona and others. However, in politics, strong narrative usually trumps factual analysis. The desire of some powerful voices to treat the referendum as a moral question is not only a powerful force, but risks becoming a self-fulfilling prophecy as it drives us towards greater polarisation.
This situation suits many corporations and media outlets who are increasingly happy to go along with promoting social, cultural and political division, since clearly defined moral and psychological tribes enable a more targeted approach to their commercial enterprises. Megan McArdle at the Washington Post has expressed intelligent concern about the civic effects of the consumer world becoming aligned with political identities in the US, asking "What happens to an increasingly demographically sorted America where we no longer share even our basic commercial culture…how are these two completely separate peoples to jointly decide on the running of one vast country?". As the communitarian philosopher Michael Sandel has pointed out, when our economic lives become stratified around political identity we risk losing many of the circumstances in which we can foster the shared civic space and mutual sympathy required for democracy to function.
A Manichaean division has developed around the EU referendum, egged on by some companies and media organisations who benefit from the polarisation. We risk embarking on a deeply divisive US-style culture war on the basis of a false premise: the belief that the UK is experiencing a widespread wave of xenophobia that can be identified through euroscepticism and the Brexit vote. But British euroscepticism is much more complex than this reductive narrative suggests, and is instead rooted in a particular historical and constitutional context. The simplistic elision of xenophobia and euroscepticism is false and should be resisted. The UK is less xenophobic than most European countries, all of whom are more committed to European integration.
HSBC's 'We are not an island' ad campaign may look like a well-meaning attempt to galvanise people around a positive moral and political message, an act of corporate social responsibility. In fact, HSBC cleverly perpetuates, and looks to profit from, a pernicious myth which is both false and destructively divisive.