The State of Book Publishing Part I
The various media industries have been disrupted in recent decades. This is not news. But they have not been disrupted in the same ways. I have mentioned previously that <Shameless Self Promotion Warning!> I have a book coming out, on the evolution of the rules of baseball. Its release date is March 8. Feel free to pre-order here, or even better yet, here. <Shameless Self Promotion over.> Signing the contract made me wonder about the state of publishing generally, and whether I would have been better off self-publishing. This piece is my analysis of both questions. This first part is about the state of the industry today (or, more honestly within the past two years, for which there are sort-of numbers). The second part will be my wearing-pajamas-in-the-basement take on the industry's future.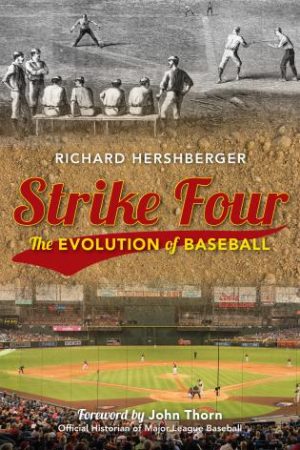 Media disruption happens in distribution, supply, and revenue sources. How these play out depends on the medium.
Distribution is the common element, with the mainstreaming of the internet in the mid-1990s allowing people to distribute anything that can take the form of a digital file. Formerly there was a supply chain of middlemen warehousing and shipping physical items to retailers who sold the items to customers. With digital files, in principle there is no need for either the distributor or the retailer. In practice, the customers often tend to prefer going to a convenient single source for their digital file needs, so there is in fact an intermediary. But this still removes the costs of shipping and storing physical items, with the result that there is no need to limit inventory.
Next I consider supply in music and books. Recording an album with decent sound used to require an expensive recording studio. Nowadays the equipment is cheap enough so as to be widely available. So if you decide you have a burning desire to lay down some tracks, cost is not a barrier. Writing a novel, on the other hand, is and always has been a matter of an individual sitting down and writing, whether with a quill pen on paper or on a computer. Technology has made the process easier, but the process was never the major barrier.
Then there is revenue. It is all very lovely to be able to create distribute content, but unless you are doing this as a hobby, you need to get paid for it. The music industry was in full panic mode back in the Napster era because it wasn't clear that people were willing to pay for music anymore. When buying music meant purchasing a physical object–an LP or a CD–pirating was a marginal problem simply due to the practicalities involved. But with the internet, why would people pay when they could easily get the same thing for free? This eventually resolved itself, partly because people always were willing to pay for content–it was just a question of how much–and partly because downloading pirated music was never all that great an experience after all. But it turns out that people love the streaming subscription model, which restores that intermediary, who in turn has the leverage to pay rights holders a lot less than they used to earn. So the recording industry is still a thing, but with smaller mounds of cocaine.
Journalism of course was the big loser. It got disrupted from all sides. Its content was a combination of reported and opinion journalism. The opinion journalism was kind of a big thing. A newspaper columnist was a senior journalist who had been around forever and seen anything. The claim was that his (gendered pronoun used intentionally) experience gave him unique insights that he passed on to his readers. Hence the early critique of bloggers as guys sitting in their pajamas in their parents basements. These bloggers, the claim went, lacked to experience to bring anything to the discussion. It became pretty clear early on that these senior columnists weren't bringing unique insights so much as they were old guys droning on and on. As for reported journalism, any but very local stories would be widely enough reported that the internet reader could find it for free from someone. The new distribution system set established journalism companies against one another, with a race to the bottom. At the same time the revenue side collapsed as advertisers rushed to Google and Facebook. And don't underestimate the devastation caused by Craigslist. Classified ads used to be a major revenue source for newspapers, and now are gutted.
This brings us to book publishing. The big disruption there is the rise of the ebook, which in turn led to the rise of self publishing.
Self publishing is nothing new. There have always been outfits that were only too happy to take whatever you wrote and produce a book from it, so long as the check cleared. It could be a very professional looking book, too. My church back in the 1950s did a church history. It is on good paper with excellent binding and well executed photographic plates. It is surprisingly interesting and well written, too, but the people who produced the physical book didn't care about that. There is no market for this sort of thing, of course, I was handed a copy when I became a member. I assume there is a cupboard full of them somewhere, but I never asked.
This legit self-publishing blended smoothly into vanity presses. What is the difference? Legit self-publishers never claimed that they gave access to the book distribution network. Vanity presses claimed, or at least strongly hinted, that they would get your book into stores, without the ugly necessity of an editor standing between you and your dream of literary fame and fortune. This was bogus, of course. Stores had no interest in carrying this stuff.
This access to the distribution network is what has changed. Or rather, there is a new network. The old one is still there and relevant for bookstores, but the new network is for ebooks. This new network is in the mid-to-late stages of consolidating (for the US market at least) into Amazon. And the thing is, Amazon happily carries anything that isn't affirmatively illegal. It simply doesn't care.
The new technology resulted about ten years ago in a self-publishing revolution. The tools were available so that a non-techie author could create and upload ebook files, and there were enough readers to matter who were willing to pay real money for them. A few authors tried this, and some started to notice that they were making more off their ebooks than from their day jobs. Some who went full-time found themselves with six figure incomes. The word spread, and now there is an active marketplace for self-published books.
There also is a third category of book, in addition to paper and ebook: audio. This of course isn't anything new, going back to books on tape. What is new is that it is a big growth area, what with the kids and their smart phones.
So how is the publishing industry doing? This is really two questions. The first is how is traditional publishing doing, and the second is how is self-publishing doing?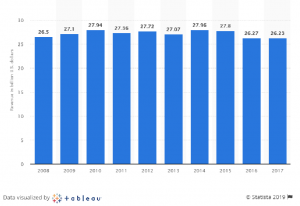 For the first, here is a chart showing traditional publishers' revenue for the past ten years. It is pretty much the definition of "flat." This isn't disastrous, but in light of inflation (which has been low, but not zero) and population growth, this is not good. But how about if we take publishing as a whole? This is trickier. Measuring book sales is problematic under the best of circumstances. Measuring ebook sales is even harder, if only because Amazon isn't in the habit of releasing this sort of data. There is one person, going by the handle of the Data Guy, who claims to have real numbers. He isn't very transparent about his methodology, but it seems to involve a lot of web crawling around Amazon, collecting books' sales rankings and converting these into units moved. Are the results trustworthy? Heck if I know. They remind me of the Nielsen Ratings, which everyone always knew were more or less bogus, but better than any alternative so everyone agreed to pretend that they were valid. Regardless of how good the Data Guy's numbers are, they are what we have, so there you go. For what little it is worth, they don't seem implausible to me. I am, however, using their fuzziness to shamelessly round them off as convenience dictates.
So I took date from the Data Guy, mostly from here, and crunched it up using my superpower, which is the ability to do simple arithmetic. Some caveats: We need to distinguish between going by units sold versus dollars. I will be going with dollars, since that really is the heart of the matter. Ebooks are cheaper than paper books, and self-published ebooks are much cheaper. Going by units would result in a much larger slice of the market being self-published, but units don't make the world go round. The distinction between traditional and self publishing also is not wholly clear cut. A self-published author might have one-author imprint. Two self-published authors might share an imprint, and perhaps work together in marketing their books. And so on. It seems to me that once the concern has its own bank account, with money flowing from that account to the authors, and if it has someone who can reject a book as being crap, then it is a small traditional publisher. But telling which is which from the outside is not always obvious. On the other hand, this is mostly around the margins, so best not to overthink it. Finally, take this discussion as being about the US market. I can't speak to other places.
Moving on to interesting tidbits: roughly half of all paper books are sole through Amazon, the other half being through bookstores. Paper books are almost entirely traditionally published. This is not due to technology. Print-on-demand makes it entirely feasible to self-publish a paper book, but in practice the market for self-publishing is almost entirely in ebooks and, to a much lesser extent, audio. Looking at books sold online, paper has over 60% of the market. Put those together, and paper accounts for over 80% of sales, with traditional publishing holding the vast bulk of this. The remaining online sales are split with about 30% ebooks and 10% audio. Those ebooks sales are something north of 60% traditionally published, and the audio books about 70%.
Put all this stuff together and wave our hands a while to forget any questions about how solid they are, and call it about 10% of total book sales are self-published. On the one hand, that is pretty impressive for a category that didn't exist until recently. That is a substantial chunk of change going out to the authors, and bully for them! On the other hand, this isn't anything that says that traditional publishing is circling the drain. On the gripping hand, tack on another ten percent to that chart of book sales and a moribund industry now looks like a mature industry showing modest growth.
This answers the question of where the industry is at today. The next installment will look to the future. But I had another question: Was I a fool to sign that contract? So far I have talked about books in general, dividing up only by format. It turns out that if we split up fiction and non-fiction, they are divided between formats and publishers very differently. I take my numbers from here, which are 2016 numbers. They might have changed, but probably not a whole lot. About a third of the way down is a slide breaking unit (as contrasted with dollar) sales down by format and publisher, for juvenile non-fiction, juvenile fiction, adult non-fiction, and adult fiction. I would rather have used dollar sales, but I didn't find this data. Remember that self-published books are almost always priced at a fraction–often a small fraction–of a traditionally published book. So the numbers would be more extreme using dollar sales. But even by unit sales, traditional publishing sells 88% of all adult non-fiction books. If we just look at paper books, it is more like 95%. Moving from data to impressions, if you took out memoirs and self-help books (the most fiction-like of non-fiction books) the remainder would be a tiny sliver. There is an active market for self-published books, but not for all kinds of books. Those readers eagerly seeking out self-published books aren't looking for abstruse histories of baseball rules. So while for some sorts of books there is a good argument to be made for self-publishing, this is not true for the sort of book I wrote. So it goes.
Is this split between traditional and self-publishing the new status quo, or is it where we happen to be right now in what will prove a long, painful implosion of traditional publishing? I will look at that in my next post. Spoiler alert: I think the situation is stable, or close to it.