On Going Shooting
My co-workers found out that I've never fired any of the guns that I've accumulated from my various inheritances. This struck them as something that needed to be remedied. So we all decided to spend one Saturday morning at Dragon Man's.
Dragon Man is a bit of a character. Here's what his entrance looked like back around September of 2016: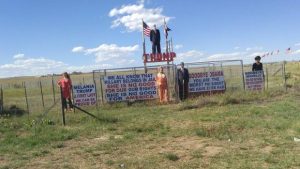 He's got strong opinions. (He's got a handful that aren't terribly appropriate for a family website.)
Anyway, the time came for me to get my guns together and get them cleaned and looked at and maybe put some rounds through them. I have four guns:
1. A .22 rifle that my dad got as a kit back in the 1950s when he was in Indian Scouts. It's a little cheap thing. The parts look like the kit only cost a few dollars back in the 50's and they are assembled in such a way that it looks like it was assembled by an 8 year-old.
2. A Mauser sniper rifle taken off of a dead Nazi by Uncle Bill back in the 1940's. It was originally mounted to a 2×4 rather than a real stock, so when Uncle Bill brought it back from Germany, he had a right nice stock made for it. Which also means that the gun itself is worth more or less diddly squat from a historical perspective.
3. A Ruger Mark I .22LR handgun. My dad bought this back in 1971 from a co-worker whose wife got pregnant and refused to have it in the house. Mere months after purchasing it, my mother announced her pregnancy with me. Dad didn't get the same ultimatum, but he did get a gun case with a lock.
4. Great-grandpa's shotgun. I knew that it had a woman's nickname but I didn't know what that nickname was. A few years back, someone explained to me that the nickname was most likely "Elsie" and I boggled that he was right. "HOW DID YOU KNOW THAT?" and then they explained L.C. Smith shotguns to me. Yep. That's the one.
Well, when I mentioned that I'd never put a round through any of these, my co-workers went nutso and told me that I was, absolutely, going to go shooting.
So we drove out to Dragon Man's. The trip to the range out there is a treat in and of itself: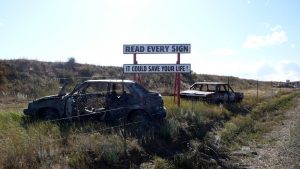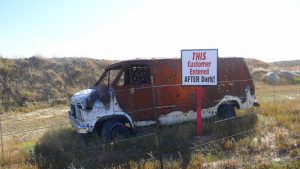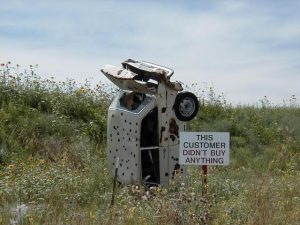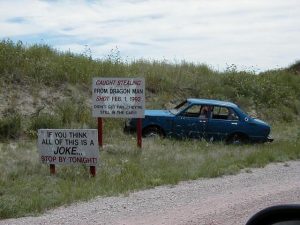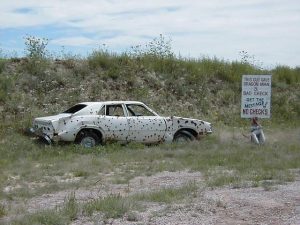 Well, we got there and I didn't have any ammo for my guns and the shop was out of ammo for the Mauser, so I ended up only buying some .22LR for the Ruger. With our ear protection at the ready, we went down to the range itself. They had a number of different distances set up for different kinds of guns. 100 yard range for the rifles, 15-25 yard ranges for shotguns and handguns.
We first got started with some rifles and we were shooting on the 100 yard range (which had wooden pallets set up at both the berth in the back and the 45 yard line) and the first gun I shot was my buddy's 9mm Ruger PC Carbine. It was a pleasant shoot. Semi-automatic, so I was able to fire off several rounds without having to reload or do much of anything except pull the trigger a second time to fire off a second shot. There wasn't much kickback to speak of and the noise wasn't particularly notable. I did a little bit of damage to the pallets at the 45 yard line but we hadn't set up targets or anything so my ability to say whether I hit was based on the pallet shaking after being shot.
Well, the range officer soon shut the range down, told everybody to put our guns on the tables in the front with the actions open, told us to step away from the tables… and then, once everyone had done that, told us that we could set up targets downrange and load our various magazines and STAY THE HECK AWAY FROM THE GUNS. So I loaded my magazine for my little Ruger .22LR handgun. First thing I noticed was how much of a pain in the butt getting the clip out of the gun was. Here, look at the base of the grip here: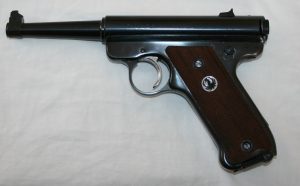 See that little hook thing holding the magazine in place? That is a pain in the butt to push back on a cold morning. Having gotten it out, though, it was easy enough to load the magazine with .22LR (like, I'd never loaded a magazine before but it was really intuitive if you just asked yourself "which is the end of the bullet that goes out?" and make sure that that part is pointing in the direction of the front of the magazine).
We then went on to shoot handguns. My little Ruger was fun and intuitive. Apart from getting the magazine back out, I'd recommend the handgun to anybody. Plinking fun.
"Hey, Jay! Try this one!", my buddy called over. He handed me his Smith & Wesson .38 Bodyguard. I fired it once. It kicked like a dang mule. Seriously, after one shot, the gun went from pointing at the target to pointing 45 degrees above the target. Fired it again expecting the kick this time and, again, it was just as bad. "Yeah, that gun sucks", he told me.
"Now fire this one" and we shot his Smith & Wesson m&p Shield m2.0. I *IMMEDIATELY* fell in love. It was a gun built for easy concealed carry and it was lightweight, but it didn't kick much at all. I found it hard to believe that it was made by the same company as the Bodyguard. It was like the Bodyguard was made by a Russian gun company who didn't care about your wrists and the Shield was made by a Swedish gun company that spent years studying how people held guns and measuring the curve of the hand between the thumb and the forefinger.
If I find myself purchasing a gun in the next year or so, it's going to be a S&W m&p Shield.
After that, we fired my buddy's CZ 2075 Rami. Another little light handgun that was an absolute pleasure to fire after the exceptionally unpleasant Bodyguard. (I still prefer the Shield, though.)
The range officer shut everybody down again and my friend who is in the reserves wanted to go back to firing rifles. He brought out his AR-15, you see. So after the range officer gave the all-clear, we trotted down to the 45 yard pallets and put up a bunch of targets that were specially made to garishly show off color whenever they got shot. Something like this: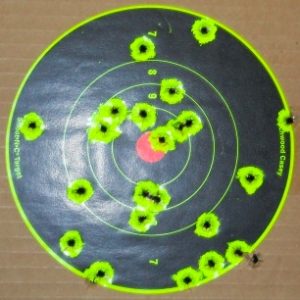 Well, we trotted back to the stand and the range officer gave the OK once he was confident that everyone was back and safe and my buddy fired the AR-15. Holy cow, the AR-15 is the loudest gun in the world. "If they made Toxic Masculinity into a gun, it'd be an AR-15", I thought to myself. After a couple of shots, he asked me if I wanted to try. I made sure my ear protection was well seated and I targeted one of the fresh targets through the site and pulled the trigger.
Holy cow, I actually hit paper. Holy cow, I actually got it in the rings. (I credit my friend's scoping ability rather than my own shooting ability for that.) Most surprising to me was that, holy cow, the AR-15 isn't that loud when you're actually firing it.
The exhaust for the gun was set up so that a *LOT* of noise came out in such a way that it was aimed away from the shooter and directed toward pretty much anybody/everybody else on the planet. I put some more rounds through the target even though I'd never fired an AR-15 until moments before. "No wonder they want to ban this thing", I thought to myself.
After that, we fired a Remington Model 700 from 1965. A fun bolt-action rifle that felt positively analog in comparison to the digital AR-15. Loud, like it felt like a rifle should be, a nice kick like it felt like a rifle should have. (I couldn't hit the broad side of a barn.)
We fired rifles until the range officer shut the range down again and then my buddy suggested shotguns. Once the range officer started everything again, we went through a brief tutorial on how to load and fire a Mossberg 500. After the tutorial, my buddy held up a shell and said "This is birdshot!" and we shot the pallet a couple of times.
He then got a mischievous look in his eye and said "now let's shoot some turkey load." When I pulled the trigger, it felt like I had been punched in the shoulder by a particularly emotionally stunted bully. I looked at my friend who then laughed and said "I'm sorry, Jay."
It was weird. The exact same gun and two different loads both made for that gun (and both firing birdshot) had two *VERY* different experiences. One felt like you'd kinda expect shooting a shotgun would feel like. The other was like shooting a shotgun version of the Bodyguard revolver from earlier. (The pallet didn't survive being shot by the turkey shot shell.)
After that, I went back to shooting handguns and we were there for another two instances of the range officer shutting the range down for target replacement.
On the drive home, I told my friend "yeah… I'd like to do this again. You won't have to drag me out of my house next time, even."
If you've never been out shooting, you should go. You'll learn a lot. And don't be afraid of shooting the AR-15. It only sounds like that when you're more than a foot away from it. (And definitely check out the S&W m&p Shield.)
So… what are you shooting?
(Featured image is "Before, inflight, expanded" by Drew Stephens. Used under a creative commons license.)