Senator Warren's Office of Drug Manufacturing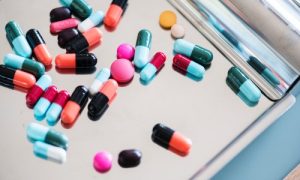 It looks like Senator Warren has scooped me. The Senator introduced a bill to create an Office of Drug Manufacturing within the Department of Health and Human Services. Senator Warren's stated goal is to increase the supply of generic drugs, and decrease drug prices. I have been thinking of something similar to this idea for a while now, but first I'd like to establish what I'm not trying to do.
I'm not trying to fix drug prices. There might be some things you could about drug prices, but I don't think this is one of them, with the exception of cases like Martin Shkreli. If anything, increasing access to healthcare in the United States will increase the overall amount we spend, not decrease it. I'm also not trying to fix the drug patenting process, which while it probably contributes to difficulties in drug supplies, it is too complex to address here.
What I am proposing is a way to increase the supply of pharmaceuticals [and maybe biologics and combination products] that are widely used, off-patent, and are not available in the quantities needed. A secondary purpose is that I think generic drug manufacturing could be an avenue for economic growth in the American heartland. There are American generic drug manufacturers, but also some foreign ones. However, pharmaceuticals is a capital intensive, low labor kind of manufacturing, which the US is quite good at compared to the rest of the world. Given the kinds of problems seen in some foreign manufacturers, where the FDA has little jurisdiction, and the accompanying ever-mounting regulatory burden intended to protect the public, I believe there to be an opportunity here.
Drug Shortages
So why are drugs sometimes not available if we know how to make them and there are patients who need them and can pay? For many drugs, being sourced from a single facility or a single geographic location can be a cause of supply chain failures. For example, the supply of saline I.V. bags was impacted by Hurricane Maria because many suppliers were based in Puerto Rico. Supply can also be disrupted when a single source manufacturing facility suffers from quality problems, meaning they cannot [or should not] pass their batch release testing. Problems of this sort can be time-consuming and difficult to diagnose, which is a bad thing for the public if no one else makes the drug in question.
The solution for both of these problems can be the same thing: diversify your manufacturing locations. In principle, this sort of thing ought to be solvable by the market, but in practice, it hasn't happened that way. For manufacturers, consolidation can be a cost-saving measure, and specific locations may offer financial advantages [e.g. Puerto Rico used to be a useful tax haven for manufacturing, but is no longer].
In other cases, the problem is that the price to make it and get approval to market it is more than you can recoup by selling it. Sometimes the reason for this is the market is very small, the drug is complex and difficult to make, or both. The FDA calls these orphan drugs. In cases like this, either you need to subsidize the manufacturer, or increase the price. The FDA has a program to do this, but this is largely out of the scope of what I am talking about, because generics are less likely to be orphans.
Finally, selling a generic drug is probably more complicated than you think. The process is described on the FDA's website, under the head Abbreviated New Drug Application (ANDA). The terminology may seem confusing, since we are not talking about a new drug at all [what the FDA calls a New Molecular Entity (NME)], but rather an imitation of an existing drug.
However, there is a method to this madness. Patent applications never describe all of the relevant processing steps for a given pharmaceutical, and keeping a process running stably requires constant attention. Pharmaceuticals, in particular, tend to be fragile molecules, and exposure to heat, light, and vibration often can break them down into fragments [known as related substances] that can have undesired effects. You can't just follow a recipe and call it a day. There is some art and some science involved in making a drug that does what it is supposed to do. What this means is that you need to prove that "A generic drug product is one that is comparable to an innovator drug product in dosage form, strength, route of administration, quality, performance characteristics, and intended use." in order to market it to the public.
All of the clauses in that last sentence matter. Do you want to offer the same thing in a tablet with double the amount of the active pharmaceutical ingredient (API)? ANDA. Do you want to apply a gel to a mucous membrane when your data is for transdermal application? ANDA. In addition, pharmaceuticals are not comprised only of active pharmaceutical ingredients. Typically a drug formulation also includes excipients and inactive ingredients, and how you put all of these together [known as formulation] can influence the things you need to prove for an ANDA.
Increasing the Supply of Generic Drugs
Given all this, how can we increase the supply of useful generic drugs in the United States? Senator Warren's bill proposes one possible solution: create a new agency within the HHS, which is on one end of a possible spectrum of solutions. In order of more direct government involvement to less, I think we can posit several possibilities:
an agency within a Cabinet department, like Senator Warren's bill does

an independent agency like the Post Office has become after the Postal Reorganization Act in 1971

a public utility

a non-profit corporation

for-profit corporations
Various kinds of public goods are served by examples at each level. The FDA itself is an example of the first, and in my opinion is relatively good at the job it has been given. However, as an agency in a cabinet department, the FDA lacks competitors. We want to expose our new generic drug manufacturers to competitive pressure, because that is part of what spurs technological development in manufacturing. We also want to ensure we don't just drive other companies out of the market, which hampers the stated goals of this effort.
Thus, I think the Post Office is a better example. The Post Office is mostly funded by what it sells, enjoys some monopoly rights, but also has a number of rather effective competitors. In principle, Senator Warren's bill requires the Office of Drug Manufacturing to be funded by its own activities, but setting it up more like the Post Office to start with would ensure more exposure to the market. On the other hand, the Post Office can't quite make up its expenses with revenue, so maybe we don't want quite this structure.
In addition, such an independent agency would probably lack some the broader powers the ODM proposed by Senator Warren would have, such as setting prices for drugs, or having the authority to take marketing authorization away from companies that increase prices more than the limit authorized by the statue. I'm not sure these powers are important in reality, since I'm less convinced that we can use such authority to save money, but I think they are likely important for gaining political support. I can see a way in which an independent agency model of the ODM could build support by spreading facilities throughout the country, in the way military bases and defense contractors have been. This is a familiar way of getting things done, and would likely still work for something new.
Public utilities at the federal level are rare, after AT&T was broken up, so we don't have good examples here. Although I will note that AT&T did produce a substantial fraction of the good science of the mid-twentieth century in the United States.
To the best of my knowledge, incorporating a non-profit corporation that manufactures generic drugs wouldn't work. We have non-profit hospitals, but such entities occupy a different place in the supply chain than manufacturers do, so we'll leave this option out. If anyone knows otherwise, please let me know.
So what about for-profit manufacturers? I almost left out this option, because it really does seem to me that that there is a market failure here. But I think there are some options for sweetening the pot, in much the same fashion as the FDA does for orphan drugs, that could make this a viable option. I think you could offer direct price subsidies, change patent law to limit patent claims, or offer tech transfer. This last one is a place where I think the ODA could be an enormous benefit to domestic generic manufacturers. Profits are needed to finance R&D, which for generics mostly means manufacturing and testing improvements. If you want to cut prices hard, offering technology in compensation could offset the existing market disincentives, while simultaneously building up domestic capability in an area that would genuinely benefit Americans.
Also, in practice, I think Senator Warren's ODA would in fact rely heavily on existing contract manufacturers to make its mission a reality, a realization that I believe is already written into the text of the bill. The bill features language referring to contractors in several places, for creating ANDA submissions, and for manufacturing drugs and APIs. Where this really becomes important is in the manufacturing levels section, where the bill specifies that the agency must manufacture, or enter into contracts to manufacture, 15 drugs within one year. Spooling up to manufacture 15 drugs in one year would be a remarkable feat. One would need to buy equipment, install and validate it, get the processes up and running, and then generate data for submission. This is a tall order, and the path of least resistance will clearly be the "enter into contracts" clause.
If anything like this bill passes, we should expect that most of the generic drug manufacturing would be outsourced to existing drug manufacturers. Who gets picked and why would likely be controversial, and a likely cause of pork barrel politics. Which isn't to say it couldn't work, if working means more generic drugs are made.
The final version of any such bill would, of course, be very different than what we see now. However, I like the idea of trying to increase the supply of useful drugs, and so I am proposing a possible political coalition that would try to add in industrial policy to this attempt to cut drug costs. I think that we have an opportunity here to do something different and interesting, if we are willing to look for ways to offset the very real costs of manufacturing and marketing quality drugs that will ultimately benefit everyone.