Wednesday Writs for 12/12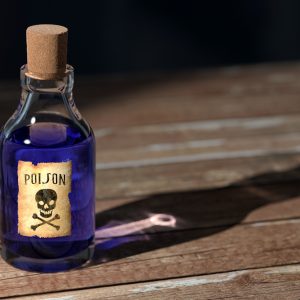 [L1]: Carol Bond was a woman scorned by a cheating husband, but it was her best friend, who happened to be her husband's pregnant mistress, whom she blamed. The actions Carol took to exact her revenge resulted in her being charged with violation of an international treaty, and became the basis for Bond v. United States, our case of the week.
Carol Bond was a micro biologist, so naturally her plan was to poison her husband's girlfriend with toxic chemicals. Fortunately for the homewrecker, Carol was caught before she could inflict any serious damage- but the federal government indicted her under the Chemical Weapons Convention Implementation Act.
Mrs. Bond appealed the charges levied by the United States, on the grounds that the government had no authority to use an international treaty in a domestic prosecution. In support, she cited the Tenth Amendment, which says the federal government only has the powers granted to it by the Constitution. First, the government denied that Carol, or any individual, had standing to challenge federal law under the Tenth Amendment, arguing that only a state could do so. The Third Circuit agreed, but SCOTUS sided with Carol and sent the case back for reconsideration on the merits of her Tenth Amendment claim. Still, the Circuit Court sided with the government, opining that while the prosecution's interpretation of the Act as used against Carol Bond was "striking" in its "breadth", it nonetheless held it was applicable. But Carol once again appealed to the Supreme Court and in a unanimous decision (including three separately written concurrences), SCOTUS reversed her conviction in 2011.
[L2]: A few weeks ago SCOTUS heard argument in Nieves v. Bartlett, in which Russell Bartlett argues that his 2014 arrest for disorderly conduct and resisting was retaliation for his exercise of free speech- he claims he was arrested for approaching an officer to express displeasure at the officer's questioning of a group of teens. The issue is whether his arrest- which was for resisting an arrest arising from his verbal complaints of the officer's conduct- amounts to a retaliatory violation of his freedom of speech. The issue has been before the court twice before with mixed results. Erwin Chemerinsky speculates whether the third time is the charm.
[L3]: A Massachusetts judge is facing a probe into allegations she allowed a defendant appearing in her court room to escape out the back door to elude ICE agents waiting outside to take him into custody.
[L4]: A class-action lawsuit has been filed against Pinnacle Foods, Inc. over their Hawaiian brand potato chips on false advertising grounds, because the chips are made in Washington State. This is an outrage. Next, you'll be telling me Swedish Fish aren't actually made in Sweden (some are, but some are made in Canada).
[L5]: Were the Stormy Daniels/Karen McDougal payoffs-the ones the president didn't know about, ok he did know but wasn't involved, ok he was involved but it was legal, ok it wasn't legal but it was Cohen's mistake-an illegal campaign contribution? These analysts say yes.
[L6]: This one guy (besides Trump) disagrees.
[L7]: Pro-union advocates who were troubled by last summer's SCOTUS decision in Janus are worried there may be another, more problematic case in the pipleline.
[L8]: In another Janus spinoff, one in which I have personal interest, a North Dakota lawyer demands to be free of bar membership.
[L8]: Podcast recommendation: The Modern Law Library from the ABA Journal is a short bi-weekly podcast featuring the authors or subjects of books of legal interest. The most recent episode features three judges who contributed to the book "Tough Cases: Judges Tell the Stories of Some of the Hardest Decisions They've Ever Made."
[L9]: I should rename "Dumb Criminal of the Week" as "Florida Man of the Week": If you illegally jump into a crocodile exhibit, don't leave behind your Crocs. Or a trail of blood.