Sunday Morning: The Princess Bride (the book version)
I read The Princess Bride back in the 80's. It was before the movie came out so it must have been '84, '85, or '86. I checked it out from the library as part of their "Summer Reading" something-or-other. There were a handful of books I read as part of that… I only remember the book I hated and the book I loved. Princess Bride was the book I loved.
The book had a wonderful conceit:
It's not the story "The Princess Bride". It's the story about the story "The Princess Bride". I remember that the book had a red cover and so I googled for the images of the book and found this: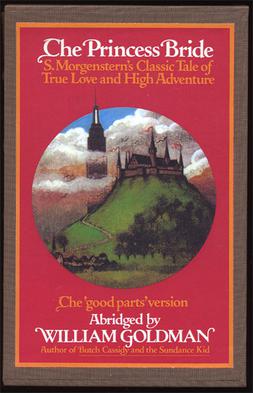 Let's read the cover together:
The Princess Bride
S. Morgenstern's Classic Tale of True Love and High Adventure

The 'good parts' version
Abridged by
William Goldman
Author of Butch Cassidy and the Sundance Kid
(Hey! I didn't know he wrote Butch Cassidy and Sundance!)
Anyway, I went into the book thinking "oh, this is a book with just 'the good parts'… huh. I feel a moral obligation to read the original but, hey, this is the book the summer reading program gave me and so this is the version I will read in order to get my candy bar."
And I was so glad that Mr. Goldman abridged the book for me! It had just the good parts. The funny conversations. The Swashbuckling. The characters! And then, when we got to a point in the story where Mr. Morgenstern went off and talked about boring stuff for a few dozen pages or so, Mr. Goldman would write and tell us that he was skipping a bit.
Here's how Chapter Two begins:
     This is my first major excision. Chapter One, The Bride, is almost in its entirety about the bride. Chapter Two, The Groom, only picks up Prince Humperdink in the last few pages.
This chapter is where my son Jason stopped reading, and there is simply no way of blaming him. For what Morgenstern has done is open this chapter with sixty-six pages of Florinese history. More accurately, it is the history of the Florinese crown.
Dreary? Not to be believed.
Why would a master of narrative stop his narrative dead before it has much change to begin generating? No known answer. All I can guess is that for Morgenstern, the real narrative was not Buttercup and the remarkable things she endures, but, rather, the history of the monarchy and other such stuff. When this version comes out, I expect every Florinese scholar alive to slaughter me. (Columbia University has not only the leading Florinese experts in America, but also direct ties to the New York Times Book Review. I cant help that, and I only hope they understand my intentions here are in no way meant to be destructive of Morgenstern's vision.)
Isn't that great? Chapter 4 begins by Mr. Goldman saying that, when *HIS* father read this book to him, he said "What with one thing and another, three years passed." When he sat down to do the "good parts" version, he looked at the original and said "holy cow, this part is the longest part of the book! And nothing that advances the story happens! For one-hundred and five pages!" and then so Mr. Goldman summed it up with one sentence: "What with one thing and another, three years passed."
I remembered thinking, again, "Huh… I should probably read that. Someday. In the meantime, I'm glad I get to skip ahead a bit without any guilt."
It was *YEARS* before I realized "hey, Morgenstern doesn't exist! The good parts version is the only version!" (What can I say? We didn't have the internet yet.)
As good as the movie was, it was a movie that I walked out of thinking "the book was better."
And it was with that thought that I delighted to see a huge hardcover version of the book sitting on a table at Costco last weekend. It's this one. But as I flip through it to find snippets to excerpt, I think "man, this is a *BEAUTIFUL* version… but it's unwieldy. It's not a 'curl-up-on-the-couch' version."
I bought the hardcover version because it was beautiful and it made me remember curling up and reading a dog-eared version back when I was a kid. So I'd say that the hardcover version is a great gift for someone who loves the book… but if you're going to give a copy to someone who hasn't read it yet? Get them a paperback. Something that they can put down open-faced while they run to answer the door or get a snack and they don't have a bookmark handy. Something that they can hold while they curl up on the couch. Something that they can cheerfully give away to a friend as soon as they finish it and say "Here! You *MUST* read this!"
And *THEN* they can get the beautiful hardcover version.
So… what are you reading?
(Image is "Chapter 30" by Carolyn Langton. Used under a Creative Commons License.)