Stan Lee 1922-2018
I came late to the world of superheroes; while I was intrigued by the concept, my father was an intellectual who thought comics were silly and my mother thought children needed to grow up already and didn't I have homework to do? So I discovered Marvel Comics as an adult, as a parent to Spiderman-obsessed sons who were kind enough to share their ominibuses of reprinted Silver Age comics with me. I read them more out of curiosity than anything, and was surprised to find the comics really were enjoyable entirely on their own merits. It wasn't just baby boomer nostalgia, there was magic to Marvel, and I felt at home in this strange universe full of people who had great power and great responsibility. Marvel heroes were still human, still subject to flaws, foibles, and weakness, never too good to be true or too perfect to be emulated. Their heroism was attainable, achievable, even for an ugly and unlovable mutant who never quite fit in, who never had a tribe and only just barely a family.  The Marvel universe was populated with kindred spirits looking for belonging in a world that despised them.
I enjoy pretty much everything about Marvel Comics, but as a writer, a specialist in dialogue, a lover of capturing the rhythm of spoken words on paper, I've always felt the deepest connection with the guy who filled in the bubbles. Stan Lee. He passed away Monday at the age of 95. And even though we all knew it was coming, it still stings.
One of the most remarkable things about the man born Stanley Lieber in 1922, is that he really did start from nothing and got ahead on sheer courage and determination. Stan Lee is a plucky hero ripped from the pages of Horatio Alger. His parents were immigrants, his father in and out of work during and even after the Depression. Young Stanley knew early on that he wanted to be a writer and went out and got jobs doing exactly that. He wrote obituaries and press releases and sold newspaper subscriptions till a family member got him a job at what was then called Timely Comics. He started off filling inkwells and bringing people their lunch but just before he turned 19, he became an editor.
An editor. At 19. Wrap your head around that. It's almost like a superhero origin story itself. Teenager gets bit by a radioactive writing bug and becomes the real OG.
In the midst of his newfound success, as so many men did, Stan selflessly stepped away from this dream come true to enlist in the Army during World War Two. He spent a few years fighting fascism by writing training films and equipment manuals and slogans and advertisements and catchy slogans. Remember "VD? Not me?"  'Twas Lee. When he came home, as so many men did, he selflessly went right on back to work at what was by that point called Atlas Comics, editing and writing detective dramas and Westerns and horror stories and a couple of minor league superhero tales. Atlas was not a financially or creatively healthy company and the business was failing fast. Eventually Stan was the sole writer and editor left – he wrote and edited literally everything Atlas Comics published.
I imagine it went a little something like this.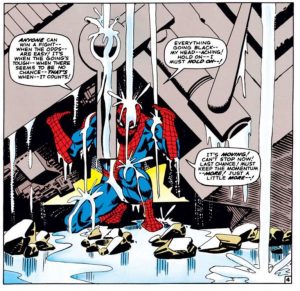 Stan Lee had repeatedly, miraculously performed amazing feats over the course of his existence up until that point. He had lived a full and accomplished life by any measure and yet he still hadn't created the iconic characters for which he later became famous. He was in his forties before Marvel Comics – formerly just a minor division of Atlas- really became Marvel Comics! and Stan began to write the iconic characters – X-Men, Spiderman, Hulk, Iron Man – that eventually became synonymous with his name.  As a late starter myself I find that just as inspirational if not more so than his coming from nothing. Because working every day for your whole entire life is hard. Working beneath your capabilities is even harder. But Stan kept plugging away at it, much of the time spent failing, barely hanging on, largely unsuccessful, till he finally got the opportunity to shine, and then shine he did. There are so many of us out there, dreamers with one foot in this world and one in a universe that exists only inside our heads, who, like Stan Lee, have stories and characters that well up inside of us and we just don't have enough hours in the day to get them down.  As Lee said, "Writing stories is what I do. I think about it, but it's no problem. I've just gotta get the time to do it."
He had the time and he finally had the opportunity…well, maybe not enough time for his liking, but no writer ever has enough time. Most writers have to put food on the table and raise families and never get the chance to get the work out of their brains and into the hands of people who can publish what they write. But Stan had his chance at long last, and he capitalized on it. He was just lucky enough to have been born at the right place at the right time, in an America where a driven kid who could string a couple words together really could start off filling inkwells while dreaming of writing the Great American Novel and end up adored by millions as the public face of a billion dollar comic book company.  And he was just lucky enough to have the temperament that enabled him to both please his bosses and connect with the public – a temperament that others who were just as talented as he was, or even more so, lacked.
Stan Lee always said that luck was the greatest power a superhero could have.  
But luck only gets you so far. It may be better to be lucky than good, but if you're good enough, work hard enough, you make your own luck. Stanley Lieber wouldn't have become Stan Lee as we know him, if he hadn't been strong enough and tough enough to endure, to keep showing up, to stick with it during the Atlas days when he was bored and burned out and everything was going wrong, to somehow be the guy who didn't get fired when everyone around him was getting fired.  And perhaps most important of all, right till the end of his life, Stan Lee remained that funny, friendly, lovable dude who never made the fans feel like he thought he was better than they were. Even though he started off thinking comics were maybe a little beneath him, he was clever enough to recognize a good thing when he saw it and savvy enough to set his pride aside and tap into the zeitgeist.  He didn't just tap into the zeitgeist, he subdued it.  Befriended it.  Stan Lee rode the zeitgeist like a bucking bronc.
Yet in the words of Stan himself, when it comes to heroes, "…inside their colorful costumed booties, they'd still have feet of clay". It has been scientifically proven by the Gods of the Internet that Stan Lee was, in fact, human and imperfect. He did indeed have feet of clay. There's been much debate about how much credit Stan truly deserves for the creative tempest that became the Silver Age of Comics and how much should go to the others that worked with him at Marvel – Jack Kirby and Steve Ditko chief among them. People will be debating that question for a long time, I suspect. I think for now, we should all simply feel thankful that some very talented guys came together for a brief, shining moment to spin some great stories with unforgettable characters and a healthy dose of Stan Lee's pizzazz, and to feel sad that they're gone now. We can remember them and remember the stories they told and love the characters they created no matter who did what, when where and how.
Whose name came first seems like a small and trifling thing, in retrospect. Because it doesn't matter any more and I'm not sure it ever really did. The whole was always more than the sum of the parts.
Whether Stan Lee was a genius at writing, or a genius at marketing, I'll let others decide. I liked him, and I'll miss him. And even though I know millions of other people have paid tribute to him in this trite and obvious manner, there really seems to only be just one right way to say goodbye.
Excelsior!
Photo by pinguino