California Congressman gives "nukes" as reason that any American civil war would be a short one
John Cardillo, of Newsmax (yeah, I know… he's not the point), tweeted this:
Make no mistake, Democrats want to eradicate the Second Amendment, ban and seize all guns, and have all power rest with the state.

These people are dangerously obsessed with power. https://t.co/f1AS6Me0ko

— John Cardillo (@johncardillo) November 16, 2018
If the tweet disappears, it's a link to an article by NBC talking about California Congressman Eric Swalwell calling for a confiscation of assault rifles.
A Republican Bluecheck (somebody I've never heard of) made a tweet in response and the congressman in question tweeted back this (the link is good as of right now but here's a screenshot if, for whatever reason, the tweet isn't there later):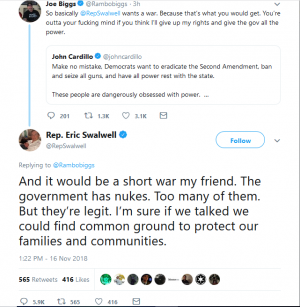 (Image is taken from Rep. Eric Swalwell's twitter banner.)