A Predictable And Yet Historic Midterm
Two years ago, the nation and the Democratic party especially came out of the 2016 presidential election shocked and in awe over President Trump's historic upset victory. The party of FDR and Kennedy had not only lost the White House to the most unpopular personal polling presidential candidate in recorded history, they also had no power or relevancy left in either chamber of congress and were down to just 16 gubernatorial seats (Later revised down to 15 when their newly elected governor in West Virginia switched parties in the middle of a Trump rally). In just eight years, the blue team had gone from riding a historic Obama wave to getting to a point where they couldn't even beat Donald Trump of all people.
On election night 2018, Democratic fortunes began to change. With their rivals on the right anchored by a consistently unpopular president since the day he took office and voters having healthcare on the mind instead of the great economy, the blue team took its first big step out of the wilderness when they flipped control of the House, held their own defending a HORRIFIC Senate map, and gained significantly on the governors' scoreboard. But this time, unlike in 2016 with Trump, the Democratic victory was an expected one. The talk of a pro Democratic blue wave sweeping into Washington DC, powered by a backlash towards Trump, had been theorized for over a year now and likewise had shown itself in polls and forecasts. And while the results were predictable, there was plenty of history to note as well.
In this piece, I will break down how and likely why the Democratic party bounced back this year, as well as looking at what history was made along the way. In other words I'll be looking back to see which storylines I've highlighted before actually played out on election night, and how the historic trends held up compared to the actual results.
A Historic Modern-Day Midterm Turnout
The historic trends pointed to a rise in midterm turnout compared to the previous one. Well, not only did that trend continue, but we saw a peak in midterm turnout not seen in OVER A HUNDRED YEARS. The estimates are still being updated as the final votes are tallied, but we're looking at anywhere between 49%-50% turnout for this election. Woodrow Wilson was President the last time the electorate came out like that for a non-presidential year. To give you a perspective of how big a jump in turnout that is, the 2014 midterm saw just under 37% turnout nationwide. That's a huge double-digit jump! Some areas in the country even saw presidential year type turnout, and this will be the first midterm to break 100 million plus in votes.
Of course, the question is where did that jump in participation come from? Speculation understandably is that the Trump backlash helped engaged typically low turnout voters for this type of election. Others point to the fact BOTH sides were engaged and enthused to come out according to the polls. Whatever the reason, the longer-term curiosity is will this be a one cycle fluke? Or has 2016 and its aftermath triggered a new normal in midterm turnout that former President Obama, a big advocate for higher turnout in midterms like these, could have only dreamed of? The question for me, coming off such a huge spike in midterm voter participation, is whether this also teases a new modern-day record in presidential year turnout come 2020. Only time will tell.
A Split Congress, Just As Everyone Predicted
One historical pattern that emerged for first midterms for modern day presidents was that they usually resulted in a split congress. As expected, that trend continued this year as Democrats have taken control of the House even while coming up short in the Senate. The table below shows how history predicted that very result along with similar correct trends on the party out of power gaining in governors' seats.

But it wasn't just history that predicted the results in congress correctly. Pollsters and forecasters, fresh off being declared useless and dead after their 2016 debacle, did well predicting the results. The table below shows the various predictions some forecasters and polling averages made and how they compared to the actual results. You'll note the margins of error weren't really too dramatic. The night everyone expected was about what we got.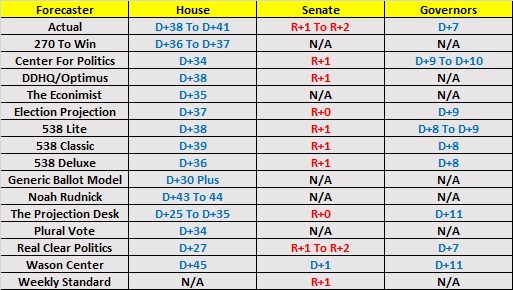 In the end the Democrats didn't choke away the House, doing about as or a little better than expected, the President's unpopularity allowing them their best net gain in seats since Watergate. The Republicans didn't choke away the Senate either, also doing about as or a little better than expected. The nightmarish map Democrats had to defend ultimately proved too much, though coming away with just a net gain of 1-2 seats with such a great map has to sting for the GOP. Everything predicted this overall result, from the historic trends and the pollsters/forecasters; this time around the conventional wisdom was right. The governors' races did see Democratic gains as expected though Republicans barely held on in some close races to do slightly better than expected during a bad year for the red team.
A Historic Year For Women
Women were set up to have a great year, and they did not disappoint. Over a hundred women will now be part of congress, a record. In various states, women became the first female governors in the history of those states. From coast to coast, regardless of party, women were elected to have the loudest voice they have ever had representing the country's political institutions.
Exit polls showed a vast majority of voters were ready to elect more women and found it important to have more female representation. Democrats easily won those who felt that way which could have only helped fuel the 2018 blue wave. Women came out to unleash wrath on the GOP and in turn elected more and more of themselves into office.
The Electorate Re-Aligned?
2018 was not 2016, and yet in other ways it was. It was not 2016 in that it was a more Democratic year, but the patterns of polarization and re-alignment of coalitions that showed themselves in 2016 only strengthened in 2018.
Rural areas doubled down on the GOP, helping toss out Senate Democrat incumbents in Indiana, North Dakota, and Missouri. Not to mention the rural dominance by the GOP in Florida, which was a big help to what may be the biggest wins they had during a rough year – the Florida gubernatorial race and the likely flip in the Florida Senate race. While Democrats did well in the mid-west states formerly known as "the blue wall", showing some signs on how to defeat Trump in these crucial states, they also had some areas of weakness there that could point to how they could come up short in 2020.
But the biggest story of the electorate hands down came from the women's vote, the youth vote, the suburbs, and the forgotten independents I've been harping so much about. Women and youth, Hillary Clinton voters, voted for Democrats by even bigger margins. The suburbs and the independents went from fueling a GOP House win in 2016 to voting in a Democratic majority. Independents, by the way, went from backing Trump and the GOP by 4-6 points to voting Democratic by double digits.
Among those who didn't vote in 2016, the GOP lost them by massive margins. Among those who backed a third-party protest candidate in 2016? Democrats won them by double digits. Democrats even did better in taking some Trump voters than the GOP did taking some Hillary voters; just as Democrats held their own partisans better than the GOP did theirs. Even Seniors and the male vote shifted towards the Democrats.
This points to the continuing trend of a polarized country divided among gender, race, class, education, partisanship, living locations, generations, etc. Democrats should worry that they continue to have trouble with rural voters, while Republicans should be worried about the backlash they received from important suburban and independent voters they can't afford to keep alienating. 2018 in some ways may have been 2016 on steroids. It may also be in hindsight what 1994 was, a re-alignment midterm that points to the coalition both parties will have over the near-term future.
Putting A Bow On The Midterms
So did Republicans ever have a chance to make this a better year for them than it was? Well, probably not. As soon as Donald Trump upset Hillary Clinton, negative partisanship and the typical midterm backlash against the White House party went in favor of Democrats. On top of that, even as the economy continued to show great numbers, the sitting GOP President's unpopularity never went away, only changed in severity. Exit polls show that voters who made up their minds, whether it be a year ago, months ago, weeks ago, or even at the last second, were all trending towards the blue team. The generic ballot only got better and better for the Democrats as time passed and they were consistently ahead. In short, this was always going to be an uphill climb for a party defending an unpopular President, regardless of the good economy.
As I like to say, the election gods come to collect, and after giving the Republicans such a surprising win in 2016 they came for their sacrifice in 2018. One must wonder if under a President Rubio, Kasich, or even Cruz if the dynamics of the good economy would have helped more given those candidates would have been more generic R Presidents than someone who evokes the emotions that Trump does. And there is no doubt in my mind that if those 80K votes in those three very close states went to Hillary, 2018 would have been another GOP midterm wave.
There also seems to be a lot of debate as to whether this was a wave year. As you can probably tell from my tone in this piece, I agree with those who say it was. Democrats made house gains not seen since an angry country punished the GOP over Watergate in 1974, held their Senate losses to a seat or two while dealing with a map so cruel it was almost unfair to the Democrats, and are now nearly at parity in the map of governors just a little over a year after they were at just 15 seats there. There have been many battles between these two political parties over the last 150+ years but there's no doubt in my mind that this round went to the blue team.
What Does This All Mean For 2020?
The honest answer? We don't know. History tells us that midterms are not predictive of the next presidential election. Harry Truman, Ronald Reagan, Bill Clinton, and Barrack Obama come to mind as presidents who bounced back and won re-election after getting humbled by voters in their first midterms. But there have been midterms that in hindsight probably sounded the alarm for the party in power such as the weak Democratic performance in 1978. History also says presidents tend to be re-elected, and that's good news for Trump. We're also now nearing three decades since a president lost re-election, which means we're getting about due for a re-election gone wrong.
Where as the structural advantages favored the GOP this year, they will favor the blue team in 2020. Turnout in presidential elections are better for Democrats than in the midterms, and the Senate map next time around will be to the advantage of the challenging Democrats. However, the GOP showed they can overcome such things in 2016, and finding a way to hold on to the Senate while winning a close presidential election is plausible. Republicans are also hoping to take back the House in 2020, but it is very hard to flip the House in presidential years – hasn't happened since the 1952 Ike victory.
What you get is a sort of pick your own spin. Whichever party you root for, you can claim that 2020 will go your way because so and so. But the reality is the environment and Trump's standing with the public will likely matter the most.
No president since Truman has survived re-election while posting approval ratings under 50% has won re-election. Trump MUST get his numbers up, as the midterms showed his party suffers when he's unpopular. Of course, Trump overcame bad favorable polling in 2016, so Democrats would be wise to counter him with a candidate who has positive favorable polling – unlike Hillary Clinton.
Democrats would also be wise to start implementing strategies to win back rural voters and change the trends in the Midwest. Ohio is slipping away from them, and Michigan is becoming swingier. However, Republicans MUST stop the bleeding with suburbanites and independents. Arizona, Georgia, and even Texas are showing signs of becoming more competitive on the federal level thanks to these re-alignments. The 2020 map could end up looking a lot different than what we're used to the same way 2016's map surprised us all.
Trump will be able to sit back and watch the Democrats beat themselves up during the primary selection process, with the DNC reportedly bracing itself for a 20+ candidate field. However, what happens if these rumors of some Republicans challenging Trump come to pass?
And of course, there's the unknown world events to come. What if the FBI investigation ends in a bad way for Trump? What if the economy just gets better and Trump's approvals start to rocket? What if the economy goes bad and Trump's floor collapses? We simply have no clue what environment we're looking at in 2020. How good or bad it is for the sitting President will matter a ton when trying to predict 2020.
Ultimately, in my opinion, the GOP suffered huge setbacks and paid a big price for Trump these past midterms with voters they will need to get better with before 2020. Democrats made a great step forward to getting out of the wilderness, but they still have some work to do themselves, as some 2016 negative trends for them also continued. Ultimately 2020, in my opinion, starts out as a 50/50 proposition for both parties. The Democrats have the momentum, but the Republicans have some history on their side. All I can honestly tell you is to probably expect the unexpected.