Sunday Morning: Mama's Biscuits
Mom regularly told the story of her matrilineal grandmother's biscuit recipe and writing it down and wrestling with the non-standard measuring units. I asked mom to give me the recipe knowing that I'd share it and she cheerfully did.
Biscuits this good should be shared.
Here's the original ingredients list:
One large handful of self-rising flour
One dollop of sugar
One small nickel-sized amount of baking soda
The yellow bowl filled with buttermilk to the first line
Two little metal scoops of clean bacon grease
Luckily, my mom was able to capture each of these and translate them to imperial units for those who don't have the yellow bowl or who happen to have differently-sized hands.
One heaping cup of self-rising flour
One scant Tablespoon of sugar
1/2 teaspoon of baking soda
3/4 cup of buttermilk
Two Tablespoons of clean bacon grease
The instructions were somewhat similar. They made reference to a "hot" oven. How hot is a hot oven? As it turns out, a hot oven is 450 degrees. Here are the translated instructions:
Mix ingredients together. Dough will be thick.
Roll on floured board to width of first knuckle of little finger. Cut into rounds with biscuit cutter or floured small glass.
Place into lightly greased cast iron skillet.
Bake at 450 degrees for 10-15 minutes until golden brown
Yield: One skillet full
Mom told me that, even capturing the imperial measurements, her biscuits were never quite as good as Mama's and warned that mine wouldn't be either and so I pass the warning on to you as well. You won't make these as good as Mama did. But they're pretty good.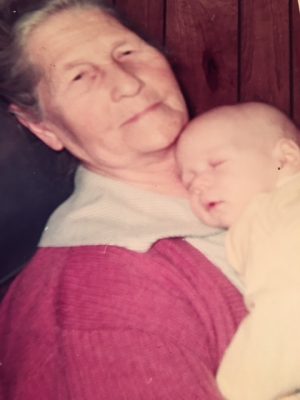 So… what's cooking?
(Featured image is "Cast Iron Pan" from Wikimedia Image Commons, used under creative commons licence. Above picture is "Mama and Jay", picture taken by author's mother and used with author's mother's permission.)