History Predicts The Midterms
In my previous piece, I wrote about the various storylines that are happening for this year's midterms. But now with us on the cusp of election day, I was wondering what history has to say.
Why? For one, while there are outlier years, historic trends exist and are used by various models, forecasters, and even pollsters in making decisions on turnout and party weights. I myself use historical trends over at my monthly updated forecasting website when trying to forecast odds for who wins control of congress or predicting other elections.
To show you how much weight history can have to helping predict an election's results, in 2016 while pollsters and forecasters were falling over themselves in missing Trump's big upset victory, historical models were much more bullish on him in comparison when looking at him as just a "Generic Republican". Case in point, Alan Abramowitz's "Time for a Change" model and Allan Lichtman's "Keys to the White House" forecast. The former also included a successful historical model using generic ballot numbers to predict control of the house. (For the record, this year that model predicts a Democratic takeover of the house).
So, I do think it's worthy to try and look at historical trends to watch out for when November 6th, 2018 plays out. One by one, I will look to historic trends to show us what may come to past this year regardless if the trends agree or disagree with professional pollsters and forecasters.
Now for the purposes of this article, I will only be looking exclusively at the midterm races that match up with this year's situation – a first midterm for a President just directly elected into office two years prior. And so we don't go too far back, I'll be looking at modern era post-WWII situations – basically starting with President Eisenhower's time in office to present day. To clarify, that means we'll be looking at the midterms of 1954, 1962, 1970, 1978, 1982, 1990, 1994, 2002, and 2010.
Trend #1: The Party Out Of Power Tends To Do Well In Modern First Midterms
You've heard this many a time before – the party that does not have control of the White House, is the party that does better during the midterms. So why not put that claim to the test? I went back and charted the results for the house, senate, and governors' races during a situation like this year and found that while there are some exceptional outliers, this is generally true as the table below shows.

As you can see post-WWII, the first midterms for a President elected into office two years prior have not usually been good years for their party. Granted there are outliers such as the out party actually LOSING seat(s) for the house in 2002, in the senate in 1962, 1970, and 2002, and in the governors' races in 1990. But later when we investigate other factors it may explain what lead to those outliers.
What does that mean for 2018? Well, with the consensus being that Democrats will flip the house, come up short in the senate, and make some major gains in the governors' races, this table shows us that's about what to expect in this type of situation. On average, it's the house where the out party makes major gains and the senate is where the party in power seems to limit their damage (the GOP tsunamis of 2002 and 2010 notwithstanding). For the governors' column, the out party seems to make a good amount of gains with some years producing big numbers.
So, historically the trend of the out party doing good during the first midterm of an elected President goes along with what we're expecting on election night.
Trend #2: The Party Out Of Power Tends To Escape With Control Of Either Chamber In A Modern First Midterm – Especially In The House
Of course, gaining seats is one thing, actually gaining enough to take control of the chambers in congress is another. So, I decided to look at the final result of who controls what in these midterms we're putting under the microscope. I found that not every midterm resulted in the party out of power flipping or even keeping control of either chamber, but most times at least one chamber goes to the party not in the White House as the table below shows.
So, in a situation like 2018, 67% of the time the house has ended up in control of the party outside of the White House. But the Senate has been a completely different result with only 44% of the time first midterms for a post-WWII President producing the outside party in the White House having control. In total, that's lead to only full control of congress for the out party a similar 44% of the time.
Historically that once again shows trends for a first midterm matching with the expectations for 2018, as a split congress is the most likely result as it's happened at least 67% of the time in these first midterms. So, there's nothing strange in Democrats having a good night but not getting control of the senate even if they didn't have such a tough map to deal with.
Obviously, there's been outliers like 1962, 1978, and 2002, when not even one chamber would flip to the party outside of the White House. The GOP is hoping 2018 joins that minority list but there's something regarding those three years that pops up at anyone examining the historic trends that doesn't bode well for the red team. The next trend we're going to be looking at – Presidential Approval.
Trend #3: The Party Out Of Power Takes Advantage The Most When The Sitting President Is Under 50% Approval – As Trump Is
Midterms tend to be change elections that are referendums on the White House. Historically, Presidents have suffered with their popularity two years into office, either falling from an inauguration peak in approval or being outright unpopular with the public. The more unpopular the President is, the more the party out of power can beat up on them to gain in midterm elections. Therefore following the President's approval rating can be just as important when looking towards midterms as when the President is up for re-election.
I've decided to use Gallup's numbers to examine where a President likely was in approval come election day. Keep in mind other individual polls may differ. Using Gallup, the table below shows very clearly that while the party outside of the White House tends to do well in midterms regardless, the party in power having an unpopular President seems to compound their midterm problem.
As you can see, the party out of power does worse than the average post-WWII first midterm year when the sitting President is above 50% approval. And inversely the party out of power does better than the average post-WWII first midterm year when the sitting President is below 50% approval. 1982, 1994, and 2010 pop out of the table as the year where an unpopular President cost his party some big losses. And yet notice out of these three only one of them resulted in control of both chambers of congress.
What does this tell us? It tells us that once again history is teasing and agreeing with the expectations for November. President Trump may be experiencing a slight bump in approval of late, but he remains under parity as he has been in the average of polling since the day he took the oath of office. That puts the red team having to deal with a likely worse than average midterm year because of that, but still a split congress is likely even when taking that historic trend into account.
It makes sense. If the public is unhappy with the sitting President, they're going to punish the party in power more than they usually would do in a midterm, an election cycle already tough for the White House partisans to begin with. Trump's consistent unpopularity is historically an anchor to the GOP come election day.
Trend #4: The Party Out Of Power Tends To Do Well In Modern First Midterms Regardless Of The Economy, Though A Good One CAN Help Limit Damage
One measure of economic health (though there's other factors that should be looked at) is the unemployment rate. With the economy doing well this midterm cycle, many have wondered if this will lead to the party in power actually limiting the damage. However, history tells us in the table below that regardless of how good or bad the economy is the party out of power can have a good to great year regardless.

Obviously, the party out of power has done very well when unemployment is above average for a post-WWII first midterm. But when unemployment is lower than average – as of this writing unemployment is under 4.0%, better than any year we're researching – the party out of power still makes gains, albeit just matching or doing slightly worse than the average midterm losses.
Note that in years like 1954, 1978, 1990, and notably 1994 the unemployment rate being below average for a modern first midterm didn't stop gains from across the board for the out party. It seems the economy being bad logically hurts those in power, but the results are a tad mixed when the economy is more positive.
So, history shows us that as good as the economy is right now, it may not be enough to help the GOP save their house majority. However, the fact the economy isn't incredibly bad like in 1982 or 2010 probably should worry any Democratic partisans hoping for a truly historic tsunami type of result. But expectations aren't for a massive tsunami, it's for a great year for the blue team yet nothing as massive as say a 1994 either – though it's worth bearing in mind that the 1994 midterm was also a year where unemployment was better than average for a modern first midterm.
Trend #5: Turnout Tends To Go Up From The Previous Midterm For A Modern First Midterm
The final historical trend to look at is not about how the party out of power will do as much as what we should see with turnout this year. As you can see from the table below, turnout tends to go up from a previous midterm to the first post-WWII midterm for a new President even if that previous midterm was also a President's first (and in their case only) midterm. Since the 1980s this seems to have become more of a consistent rule than a majority pattern.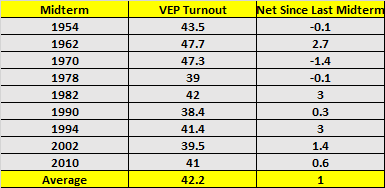 There've been a lot of interesting signs from voting statisticians and pollsters themselves that this midterm will not see just an increase in midterm turnout, but that we may see a turnout not seen for ANY midterm since Nixon was in office. History seems to agree that turnout will likely go up, but we'll have to wait to see how much higher it actually does if at all.
Note however that turnout went up significantly by 3 whole points from the previous midterm in 1982 and 1994. The first was a great year for the out party and the second a fantastic year for them. So, if turnout goes up significantly it might mean those angry with the party in power are more motivated to come out? But 1962 saw nearly as much of an increase in midterm turnout and the party in power did okay behind a popular sitting President…Trump isn't currently popular though.
What Does History Tell Us To Expect?
So, after going through just a couple of historical trends we can look at and compare, what does it predict for 2018?
What history seems to tell us is that this should be a good year for Democrats one way or another, as they should have a good chance to take control of at least one chamber especially the house. Thus, history agrees with many that they should flip the house this year. However, it also shows us that the senate is the hardest for an out party to take control of during a modern first midterm, and thus the GOP keeping the senate is something both history and the forecasters agree on as well. History also says Democrats, as the party out of power, should have good to significant gains in the governors' races, something forecasters foresee as well right now.
History further tells us that an unpopular President causes his party worse pain than even a normal midterm already promises to the party in the White House. Trump's consistent approval issues will help Democrats, something that flows with what forecasters and pollsters expect. However, history tells us that a good economy may just help the Republicans from suffering a massive tsunami, but that it doesn't mean Democrats can't still have a good year either. Something that again many expect.
And finally, an apolitical issue – turnout. History tells us we will see a higher turnout this year than we saw in 2014. Again, history and those studying likely turnout numbers agree on this as well.
Basically, if in 2016 history disagreed some with forecasters and pollsters, in 2018 they seem to be more in agreement. Everything we expect from a Democratic takeover of the house, to Republicans keeping the Senate, to Democrats having gains in gubernatorial seats, to a wave but no tsunami, to even the predictions of higher turnout – both history and expectations are aligned.
But keep in mind while history does repeat itself, it doesn't have a perfect record either. Note not one trend was 100% consistent, so there are outliers and some trends have disagreed with one another in certain specific years. Not to mention we only looked at first midterms for post-WWII Presidents, maybe the trends look different if we expanded our research to ALL midterms and not just the ones that match this specific situation?
Regardless what history claims, the voters will be the ones who decide how 2018 goes. 2016 showed us expectations be damned in some respects after all; voters will get the last word, not pollsters, statisticians, or even historians. However, history did warn Trump could win, and in 2018 it's telling us our expectations for this year of a good but not historic Democratic year may be more in line with reality. Let's see if history keeps being right on election night. Or maybe it'll throw us a curveball.