Sunday Morning: On A Small Grief
Pets die.
That's probably the thing that makes pets so costly. Not the fact that they have to eat, like, every day. Not the fact that they pee on the floor. Not the fact that they need a vet every year or so. It's that they live only somewhere around a decade (maybe a little longer, if you're lucky).
They're part of the normal everyday fabric of a normal everyday life and they grow old and die and then they aren't there. "Why do I do this to myself?", I asked one time as the artisanal euthanasia agents came over to the house to do their work with one of our cats. And fell asleep that night with another of our cats under my hand, feeling the gentle purring rumble. Oh. Yeah.
Well, there's a lovely childrens' book that gets into the whole "having a pet is wonderful… oh, having a pet is the worst thing ever… oh, you know what? Having a pet is pretty good" evolution. It's The Rough Patch, by Brian Lies.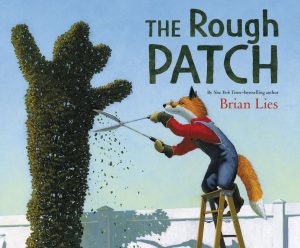 It's a story about Evan and his dog. Evan and his dog do everything together… games, chores, errands, books, and gardening. One day Evan's dog dies and Evan begins to hate the garden that he and his dog cultivated together. And this is a story about what happens with the weeds that start growing in the newly malignly neglected garden in the wake of Evan's grief.
Anyone who has had the honor of mourning a much-beloved pet will enjoy this book and it's a good one to read with children who are only wrapping their heads and hearts around the grieving process for the first time. Lovely and moving pictures showing the friendship that you can have with a pet, exceptionally sad pictures showing what happens after the pet dies, and insightful pictures showing what happens as you move along from a such a devastating small grief.
Highly recommended.
So… what are you reading and/or watching?
(Image is the cover of the book, The Rough Patch, By Brian Lies)