Wednesday Writs: It's Spooky Season Edition
Warning: some of these links may be upsetting to the sensitive or faint of heart. Those are denoted by asterisk.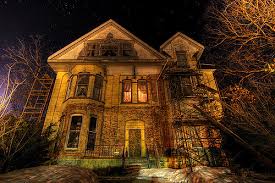 [L1]: You know that thing people say about how the owners of a house are required by law to tell potential buyers if the house is haunted? It's true! Well, in New York, anyway, as decided by the New York Supreme Court of Appeals in our case of the week, Stambovsky v. Ackley. The case was brought by Mr. Strombovsky who, after entering into a contract to buy Ms. Ackley's house, discovered the abode had a long reputation for being haunted. Stories of its possession by poltergeists were published in Reader's Digest and the local press. Mr. Strombovsky wanted nothing to do with it, and filed suit to rescind the contract and recoup his deposit. He also sought damages against the real estate agent for not disclosing the information. Strombovsky lost in the lower court, but the appellate division of the state high court overturned. The seller argued that the "as is" clause of the contract encompassed poltergeists, but the court disagreed, stating "defendant seller deliberately fostered the public belief that her home was possessed. Having undertaken to inform the public-at-large, to whom she has no legal relationship, about the supernatural occurrences on her property, she may be said to owe no less a duty to her contract vendee." However, of the case against the real estate agent, said the court: "plaintiff hasn't a ghost of a chance".
[L2]: It's not just homes that are haunted; many courthouses have a spooky reputation, as well.
*[L3]: Haunted courthouses really aren't surprising when you think of some of the evil people who have spent time inside them. No, not lawyers; I mean serial killers. Here's a list of the last words of several of them, before their executions. Number 13 is my personal favorite.
[L4]: Satan is among witches and ghosts for common Halloween imagery, including stories about damned souls who have made a deal with the devil. Would these contracts hold up in a court of law?
[L5]: Fined and jailed for trick-or-treating? You can be in this town, if you're over 12, according to our crazy law of the week.
[L6]: Podcast recommendation: If you like spooky but not too scary, check out Lore. Each week, host Aaron Mahnke delves into a creepy legend or true-life spooky story, with a historical bent. Mahnke is a great story teller, and most episodes run less than 30 minutes.
*[L7]: Tainted Halloween candy is a story we hear every year, and like most Halloween legends, it has roots in real events. But as this tragic story shows, it isn't strangers kids need to worry about.
*[L8]: This Wisconsin town holds trick-or-treat before dark, owing to another real-life horror that occurred there over forty years ago.
[L9]: If you missed it the first time around, check out my write-up on the Axeman of New Orleans, a lesser-known and terrifying serial murderer from the early twentieth century.
[L10]: If you get into a brawl on Halloween and decided to punch someone wearing a cop costume- don't. Our dumb criminal of the week found out the hard way.
[L11]: I would be remiss if I didn't pivot from the spooky for a moment to acknowledge the news from Sandra Day O'Connor, first woman to sit on the Supreme Court of the United States. The legendary Justice O'Connor released a letter to the public in which she announced her retirement from public life due to deteriorating health. She has spent the last decade advocating for civic education for the youth of the United States, and her influence will be missed.
That's it for this week. I'll leave you with this hardcore cover of the Misfits' "Halloween", by a band called I Am the Law.
Enjoy the rest of Spooky Season!
I AM THE LAW - Misfits Cover "HALLOWEEN"