Saturday Morning Gaming: One Week Away From Red Dead Redemption 2
Hubba Bubba Western Commercial 1981
Red Dead Redemption came out way back in 2010 (we were so young!) for the PS3 and the Xbox 360 and it sold approximately a kabillion copies.
It was Grand Theft Auto set in the Old West (Grand Theft Stallion, I guess (just checked, I am the one millionth person to make this joke[/efn_note] and the storyline is somewhat simple: It's 1911 and you're a former outlaw gang leader who went straight but the Gummint kidnaps your wife and son and tells you that you have to go out and bring your old gangmates to justice. Or kill them. Whatever.
The setting is a wonderful one: The Frontier. Sometimes you're up in the snowy Rockies, sometimes you're on the great plains, sometimes you're down in Mexico, and there's one city that totally felt like Louisiana… but pretty much everywhere is a day's ride from anywhere and so you're in a dreamtime map of The Old West.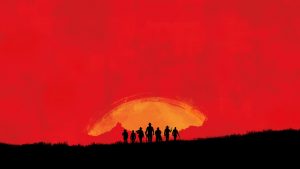 It adopted a morality system. You could play as a bandit if you wanted. Rob banks, kidnap people, steal money from stagecoaches. This would make you Wanted and put a bounty on your head and respectable people would shun you and lock their doors when you came into town but the people in outlaw camps would give you a discount. Of course, you could play as a somewhat honorable man and get respectable people to greet you as you walked around. Sure, you shoot people from time to time, but it's the frontier and the people you ended up shooting were all bad.
You got the feeling that this was a world in transition. The end of an era. The Old West falling away and soon to become a New Industrial Era and there would no longer be wilderness but that the land was destined to be settled. Even as you rose your horse through exciting chases, even as you had gun fight duels and shootouts in various corrals, there was a nostalgic sadness around everything. This was going away. You're just wrapping up loose ends.
It was a masterpiece. I can't recommend the game enough.
Which is what makes me excited for Red Dead Redemption 2. The only thing I know about it is that it is a prequel set in 1899. 12 years before RDR. Remember that thing about you being a former outlaw gang leader? Well, here you are.
Now, when I said "the only thing I know about it", that's a bit of an overstatement. I know that they worked on various things that happen to the horse you're riding when it gets cold (suffice to say, if you're riding a stallion, it's not limited to you being able to see the horse's breath too) and the world is bigger and the graphics are crisper and so on and so forth but here's the biggest spoiler from the first few minutes of the game:
You're not playing John Marston. You're playing someone else.
Which could have made for more interesting gameplay (assuming morality is still part of the game system). When *I* played RDR, I played it as a Good Guy. If I wanted a bad guy achievement, I saved the game first, did the dirty deed, then reloaded my game. If you were playing as John Marston, your entire Red Dead Redemption original playthrough would act as that saved game. Since I knew he would end up honorable, I would have the freedom to play as the quintessential outlaw's outlaw. Why? Because I knew that he'd become a good man who wouldn't ever do a bad thing without loading a checkpoint over it and make it like it had never happened.
As it is… eh. I'm playing some guy. And the only thing I know about John Marston in the game is that he's got some serious plot armor.
But I also know that I can't wait to play this one too.
So… what are you playing?
(Picture is promotional image for Red Dead Redemption 2 from Rockstar's twitter feed.)