Book Notes: Close to the Knives: a memoir of disintegration (1991)
Imagine a beach where everyone milling about on the sand is a great artist of this generation, known or unknown, and then all at once an immense tidal wave, perhaps a tsunami, rises up and crashes on the beach and half of them or more are gone in an instant never to be seen again. It's a jagged, imperfect metaphor, but it's the only way I can comprehend what AIDS did to the arts in the early years of the epidemic. In the visual arts, in music, film, and writing, there were so many people who simply left the room never to return.
David Wojnarowicz was one of that type you used to get in New York- ironic, passionate, prolific, angry, talented in many mediums, and burning with the fire of a thousand suns. Faced with an America that denied his existence, a violent father and horrific childhood, and finally a virus with no known cure, he painted and wrote, sculpted, and made photographs and films. He writes:
"I joke and say that I feel like I've taken out another six-month lease on this body of mine, on this vehicle of sound and motion, and every painting or photograph or film I made, I make with the sense that it may be the last thing I do and I try and pull everything in to the surface of that action."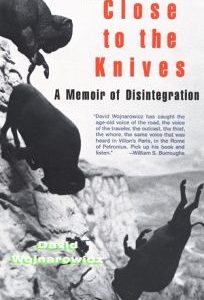 As a result, his work remains immediate and raw. It feels strange to even speak of Wojnarowicz in the past tense. Certainly, this is something you see in many artists of that time and place- the need to get it out now. I was struck watching the recent documentary Blank City by the sense that these people simply said to themselves: "I know how to make music, but not films; I'd better make a film. I don't know how to paint; I'd better start painting!"
The other thing is they were desperately poor and marginalized. I wonder if Wojnarowicz was selling his teenage body in Times Square at the same time that Kathy Acker was dancing there. Did he run into Penny Arcade? Act for Richard Kern? (Note: Yes! He's the father in "You Killed Me First".) It's hard to overstate the classism of the arts establishment; I suspect this is why most people claim they don't "get" art. Art dealers scout out Ivy League MFA programs for talent and, honestly, who among us can relate to the experiences of Ivy League MFAs?! But, for one brief, shining, cannibalistic moment, these street kids got in through the doors and rushed the stage! Of course, it was all over before it really began and most of those kids wound up dead, spent, or forgotten. But, with the "professionalization" or "commodification", really the bourgeoisification of the arts that has happened since, it's unthinkable that it will ever happen again. There are many more bouncers now.
And the response then was furor from the state, lest we forget. Wojnarowicz took it in the neck for speaking ill of a media-friendly Cardinal. The virulent homophobe Jesse Helms fought to defund the NEA for giving money to homosexual artists, naturally, but also outspoken women and art depicting interracial sexuality. Rep. William Donnemeyer tried to have a federal study of suicide denounced by the President because it acknowledged the existence of gays and lesbians (in death). A Texas politician "joked" "If you want to stop AIDS, shoot the queers." And countless federal officials fought to suppress information on safe sex practices for fear of offending "family values". The good old days were pretty terrible. The obsessive need these artists had to create images and sounds was born from a very real fear of being erased. Wojnarowicz writes that making the private into something public is an act with terrific repercussions. An ACT UP slogan of the time held that "Silence equals Death."
All of this feels like recent history to me and yet I notice the generational shift around free speech, an area where millennials are more chary and I am more militant. Coming of age in the time of the PMRC and Congressional hearings on music, the fight over the NEA and the arts, the Moral Majority, Women Against Pornography, and widespread ignorance about basic human realities, I remain something of an absolutist about freedom of expression. What seems to have happened in the last quarter century is that people with tremendous economic and political power have sold the public on the idea that they are being silenced and censored, while people on the left have flattered themselves into believing this to be true and seeing it as a victory. Silence equals Safety.
Sadly, when we think of New York today, we think of Lena Dunham and Donald Trump. The "capital of the twentieth century" is culturally inert in our century. Clearly, the Revolution will not be Online. God knows where it will be. To create art in public is to invite real estate speculators and price fixers and "brand managers" and carpetbaggers and all the other walking voids to set up shop. Disappearance becomes a strategy. Making the public into something private also has repercussions in an age of surveillance and branding.
Yet, this beautiful, brutal, lurid, scalding and honest book, an act of memory and memorial, speaks more directly to me than all the shouting voices of the living. (In fact, I've had trouble excerpting from it because it's too tempting to quote three pages at a time.) It reaches from beyond the grave and the walls of silence and the passage of 27 years and is heard. I can only imagine that right now someone who is dying of loneliness and isolation and poverty is somewhere writing words and making images that will live in the same way.
God, I hope so.
Endnotes: One of the great Wojnarowicz visual pieces that also conveys the power of his writing: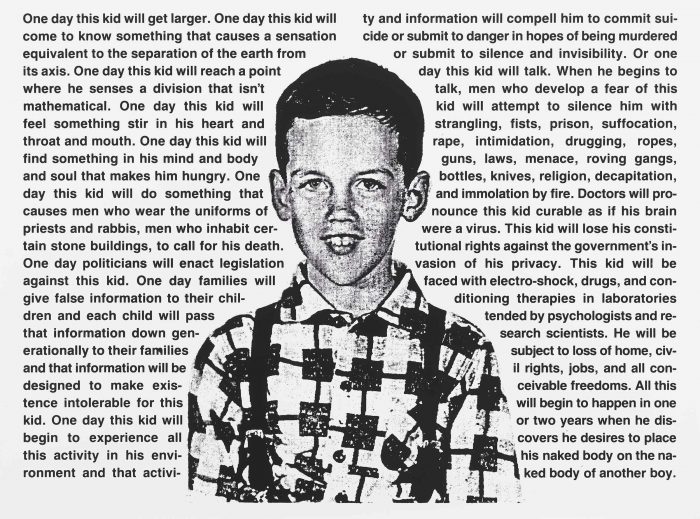 *The cover print from the book is one of Wojarowicz's best. It pictures a diorama from a Washington, DC museum depicting a native American hunting technique. The piece was also used as the cover of U2's "One" single. In Alberta, you can still visit the wonderfully named "Head-smashed-in buffalo jump".