One Month out from the Election: Give Your Analysis and Make Your Predictions
[reveal-all-button]I know we had a prediction thread back at the beginning of June, but that was 4 or 5 years ago.
We are now down to 28 days before the November Election which means that we are somewhere between 30 and 50ish news cycles before votes are cast. I remember watching one of the Sunday Morning talking heads television shows back in the 90s and George Will said something to the effect of "people don't care about the election until after the World Series". According to my quick search on the Google, Game 7 is scheduled for October 31st. That's a Wednesday. The following Tuesday is November 6th. Election Day.
I've made noises before about how the Democrats have lost 1000 seats over the last 4 elections. This is the election that will tell us whether that's nothing more than the pendulum swinging back and forth.
Well, one of the things that we need to do is measure how big/important that 1000 seat swing actually was.
Brother Jesse points out that the party who wins big tends to lose big over the next few years: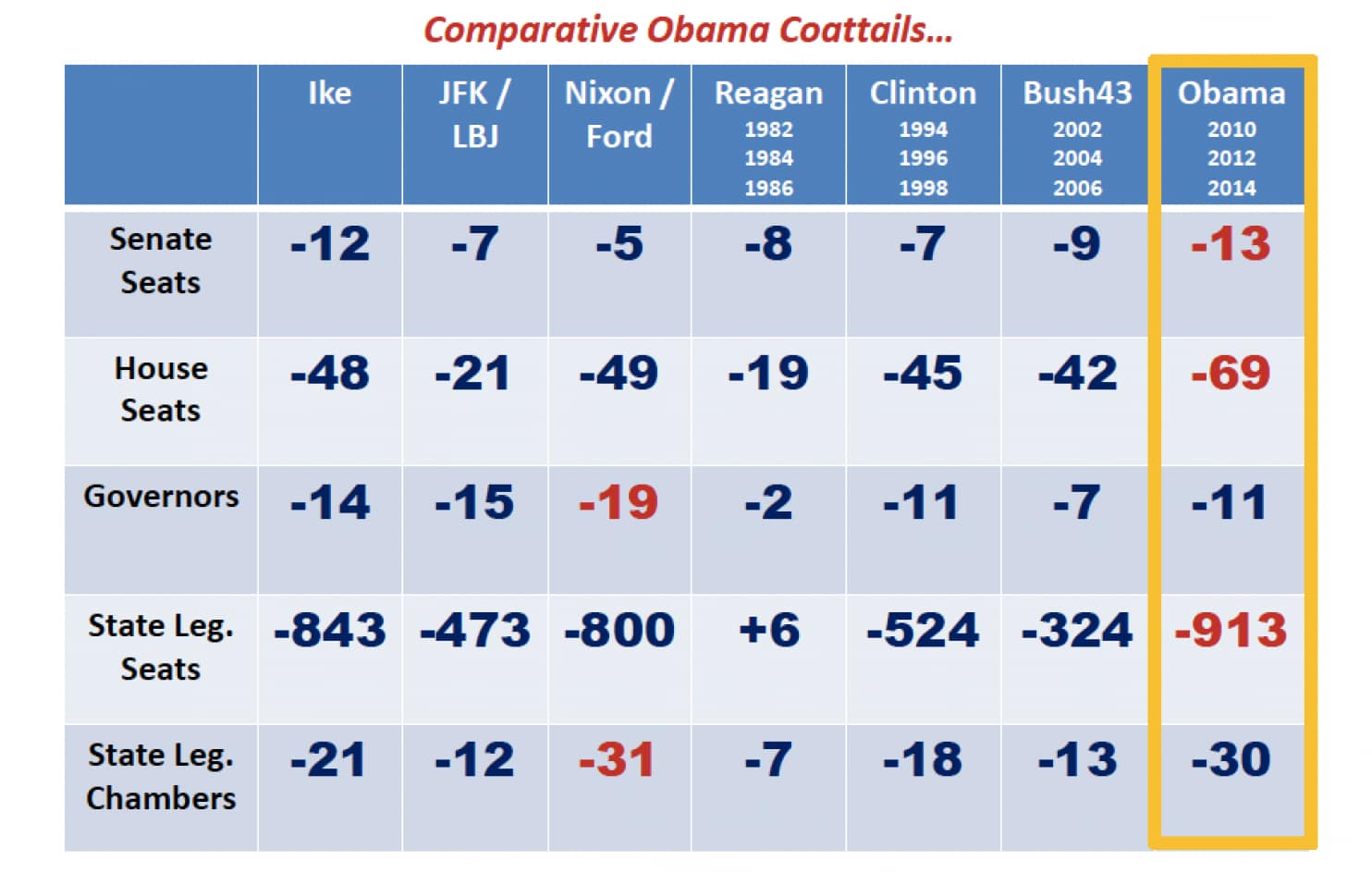 Looking at those two charts, the main thing that I notice is that, yeah, a party does tend to lose power when in the White House.
I also notice that Obama's numbers are the biggest out of everybody's. Bigger than Bush's. Bigger than Clinton's. Bigger than Reagan's. I don't know how to read that. Maybe we should just assume that that's because the gains made in both 2006 and 2008 were so very big. Okay. Let's run with that. On top of that, there's gerrymandering (and it's gerrymandering that uses computer models which are, of course, better than any gerrymandering done to this point… predictive gerrymandering that not only gave wins immediately after in the 2012 election, but rewarded the forecasted people moving/dying right before the 2014 and 2016 elections as well).
So from that, I pull two numbers out of my butt. Both based on 20%. 20% of the gains made by Republicans after Obama's historic win were due to little more than regression to the mean after such a huge pendulum swing. After that, another 20% is due to the tricky gerrymandering.
So the question for this election is whether the pendulum of Obama's big win has stopped swinging.
I'm going to define "stopped swinging" as taking the number of seats the Democrats/Republicans have today, both state-wide and nationally, and say that the pendulum will have stopped swinging if the Democrats have the same number or more seats after the election than they do right now.
Looking at that 1000 number, I'd say that that number is so huge that the question isn't whether the pendulum has stopped swinging but that we should assume that it has and we should, instead, try to measure the difference between "the democrats only doing well because of regression to the mean" and "the democrats actually doing better than regression to the mean" and "blue wave".
So assuming regression to the mean and the razor-thin margin that Trump won a number of states by, just regression to the mean will give a number of state-level house and senate seats back to the Democrats, a couple of governorships, and enough house seats to make winning the House of Representatives back really feasible. The Senate has a weird election structure that gives the Republicans an advantage this election but, back in June, I thought that the Dems were likely to net +1 Senate seat and take the Senate back to 50/50.
But given the assumption that there will be regression to the mean? What does regression to the mean look like? I assumed that 10% was the baseline regression to the mean (number pulled from my nethers) and a 10% regression to the mean would look like this back in January 2017:
So, for me, the question is "how many of those numbers have to flop back by what point for us to say okay… Trump is doing to the Republican party what Obama did to his own party?"

I'd say that, at the end of 2018, those numbers would look like this:

3 governorships, 3 U.S. Senate seats, 10 House seats, and 100 state legislative seats and 4 or 5 state legislative chambers.
(At that point in time, I don't believe I had yet looked at what the Senate election map would look like in 2018. I was just looking at the numbers and that was a mistake.)
And so here's my new adjusted analysis. A simple regression to the mean will give Democrats 1 or 2 governorships, 1 U.S. Senate seat, 10 House seats, and 75ish state legislative seats and 3 or 4 state legislative chambers. If the democrats don't even accomplish that much, then I'd say that the discussion shouldn't be over whether the pendulum is swinging back, but whether Trump is successfully slowing the swing back (or worse, moving the anchor point).
Luckily, it seems like the Democrats are poised to do a *LOT* better than that in the House (where the debate is over whether they'll flip it) but I don't know about the rest of those numbers.
I do know that if gerrymandering is responsible for 20% of Republican wins since 2010 and regression to the mean is responsible for another 20%, then there are about 600 seats that are legitimately up for grabs.
And, so far, it looks like Democrats have won 39 seats away from Republicans in the various special elections since Trump got elected.
To win 25% of those 600 seats would take winning 150 seats and the Democrats have already won 39 of them so…
I'm saying that the line between "regression to the mean" and "democrats are right on track for doing well" is somewhere between a grand total of 120 pickups come November (and they've already got 39 of those, so 81 more pickups) and 150 pickups come November (111 more!) and the line for "right on track for doing well" and "holy crap, Trump is hollowing out the party the way Obama did!) is somewhere between 150 (111!) and 180 (141!).
So that's my analysis for how to tell the difference between performing, underperforming, and over-delivering.
As for my guess… hell. I don't know. I think that the Republicans will pick up at least one Senate seat and might pick up two. The Democrats might win the House but they might not and, six months ago, it was a dead certainty that they would win it and win it decisively. Which tells me that they'll win the House… but precariously. The Democrats will pick up 4 or 5 governorships. But they won't hit 150 when it comes to all of the State House/Senate seats and everything added up.
But, again, we're somewhere between 30 and 50 news cycles before the election. And we don't even know who will be in the World Series yet.
But *MY* thoughts aren't half as interesting as *YOUR* thoughts.
Where do you draw the line between performing, underperforming, and over-delivering?
And which of those do you think the Democrats will do?
(Picture is The Crystal Ball by John William Waterhouse. Picture is in the public domain.)