Do Higher Taxes Build Better Roads?
This question came to me when I was confronted with this chart [Fig 1] on the campaign website of Bob Stefanowski, who is at present the GOP nominee for Governor of Connecticut. I have no special connection to the state; however like many others on social media, I have a keen interest in electoral politics, and the deep blue state of Connecticut was said to be particularly competitive this year because of the unpopular liberal incumbent. Since Stefanowski is something of an outsider, I was interested to look up the themes and issues he was campaigning on.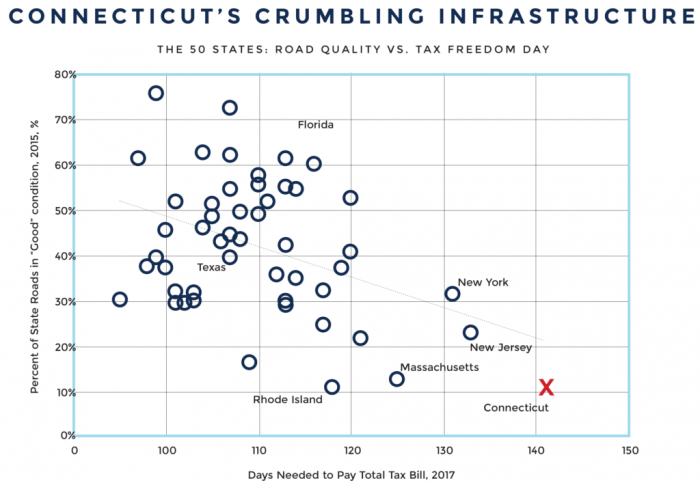 Now, Stefanowski's point here was to imply that previous Governors have mismanaged tax revenues and Connecticutans (Connecticutters ?) are simply being ripped off. However, if you delve deeper into the chart, which shows the relationship between percentage of roads in the state which are not in good condition and the date of tax freedom day (how many days worth of income the average person pays in taxes) for that state, it seems clear that states with higher tax burdens seem to have poor road quality as a rule, and this is not a phenomenon unique to Connecticut.
When I posted this chart to my Twitter Timeline, my ever-vigilant followers pointed out some issues with this chart. The first issue was bought up by Ryan Hassett (among others), who speculated that this effect was almost entirely driven by states suffering from long bouts of snow also having higher tax rates. If this was true, it would mean the chart's implied result was spurious.
There's way stronger correlation between road quality and (1) salting and sanding operations and (2) when major cities urbanized (and the infrastructure was built), just saying.

Sun Belt states have low taxes and better roads, but I assure you it's not causal.

— Ryan Hassett, Iranian-style neoliberal (@ryan_hassett) August 24, 2018
Another issue was bought up by transit analyst Alon Levy regarding the use of Tax Freedom day as a measure of tax burden. Since most taxes paid by Americans are to the federal government, Tax Freedom day is decided mostly by how rich people in a particular state are, not the state's tax burden.
I mean, Tax Freedom Day is calculated by federal taxes, so mostly you're seeing rich states, not high-tax states.

— Alon Levy (@alon_levy) August 24, 2018
Yet another interesting point was made by Fred, who suspected that population density might explain this phenomenon.
What about a correlation with population density?

— Fred, Metastable Genius (@LesserFrederick) August 24, 2018
Since these objections are very reasonable and also potentially devastating to the thesis of the original chart, I felt compelled to figure out if the results held, if we could find some way of addressing these deficiencies. In order to address these issues, I decided to obtain the following data:
Addressing the very first issue, I built a linear regression model of percentage of roads not in good condition versus average number of snow days in the state. I find that road quality is not related to snow (p-value for this is a very high 0.3) and it seems unlikely that snow can explain this phenomenon. Results of the regression are presented in [Fig 2]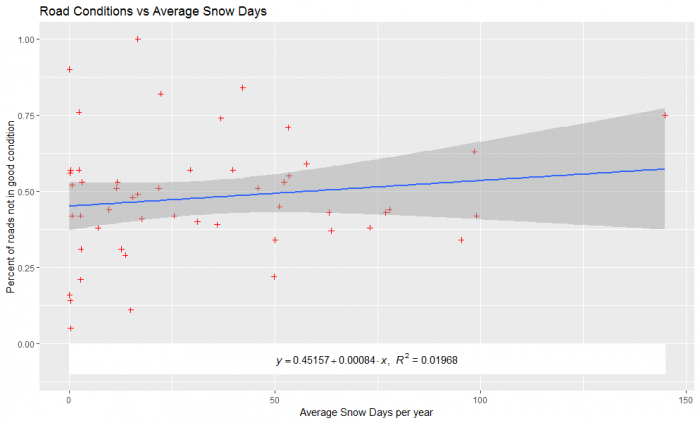 Coming to Alon's excellent point about tax burden, I extracted 2 figures for every state from Tax Foundation's Facts and Figures book: State & Local Tax Collections per Capita and State-Local Tax Burdens. These metrics allow us to isolate the effect of state taxes and the second metric also allows us to control for how rich or poor a state is. In order to get a rough idea of how tax burdens across states look, [Fig 3] plots the second metric against road quality, with labels for state names.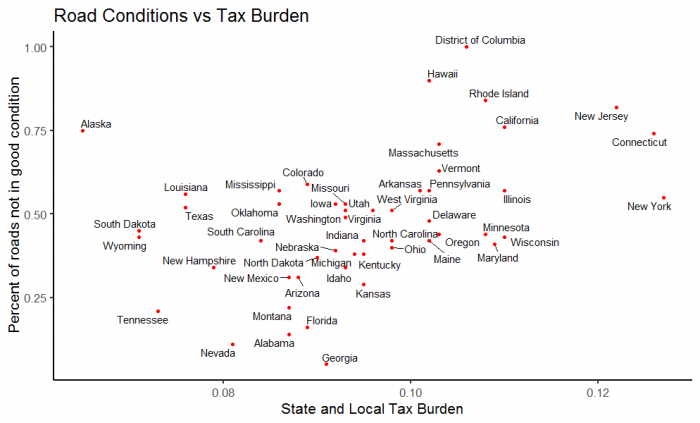 Regressing and plotting per capita tax collections against road quality, we find a strong, robust relationship very similar to that in the original chart [Fig 4]. However, this relationship gets somewhat weaker if we use the second metric, which looks at State and Local Taxes as percentage of income [Fig 5]. These relationships are still statistically significant, with p-values of around 0.002.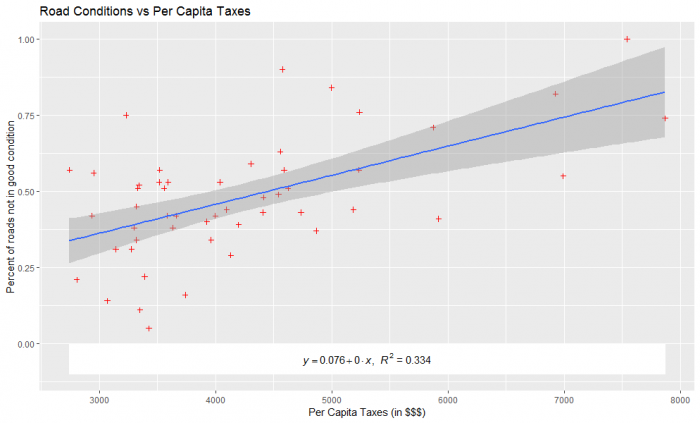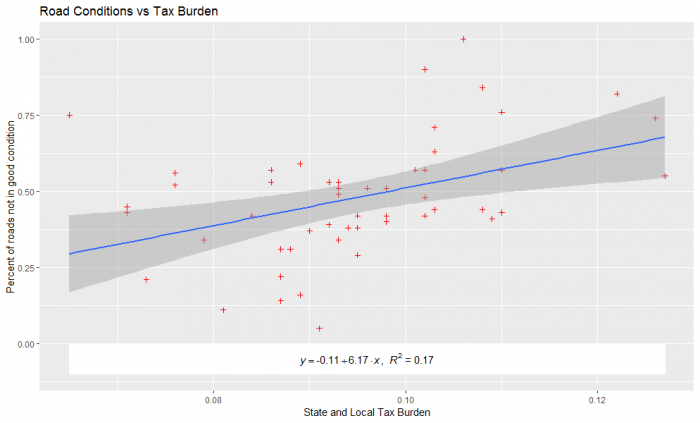 Looking closely at the tax burden chart, you may have noticed that the relationship appears to be non-linear. For the states with the very lowest tax burdens, it seems road quality starts deteriorating as well. It seems like return to state taxes might follow a Laffer-curve like relationship: taxes either too low or too high are sub-optimal. To test this, I also tried out a more complicated quadratic model [Fig 6]. This model had a p-value of 0.001 and seems to imply that the optimal state tax burden might be at 7.5%.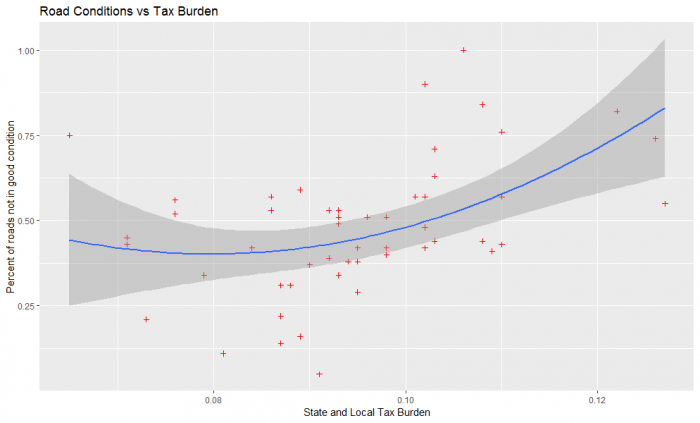 Finally, we consider Fred's suggestion of investigating the impact of population density on road quality. We investigate Linear Regression models of road quality against the logarithm of population density with and without excluding DC & Alaska. As [Fig 7] and [Fig 8] show, this relationship is pretty significant, roughly about the same magnitude as that of tax burden.
This suggests that as population density increases, costs of maintaining roads perhaps grow faster than the population size; i.e., the returns to scale are negative. Diego Beghin suggests a plausible explanation for this:
This makes sense. In a denser areas, you'll need more bridges and tunnels if you want to keep road capacity per person high. And if you're tunnelling anyway, might as well have a higher capacity subway…

— Diego Beghin (@DiegoBeghin) August 24, 2018