Saturday!
Mouse Trap Game the very first commercial
Okay, there was recently a *HUGE* kerfuffle online about the new Spider-Man video game. The kerfuffle had to do with the age-old issue of the graphics quality that was shown at E3 versus the graphics quality that is in the game that got shipped.
The name of this controversy is "Puddlegate".
Here's the short version of the part that's easiest to explain: Spider-Man had a demo last year. In the demo, there was an awesome scene of a fight between our titular character and a bunch of hoodlums in an area covered by asphalt upon which there were multiple large puddles that showed reflections of the actions above them. Everybody who saw this video said, paraphrased, "Wow! Keen!"
Then the game came out. Wouldn't you know it? The same area had smaller puddles. This meant that the puddles that weren't there were not reflecting the actions above. Which, to those who care about puddles and their reflections, meant that the game had promised a certain level of graphical achievement and, when the rubber met the road, the promise had written a check that the game itself could not cash.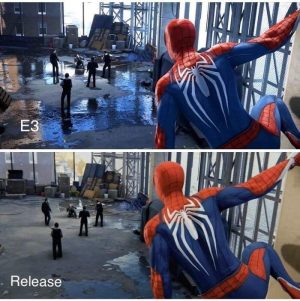 Now. There are a bunch of people who said something to the effect of "Have you seen the difference between the Whopper in the Burger King commercial and the actual Whopper you get when you go to Burger King?" and, effectively, asking if consumers were born yesterday and honestly didn't expect puffery to show up in promises made by the company. Unfortunately, there were a number of gaming journalists among this number.
There were also a bunch of people who said something to the effect of "Please note: Gaming journalists once again taking the side of gaming companies over the side of the people who saw the gameplay footage and decided to actually purchase the game. This is like a newspaper restaurant reviewer mocking readers for being upset that Real Life Whoppers don't look like in the commercials."
And then we're off to the races. To what extent ought consumers downright expect products to look nothing like what was promised? To what extent are we able to say that the difference between the two pictures constitutes "looking nothing like what was promised"?
I know that, for my part, I talked about how I had pre-ordered the game with a co-worker who then told me "you done (messed) up!" because he was very upset about game companies over-promising and under-delivering. As someone who cannot tell the difference between 1080p and 4k, I found myself looking at the two pictures and saying "they're different?" and then, only after he pointed to this and that in the picture saying "oh, yeah, I guess they're different." He rattled off a number of similar controversies where the company did a demo of any given game with a certain level of graphics… and the company then shipped off a game that looked a lot clunkier and as if it were running on a far less quality system.
(And, honestly, there have been a handful of scandals involving such high-profile games as Witcher 3 and Watch Dogs where they promised one thing and then delivered another knowing that they had promised one thing in the first place.)
And as someone whose first *REAL* video game was Zork, I'm not someone who looks to graphics as the reason to buy (or not buy) a game. But I completely understand being (ticked) off that companies say "THIS IS WHAT IT LOOKS LIKE!" in the commercial and, when you go in to buy it, give you the "Samoyed in the middle of getting a bath" version of the game. "They're both Samoyeds!", you're told… except, in real life, Samoyeds dry off.
In any case, I pre-ordered the new Spider-Man game. It reminds me, from the maybe 30 seconds of footage I'd allowed myself to see, of the Batman Arkham games I love so much. So *THAT* is what I'll be playing.
So… what are you playing?
(Picture is HG Wells playing a war game from Illustrated London News (25 January 1913[/efn_note]