Nike's Ad Campaign and the Meaning of Patriotism
Nike's latest ad campaign, featuring player Colin Kaepernick will roll out tonight. The print and video ads use the phrase "Believe in something. Even if it means sacrificing everything." There has been much criticism of this as hyperbole and those critics are probably right. 'Sacrificing everything' is probably a bridge too far, even in the most generous of interpretation. Those critics that have been most vocal have been sharing a photoshopped image of former NFL player and military member Pat Tillman using the same slogan.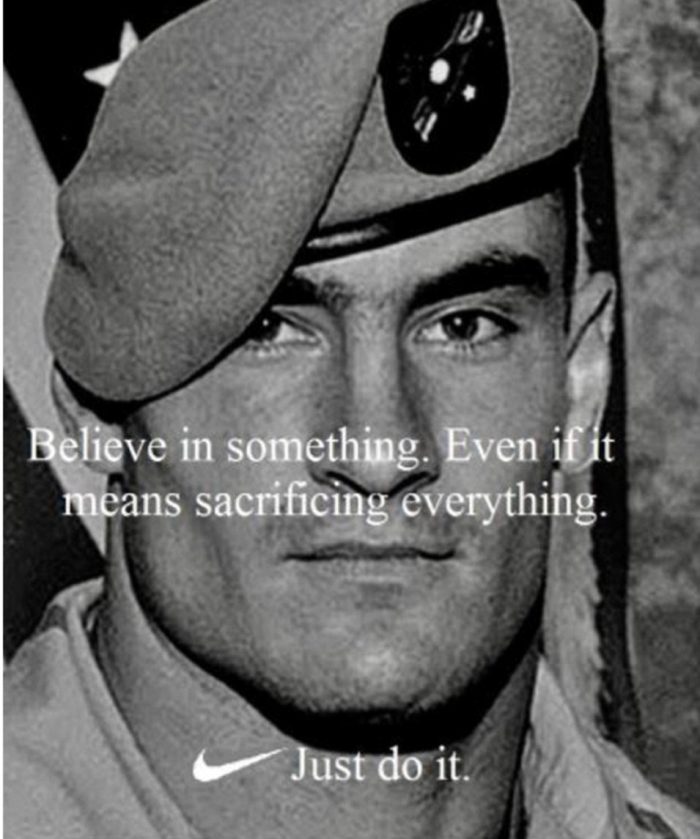 As many readers will recall, after 9/11, Tillman left the NFL and joined the Army, eventually becoming a Ranger and dying in a friendly-fire incident in 2004. Since that year his memory has been repeatedly used by the Right to criticize those who do not fully support a hawkish foreign policy. Ignoring the fact that Tillman's biographer and his own wife have said that he would never have wanted his death to be politicized, every few years he reappears in Facebook feeds in another round of unfortunate memes intended to support the cause of the day.
I'm not interested in discussing Kaepernick's decision to kneel during the national anthem here. For the record, I fully support his right to do so, even if I am generally skeptical about the value of protests. What I am continually troubled by is the continued fetishization of military service in social media, a trend that has been taking place for the last 17 years. This latest iteration tells me that there is a troubling number of self-absorbed citizens in our country that have no ability to see past their own beliefs and consider other ways of viewing the world.
Recently I began a project of digitizing all of my family's photos. I have been working on my grandparents' collection and as I went through the 1940s I was struck by how many of my relatives appear in photos wearing military uniforms. Per the New York Times, 12 percent of the U.S. population served in the military during World War II verses about 0.5 percent today.  There are good reasons for this disparity of course. Technology has made our military more powerful, thus requiring less actual troops. More kids go to college. And there's also the ending of the draft.
In writing this piece I realized that I wasn't familiar with the draft/volunteer numbers for WWII. According to the national WWII Museum 61.2% of the troops that served were draftees. That's 11,535,000 men. At a rate of 8.6 combat deaths per 1,000 that also means that 1,341,279 draftees died during the war, or about 0.89% of our total population. Compared with the 0.5% of our population that currently serve in the military and a much smaller % that are likely to die in combat, this is a radical change in the realities of warfare. As the NYT also notes, "Together, these developments present a disturbingly novel spectacle: a maximally powerful force operating with a minimum of citizen engagement and comprehension."
Since 9/11, a celebration of military service has had a disproportionate impact on our national conversation. It is popular today to say that the military protects our freedoms around the globe. There are arguments in support of this position, but I admittedly land on the other side of the topic. While I truly do value the work of the military and its necessity, I also abhor what David Masciotra calls 'forced troop worship and compulsory patriotism'.  He writes:
The rhetorical sloppiness and intellectual shallowness of affixing such a reverent label to everyone in the military or law enforcement betrays a frightening cultural streak of nationalism, chauvinism, authoritarianism and totalitarianism, but it also makes honest and serious conversations necessary for the maintenance and enhancement of a fragile democracy nearly impossible.
The problem that Masciotra describes is not the historical act of celebrating our soldiers. We have always done this. History is full of examples of parades and gatherings for veterans. We have also made a habit of raising our military leaders into the highest ranks of power in the United States. To the contrary, the problem today is the fetishization of service itself and the notion that anything other than a hand over the heart during the singing of the Star Spangled Banner or enthusiastic applause when the ballpark announcer asks veterans to stand, is somehow less than patriotic. What it demonstrates, from my perspective, is an incredibly narrow view of patriotism and what it means to actually be a hero. Masciotra puts it best:
If a soldier deserves gratitude, so does the litigator who argued key First Amendment cases in court, the legislators who voted for the protection of free speech, and thousands of external agitators who rallied for more speech rights, less censorship and broader access to media.
The reason that the current Supreme Court nomination has become so contentious is because we see the incredible necessity of a judicial branch that protects the efforts of the protester as much as the soldier. At the same time, we are so worried that the other side might gain a perceived advantage that we desperately fight against the diminishment of our own power, as if this is a zero sum game. Maybe what we need the most is a simple re-education in civics before we fully forget the founding ideals of our country.