Droning the Libs
So, the other day I tweeted disagreement with popular Twitter personality Jesse Kelly, and found myself at the bottom of a dog pile.
It's not the first time and it won't be the last. I knew as soon as I quote-tweeted Kelly that my notifications would light up like so many dim Christmas bulbs, and they would not be "likes" or "attagirls."
I had never heard of Jesse Kelly until I got into Twitter political circles, but he checks all the boxes to attract a large segment of conservative Twitter. He's a Marine Corps combat veteran and a gun enthusiast. He's tall and good looking. He has a pretty wife and two sons. His whole shtick is to be the manliest of men, with over-the-top but endearing sexism, a penchant for praising violence and war, and of course, mocking of all things liberal. He can be legitimately funny — one of his running gags is pretending to follow the popular keto diet, posting pictures of hoagies and nachos and other such carb-laden delights with the hashtag "ketolife", to the befuddlement of those who don't get the joke.
All of this is in good fun. While no doubt his "women should at all times be cooking while wearing high heels" bit would rankle the more humorless among us, I simply roll my eyes at the cliche and move on. I'm not bothered by his habit of posting photos of his face with only half of his wife's face visible and captioning it "date night with the love of my life". It's meant to be funny and I assume he is in reality a good and loving husband.
What I do take issue with is what is not simply part of his persona: his utter disdain for democrats, leftists, liberals, feminists, and anyone else who doesn't picture G.I. Joe as the face of the true American. For someone who paints himself as a great American patriot, that is a pretty large chunk of the country to hate.
It's not shtick; he means it. He has called for the break up of the United States on conservative versus liberal lines, or a second civil war — an actual shooting war — between the two. It is no secret that the country is deeply divided right now, but rather than advocating unity, compromise or solutions, Kelly pushes further division.
Which is what I pushed back against when I quote tweeted him yesterday. His tweet, paraphrased, was that democrats were anti-America. It was accompanied by a clip of New York governor Andrew Cuomo's statement that "America was never that great" (the context being that the country has not reached the greatness of which it is capable). That is certainly a provocative statement with which disagreement would be expected. But Kelly's tweet didn't say Cuomo is anti-America; it said democrats are.
My response was that democrats do not hate America; we just believe in a different definition of America.
Now, usually Kelly says something controversial, gets about 90% positive agreement in response, and ignores the replies that challenge his words. And I was not the only voice of dissent; at least two men that I follow also tweeted disagreement with Kelly's tweet. But mine must have caught his eye, because it was mine that he quote tweeted (though it is not lost on me that he chose to single out the obviously female dissenter). He asserted in response to me that there is no other definition of America than his. Because I can't bring myself to shy away from challenge, I volleyed back that he was arrogant to think he got to make that call. He responded with another quote tweet that basically claimed his definition was based on the constitution and the founders. I said I agree with those principles, but that we had different ideas on how to achieve that, and yada yada yada. To his credit, he was not hateful or rude in his replies.
He didn't need to be; his fanclub had it covered.
Jesse Kelly's quote tweeting of me broadcasted my disagreement with him to his 65,000 followers. And several dozen of them took the time to engage the enemy on his behalf. My mentions lit up with sarcastic insults regarding my intelligence, attempts to "own the lib", and bold accusations about what my political beliefs must be. Also, this in my inbox: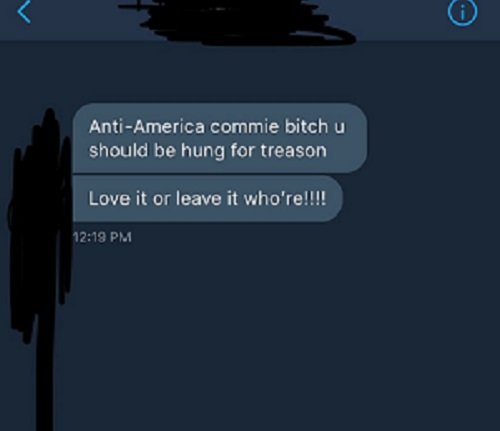 It was a typical Twitter mob, a weaponized echo chamber fueled by anonymity. None of them knew me or knew my principles; like indiscriminate drones, it didn't matter. My dissent was all Jesse Kelly's sycophants needed in order to lock onto their target.
Some, I ignored, because I have a full time job and couldn't answer them all. But others I chose to engage, knowing full well that it would likely be fruitless. I did so because every now and then, someone hears you through the noise, stops for a considered minute, and gains an understanding. . And at least twice during the deluge yesterday, that happened. Sarcasm and derision turned to common ground and civility. It happens, now and then. I credit my Twitter rules of engagement.
Many of those hurling their words at me were absolutely sure of a few things: 1) I am a proponent of a large and controlling government; 2) I think socialism is a great idea; and 3) I want to drastically alter the constitution. Patiently, and occasionally not so patiently, I repeatedly denied these claims. Well then, they would say, how can you be a democrat?
When things went this direction, it really illustrated the point I had tried to make when I quote-tweeted Kelly in the first place: being a democrat does not make one anti-American. We are not a monolith. Alexandra Occasio-Cortez does not speak for my beliefs anymore than Missouri candidate Steve "Hitler was right" West speaks for those of the average republican. Some accepted my explanations and backed off; others were flummoxed and unable to break away from their steadfast belief that democrat or "liberal" is synonymous with "socialist". I explained that I believed in personal liberty and limited government, and they could not reconcile how that could be true if I wasn't a conservative. I explained further that I have a different idea of what limited government should look like, and how personal liberty is achieved. I don't know if I inspired any light-bulb moments, but I like to think I did.
In the end, I had to use the blessed "mute" function on the few diehard harassers who weren't going to give up (blocking is for cowards, muting is for the weak!). And there was this delicious slice of satisfaction: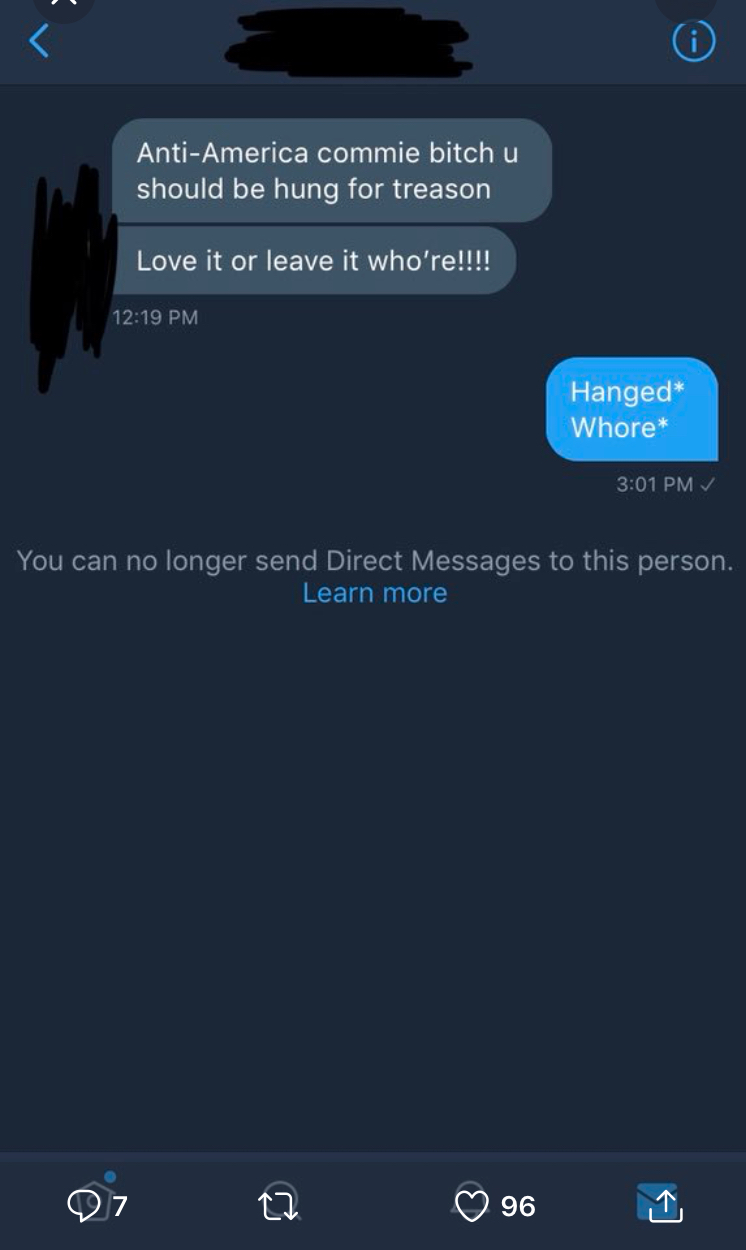 But I also earned at least two new followers, including one who started out as a challenger and one who was impressed with the civil debate I had with another "opponent".
Which brings me back to the man whose tweet I responded to, which started the whole thing. It is not Jesse Kelly's fault I chose to quote him, knowing full well he has a large following. And I could unfollow him completely and mute him and never see him in my timeline. I don't, because I like diversity in my Twitter. But I wonder why a person with as much of a following as Kelly has chooses to widen the gap between the citizens of the country he loves, rather than use his platform to heal the rifts. If you ask him, he would likely tell you that healing is not possible because the "democrats are insane".
But I suspect the answer is that it would damage his brand. To suddenly sing "Kumbaya" would be contrary to his carefully crafted persona, tarnish his reputation as a macho hard-ass, or a warrior among men. His followers enjoy his take-no-prisoners, the-left-is-the-enemy rhetoric, and he is not about to give it up. He has a YouTube channel. He has merch. He is a brand, and his followers are his customers. He is fond of asserting to his conservative followers that "the left hates you"; a call for unity would completely undermine the character he has built.
Twitter is a small world. There are cliques, cool kids, and big personalities with lots of followers (I call them celebretwits). In some ways, it is a microcosm of our country; just as not all democrats believe what Cuomo said, I likewise don't believe every one of Jesse Kelly's followers believes all of the things he says.
Sometimes, I'm not sure he does, either.