Self-Concept and Lowered Expectations
I've been writing a few pieces on and off, trying to get focused, and suddenly I thought of Darryl Yong. I'd forgotten his name, but I just googled "professor teaches high school math".
Darryl Yong, a math professor at Harvey Mudd, decided to teach high school math for a year. He didn't teach calculus, he taught algebra and geometry, and he taught at a low income school worried about test scores and gangs.
You should read his entire excellent paper. He outlined four key lessons:
Lesson 1: Schools Are Complex Systems Involving People, Culture, and Policies
Lesson 2. Student Self-Concept Is the Best Explanatory Variable for Student Success
Lesson 3. Teaching Is a Far Less Respected Profession Than It Should Be
Lesson 4. It's Not the Written Curriculum That Matters, It's the Assessed Curriculum
Yong is writing for math professors, but his essay ought to be required reading by reformers and politicians all. I came into the game knowing 1 and 4 already. (Lesson 4, in particular, is something that no test prep instructor ever needs spelled out.) I've never felt disrespected as a teacher, so I can't speak to lesson 3. His description of typical professional development is very similar to my experiences at my previous school. However, my first school and particularly my current school do a good job with PD. It's not so much that I find it all useful, as it's not a waste of time and it's blissfully short of jargon. We are also given lots of department time. However, I don't see why pointless PD has anything to do with respect or lack thereof. The administration gets mandates, it all rolls downhill.
But the first four or five times I read of his experiences, I growled when I got to Lesson 2. Self Concept, blah blah blah: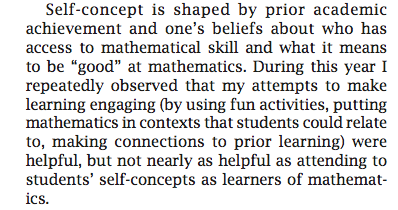 That's the purview of happy talkers like Carol Dweck, I snarled mentally every time I read it previously.
So why, tonight, did I reread it? Couldn't tell you, but for some reason I saw something I'd missed the first times I'd read Lesson 2. Yong gives an example of the need for "scaffolding" using factoring quadratics. It's perfect. He gives a list of quadratics and points out that math professors (and many textbooks) think of all quadratics as roughly equivalent: easy to do, functionally indistinguishable. But to struggling algebra students, they are tremendously different activities. Hardest to factor are a>1 and b=0. (And then, after you beat that into their heads, they are suddenly stumped by c=0 cases—which they thought were easy before. Sigh.) He then goes on to describe a student who was stumped by solving simple equations but could do the same task if it was finding the x and y intercepts of a linear equation in standard form.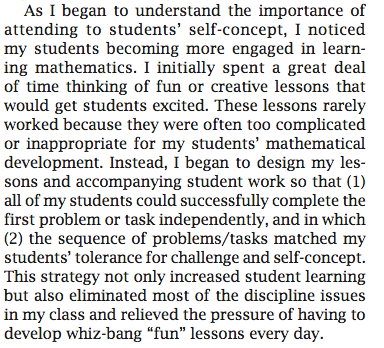 And I sat up and thought Hey.
I can't even begin to tell you how many times I've expounded on this to my colleagues. I write about it, too, of how I redefined an algebra curriculum so that I could keep my weakest kids engaged and passing. In The Driftwood and the Vortex, I delineated the careful sequencing needed to keep struggling students engaged:
I learned how long I could run an upfront discussion before their attention waned, carefully timing the moment when I moved them onto practice problems—which had to be carefully managed, too. Struggling students need to build momentum on a string of problems before they get to their first hesitation point. Hit that hesitation point too early and they "shut down". They look away and find a more rewarding activity: talk to their neighbor, take a nap, turn up the volume on their iPod, sketch, tiptoe out of the room when I'm not looking, send objects airborne in pursuit of a target. Finding worksheets that started with problems simple enough to get them working and then built to more challenging work that wasn't too hard took up a big chunk of my day. I'd spend hours looking through practice sets to be sure they didn't leap to tough problems too soon, and often just wrote a dozen or more identical problems on the board, simply varying the numbers. Even with all that effort, some concepts were still too hard for some students, and I couldn't always reach each one before he got pulled into a disruptive vortex. And so, from managing the math back to managing the students.
I've also seen amazing things happen when I just let kids listen to poetry and think about it, rather than insist they read, understand, and analyze it as standards would dictate.
In the TEACH! documentary, Lindsay Chinn achieved improvement by teaching less, and giving her students a sense of success.
But read Dweck or others on "self-concept", and they mean something quite different: If students believe that intelligence is malleable, their story goes, teachers can convince them to work harder.
Yong is not really talking about self-concept as it's understood in the education policy world. And yet—he is. Which means that I, too, think that student self-concept is important, even though I've been sneering at the idea for the past two or three years. I just go about it, like Yong did, like Lindsay Chinn did, in an entirely different way than the one pushed by experts. I give my students the experience of success, of taking on a task they find difficult and then triumphing over it.
But you don't achieve this by lying to students about intelligence, which is not terribly malleable.
The way to give students an improved self-concept in math is to make the math easier.
Not easy. Not, as it is usually dismissed by politicians and reformers, by "dummying it down". But by setting reasonable goals for the students you have.
Do you teach the math or teach the students? I've asked this before. It's a fundamental question for teachers working with populations that so obsess education reformers. Yet reformers spew trite platitudes about "higher expectations", as if teachers can eliminate struggles simply by superior pedagogy and refusal to tolerate failure.
I wish Yong had taken this issue on directly, rather than hinting at the problem but wrapping it in a popular buzzword that hid his message. Plenty of people read his work and think "ah, that's the key! Get the kids to believe they can succeed at math!" when in fact, I think the message is closer to "give the kids mathematics tasks they can handle" which isn't at all the same thing. I don't ever let my kids think they are math rock stars. Many of them don't, in fact, have the ability to learn the math necessary for advanced understanding of chemistry or engineering. But that doesn't mean they shouldn't be challenged, shouldn't begin to understand the confidence necessary to dive in and give it their best shot.
But no one really dares advocate making math easier, particularly in the era of Common Core. Instead, we get platitudes like this paean to an old-school music teacher, advocating drill, failure, and, god save us, "grit".
Both Yong and I are guilty of what education reformers everywhere decry as "the soft bigotry of low expectations". It's rhetorically convenient to ignore the fact that teachers lower expectations because they want to give their students the experience of struggling with intellectually challenging material.
Reading Yong again led me to realize that I need to start talking more about "self-concept"—not to dismiss it, but to redefine it. I care about my students' self-concept. That's exactly why I lower expectations, creating a rigorous yet achievable curriculum that dangles a reachable carrot in front of my students. In doing so, I get them to try.
This piece was originally written in 2013.