Andrew Sullivan Is Mad Again
The New York Times hired Sarah Jeong last week. She is a writer whose work has appeared in numerous publications, including The Verge, Forbes, and The Guardian. She has also, perhaps presciently, written a book about internet harassment. Her appointment to the New York Times Editorial Board brought thrilled reactions from some corners of the internet…
…but, because the internet was involved, it also produced incredulous hyperventilating outrage from disingenuous conservatives convinced that Jeong's old tweets proved that she was unconscionably racist against the one group of American citizens that has, arguably, suffered the most throughout the entirety of the American experiment: white people.
Although there were plenty of critics angling to lead the charge – it would take more time to list the prominent conservative thinkers who did not immediately retire to their fainting couches upon discovering that somebody, somewhere was not spending absolutely all of her time worshipping white people – the most amusing might have been Andrew Sullivan, who gallantly rode his extremely white steed square into the middle of Jeong's appointment. And as with all other things Sullivan, he was mad. It is exceedingly difficult to pick a particular paragraph from the rhetorical home runs Sullivan kept hitting. Here is one that is at least as good as all of the others; in it, Sullivan hulks out  about what he describes as Jeong's advocacy for a white genocide:
A little more disturbing is what you might call "eliminationist" rhetoric — language that wishes an entire race could be wiped off the face of the earth: "#cancelwhitepeople." Or: "White people have stopped breeding. you'll all go extinct soon. that was my plan all along." One simple rule I have about describing groups of human beings is that I try not to use a term that equates them with animals. Jeong apparently has no problem doing so. Speaking of animals, here's another gem: "Dumbass fucking white people marking up the internet with their opinions like dogs pissing on fire hydrants." Or you could describe an entire race as subhuman: "Are white people genetically disposed to burn faster in the sun, thus logically being only fit to live underground like groveling goblins." And then there's this simple expression of the pleasure that comes with hatred: "oh man it's kind of sick how much joy I get out of being cruel to old white men." I love that completely meretricious "old" to demean them still further. And that actual feeling: joy at cruelty!
Jeong had the unmitigated temerity to make what appeared to be sweeping comments about white people, and if there is one thing that Andrew Sullivan absolutely does not approve of, it is sweeping comments to be made about white people.
Sweeping comments being made about other people though? Well, that's certainly more negotiable. For example, here is Sullivan declaring that it is absolutely hilarious whenever Asian people talk:
I'm English by origin. As a people, we will never stop giggling at funny names and Asian accents: http://t.co/3qJksFspW9

— Andrew Sullivan (@sullydish) August 2, 2013
For another example, here is Sullivan insisting that those opposed to immigration are obviously not racist, because they are simply opposed to "massive demographic change" which is, duh, not about race at all, but rather, the extremely not-at-all-about-race idea that demographics are fine just the way they are:
Preventing illegal immigration is not racist, not white supremacist, not bigotry; it's integral to any democracy functioning; it's a core function of government.

Slowing massive demographic change is not fascist; it's conservative.

— Andrew Sullivan (@sullydish) June 22, 2018
Among Sullivan's many claims to fame – and goodness knows there have been so many, from being catastrophically wrong about the Iraq War to hyping a bonkers conspiracy regarding the birth of Sarah Palin's son Trig – is championing Charles Murray's The Bell Curve, an allegedly objective investigation into, among other things, genetic differences between the races, including the not-at-all controversial conclusion that maybe certain people are genetically inferior to certain other people (who happen, and this is definitely the merest imaginable coincidence, to look like both the study's authors and Sullivan himself). Sullivan has repeatedly, and at every imaginable opportunity, championed the book, its findings, and Murray himself. And of course, Sullivan savages The Bell Curve's critics at every conceivable opportunity, as he does here, writing about Ezra Klein:
Klein cannot seem to hold the following two thoughts in his brain at the same time: that past racism and sexism are foul, disgusting, and have wrought enormous damage and pain and that unavoidable natural differences between races and genders can still exist.
Sullivan angrily wants it both ways. He wants us to understand that he finds racism to be foul, disgusting, and damaging, but also that he believes that certain people are genetically inferior. Sullivan continues to assume that as long as he prefaces all of his comments with half-hearted disclaimers of racism – as if the point of proving the genetic inferiority of certain people has ever been about anything more complicated than justifying the kind of "foul, disgusting" racism that Sullivan claims, extremely unconvincingly, to abhor – then not only is he in the clear to advocate for the race science that he deeply believes in, but that those opposed to him are the truly illiberal actors.
Amusingly, Sarah Jeong knew about this history. Let us revisit one of the tweets that Sullivan sought to furiously highlight, the one that read:
"Are white people genetically disposed to burn faster in the sun, thus logically being only fit to live underground like groveling goblins."
That was one of the ones Sullivan highlighted in his paragraph frothing about "eliminationist rhetoric." Sullivan was apoplectic about this one. How dare somebody imply the subhumanity of a race that Sullivan happens to be a part of? Implying the subhumanity of another race is Sullivan's job, after all. Speaking of precisely that responsibility, another, and considerably better, question is to ask when it was exactly that Jeong tweeted out that particular message. It was, as it turns out, on December 23, 2014, yet another day which saw Sullivan returning to race science, and several hours after Sullivan had written, in a long defense of The New Republic's handling of racial issues, this:
And Dish readers know how comfortable I found myself in that liberal tradition. Airing taboo stuff and examining and critiquing it has been a running feature of this blog from its beginnings. It is an axiom of mine that anything can be examined and debated – and that the role of journalism is not to police the culture but to engage in it forthrightly and honestly. Again: I respect those who believe the role of a magazine is to bless certain opinions and to stigmatize others, to indicate what is a socially acceptable opinion and what is not. It's just not the way I have ever rolled on anything. So I responded to the race and IQ controversy exactly as I would any other: put it all on the table and let the facts and arguments take us where they may. In fact, I couldn't understand why those who loathed the book didn't leap at the chance to debunk it. If it were so transparently dreck, why not go in for the kill?
A few hours later, Jeong tweeted this: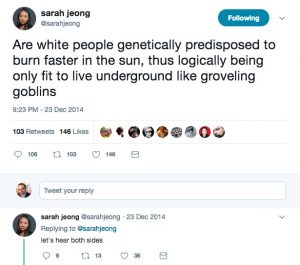 It would certainly seem that not only was Jeong criticizing Sullivan's approach to debate, but that four years later, Sullivan did not see himself in Jeong's tweet. It simply did not occur to him that he was her target; or, more troublingly, perhaps it did, and he chose to mislead his readers anyway. That would be a hell of an accusation, but as we have established previously, Sullivan has never been wrong about anything, and certainly not in absurdly over-the-top ways, so surely something else happened here.
So very briefly, to recap:
Sullivan, for his part, has not acknowledged any of this. Why? Because as soon as he was done complaining that Jeong was the real racist, he returned to his true passion: championing…*checks notes*…more of the aforementioned race science that he loves so desperately and so pathetically.
Regarding Jeong
Of course, Sullivan's stunning inability to see himself in Jeong's absurdity does not absolve her of the other things she wrote. There is a price to be paid for criticizing white people after all, and we can all agree that Jeong finds herself deeply in debt that she must immediately endeavor to repa…oh, wait, she apologized.
— sarah jeong (@sarahjeong) August 2, 2018
Oh.
Right.
Actual, genuine racism. That is what that looks like. It was so easy to forget, what with people like Sullivan lending what is left of their shredded credibility to the sorts of people who disingenuously claim to be offended about racism in only the most specific situations.
It is a hell of a thing to see a group of white people falling absolutely to pieces about literally nothing at all, and then to see them excoriate Jeong for having responded to so much more in a manner that they did not personally approve of. It is almost as if even the faintest whiff of what so many others endure so often and so regularly reduces them to ash. But rather than empathizing in any meaningful way, these folks then demand wildly more for themselves than they allow for anybody else.
Is there a word for that?