Democrats Left Turn Only
No one has captured the media's attention like Democratic Socialist Alexandria Ocasio-Cortez. She's already known as "AOC" – a sure sign of ascendancy. Bringing down incumbent power broker Joe Crowley in a New York district is a huge boost for the Democratic Socialist brand. She's pretty, the camera loves her, and she's in a safe district. Put all this together and it's catnip for the media. She's made gaffes, but what first-time candidate doesn't trip over their tongue now and then? Biden does it all the time and he's been running since before bell-bottoms were a thing. She's holding her own and even making inroads.
But AOC's success and the media attention it brings heightens the fissures within the Democratic party. The debate is over whether Dems should be more socialist. A young, idealistic faction within the party wants to wrestle it further to the left. They advocate big changes in healthcare, housing and education with a primary role for government. An aging "establishment" wing of the party supports incremental changes (or in some case the status quo). It wants to maintain a position nearer to the center. I think this means two things for Democrats. First, the problem is a big one, and second, the "big tent" is in danger.
The Earth is Moving
This schism is large – large enough to fracture the party and create new splinter parties. The socialist wing will burn down the house, even if grandma doesn't make it out. They don't believe the rump will be smaller. Like all committed factions, they believe their ideas are self-evident. A properly-educated society will inevitably have its Damascus road moment. This zeal has the establishment center-left running scared. It would be hard to overstate the hand-wringing of traditional party members. The first page of Google results returns Democratic Schism stories from CNN, Vox, The Hill, Washington Post (James Hohman calls it the "Democratic Civil war"), Real Clear Politics, etc. Yahoo news calls AOC's candidacy Lightning in a Bottle and says the future of the Democratic party is up for grabs. It's clearly a showdown.
The Big Tent is in Danger
It's not clear the big tent will survive. Democrats continues to maintain that the party is a big tent. They claim it's a coalition of interests loosely bound together by a broad progressive tilt. Minor skirmishes inside the tent are a fact of party life, and in the end meaningless, they say. In a recent discussion on Twitter, I said that Dems can have a big tent but they must decide if it's a teepee or a wigwam. I'm unconvinced internal factions are really compatible. JE BRowne (@effiedog) responded:
#Democrats are the tent. They don't need to agree on smaller messages. Those are customized & tailored to their constituencies. What fits in NY may not fit in Virginia. Unlike the GOP who's used identical talking points since Bush-Cheney era. Messaging needs to be "custom fit".
Of course the problem is, as always, who decides which messages are inconsequential. I suspect the socialist crowd will have problems with business as usual, left of center Dems. Meanwhile user @tyree_48238 shut me down with a single quote:
There is no "but…" BIG TENT!
My view that party cohesion is important to effective action isn't welcome in Tyree's tent. And this is the issue. Dems want to embrace a big tent idea but they want cohesion based on ideology. Indeed, there is an increasingly ardent attempt at ideological "purity enforcement" running through Democratic dialog these days. They envy the GOP's cohesion – those "identical talking points since Bush-Cheney".  But they can't duplicate that model without making the tent smaller.
Party Cohesion
Dr. Elizabeth Theiss-Morse's book, Who Counts as an American, proposes a theory of national identity that ties group cohesion to strong boundaries and helper behaviors. When a group has a clear demarcation between who is in and out of the group (strong boundaries), helper behaviors flourish and become key factors in group cohesion. These boundaries take the form of norms and beliefs that group members share. Members feel more closely interconnected and they are more likely to work in the interests of fellow group members. It helps explain why people with an otherwise strong ethos for helping often fail to see those most at need. Helping is for in-group members.
If cohesion is partly based on strong boundaries, this helps explain why Dems periodically have strong internal conflicts with their "big tent" model, and why internal factions are so willing to play take-the-ball-and-go-home. If the boundaries of a group are weak, then a corresponding weakness in loyalty and helper behaviors emerges as well. People are free to saunter in and out as they please with no penalty. Consider the 13% of Obama voters who voted for Trump.
Is Party Unity Coming?
In the 2016 book Asymmetric Politics by Matt Grossmann (@mattgrossmann) and David Hopkins (@dhopkins1776), the authors argue that the Democratic party is a coalition of social groups acting as discrete voting blocks, while the GOP is constructed around a post 1950s conservative ideological framework and contains few coalitions. The two parties behave differently. Yet analysis proceeds as if they behaved the same. They note that although conservatives are now squeezed out of the Democratic party, "No organized liberal movement has emerged to dominate its internal organization or succeed in shifting its policies toward leftist positions" (pg. 14). That was then, this may be now.
If the far left succeeds in wresting control of the Democratic party from the current establishment, a new kind of party could emerge that is much closer to the GOP model. The transcendence of social democratic ideology could mean a much stronger group boundary. This boundary could be based on government action and enforcement of fairness and social justice for marginalized groups. The big tent would only apply to the interests of marginalized groups who adhere to the party line – no more entree for diverse ideology or privilege. The new discipline would exclude anyone not left enough. The result would be far more cohesion, higher loyalty, greater unity of action and a firmer hand on the policy tiller.
It would also be much smaller. Meanwhile, whither the center-left Democrat? Center left voters and undecided voters are unlikely to flock to the Democratic Socialists. They must suck it up or wander in the wilderness where they can meet up with Bill Krystal and his merry band of never-trumpers. What will be the fate of the coalition groups? They may attempt to hue rigidly to the new ideology in order to maintain their power as a bloc. This will certainly work for marginalized groups who benefit. But the big tent has plenty of fellow travelers. Full social democracy is a bridge too far for educated whites, corporate democrats, traditional working class voters and others. It's easy to see how these coalitions might splinter off and cast about for a new source of power and influence.
Not a Bad Thing?
Centrists believe this new realignment is a bad thing. In the short term, they are likely right. Dems going full left definitely stokes the fires of the GOP main body. It has the potential to close the enthusiasm gap that currently tilts in the Democrats' favor. Nothing brings out the hoi polloi like a good red scare. Low info voters will likely shy away from anything with a taint of socialism, and the GOP will be right there to help them conflate "social democrats" with Hugo Chavez and Stalin. In the long run, however, it could provide new life to a party that has struggled with unity for decades.
Speaking with Matt Grossmann on  Twitter I asked him if the socialist turn means new restructuring based on ideology. He was not convinced, but he sees the trend as real (at least that is how I read it).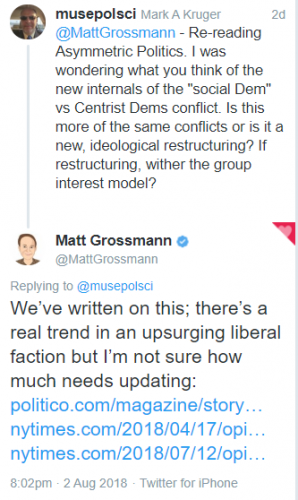 The group interest system is effective, but it has real drawbacks. Democrats might avert their eyes because of past success, but it's possible such a system has a hard ceiling. Every party struggles with success because politics is about competition for resources. Parties exist to obtain power. A coalition party holds together by making common cause in service to broad goals. Sometimes cohesion comes from circling the wagons against a recognizable enemy. Or sometimes a transformative leader at the top corrals coalitions into collective action.
In spite of these powerful gravitational forces, people are predictable once power is achieved. They fight for control over resources. They work to see their issue or group interest rise to the top. Every party gaining power squabbles for spoils like ill-raised hyenas. This is especially true in a party organized by cobbling together voting blocks through appeals to groups based on their specific interests.
So perhaps a realignment on different terms than coalition isn't a bad thing?