I'm with the Brand
I should probably stop poking the hornet's nest of gentrification here, but it's just sooooo… stimulating. Politics in this city are painfully local, yet Hamilton, Ontario is a microcosm of what's happening across North America as cities race to "revitalize" themselves in emulation of New York. Fortunately though, the president and CEO of our local Chamber of Commerce recently wrote an op-ed piece that perfectly encapsulates many of the arguments for gentrification and crystallized for me why I've got a baaaaad feeling about this type of "revitalization".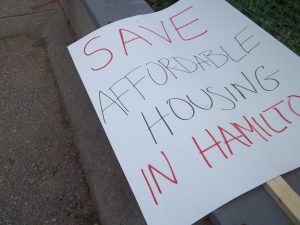 First, a few data points. My last post was about what it's like to live through an unacknowledged crisis in rental housing. No doubt inspired by my post, the "rental crisis" is now openly acknowledged. A group called the Advocacy Centre for Tenants Ontario issued a report claiming that nearly half of Ontario tenants earn less than $40,000/ year and three out of four of those household are paying "unaffordable rents". To be fair, we've known for a while that over half of all Torontonians are paying more than they can afford to in rent. The study found, however, that about 45.4% of renters in Hamilton are also paying unaffordable rates. Surprisingly, the Spec has even published an editorial calling for an end to the loopholes in rent control. Nevertheless, Ontarians have elected as their Premier Doug Ford, a man who thinks the "market should decide" who can pay rent or not and blames the housing crisis on refugees; to be fair, many people probably do agree with Ford, but it would be a serious exaggeration to suggest that a single human being has ever admired the man.
Anecdotally, the apartment that I rented for $715 a month two and a half years ago now rents for $1150 and the super tells me they've made no renovations. "It's crazy. They can get it now, so they expect it." That rent is currently considered "cheap"; the goal seems to be more like $1800. Not surprisingly, eviction applications in the city  jumped by 95% between 2010 and 2016.
Also anecdotally, I've never seen this many homeless people on the streets of Hamilton before. The city has responded by retrofitting park benches so that you can't sleep on them and forming a platoon of bike cops who give tickets to homeless people who panhandle, which was criminalized as a threat to our "safety". Our shelters are all filled to capacity.
Which brings us to the encomium about our dazzling "resurgence" from the president of the COC: this essay truly is a masterpiece of the genre; to wit, it's long on buzzwords and short on concrete details. It's ostensibly about the Arkells, a local indie rock band that recently held a concert at our football arena, drawing a crowd of 34,000 people or so and how they are an "emblem for Hamilton's renaissance". Now, don't get me wrong- I have no complaint about the Arkells. My knowledge of indie rock, admittedly, pretty much ends around the Feelies, so I have no idea if they're any good. But, all power to anyone who can create a successful career through creative expression.
However, the prez labels them our "brand ambassadors" for "progressive urbanism". In fact, let's count the clichés in his essay:
Buzzword Bingo: The "local stakeholders" in our "resurgence" are either boosting our "momentum" or our "world-class" redevelopment. It's not entirely clear, but it's a good thing, right?
It's a matter of "optimism" or pessimism: when you're skeptical about gentrification, you're generally accused of being "against progress", "too negative", a "crab in the bucket" or wanting to "keep Hamilton poor". The subtle social pressure is to be a Panglossian positivist and get with the program. Step into the future! Details to follow.
The faux machismo: we have to "push the pedal to the metal" on "downtown redevelopment", dudes! Act, don't think. This will only be a "few-year fad" if we don't add more bike lanes and demolish people's homes and businesses to put in Light Rail Transit (LRT) right now! Details to follow.
The obligatory reminder that young Ontarians very recently "scoffed at Hamilton". The implication is we're finally cool, so what ya got against that? As a born-and-bred American, I find the provincial snobbism of many Ontarians to be perplexing and, frankly, kind of embarrassing. Believe me, the differences between these Canadian towns are like night and five minutes later same night.
The Arkells are specially cited for "settling in and beginning their careers here". The emphasis in these articles is always, always, fishing always on people who moved here from elsewhere and settled this wild frontier, bringing culture to the savages. The kids who grew up in Hamilton are continually marginalized, forgotten, "displaced", and replaced by their social betters. Wonder why.
Now, we get into the nitty gritty; the Arkells, and live music "experiences" are touted as a "top growth industry". Which is strange because we've had two or three music clubs close in the past year, zero new clubs open, and half of the remaining clubs are in serious danger of closing. I know many people in live music and very few of them would call it a "top growth industry". He cites our Hamilton Music Advisory Team, but as far as I can tell, the city's "music strategy" is mostly to do with promotion and "rebranding"- pretty much the only skills that seem to be widespread now- as opposed to rezoning. Anecdotally, I was on a music committee that found that our young musicians have average incomes of $25-35,000 with almost none of that money coming from music. Go ahead and do the math for $1800 a month rent.
More specifically, what's really being touted here are: "restaurants", "bars", hotels, and live music "experiences". In other words, gentrification, in our case, is about replacing an industrial economy with a service economy. Having worked in bars, restaurants, gigging bands, and hotels, I've got to tell you, they're not known for their great pension plans.
Really, it sounds like we're talking about retrofitting the city (at billions of dollars of expense) so that ten percent of the population of Ontario can still afford to buy homes here and fifty percent of the current population can pay double their old rents to create the bourgeois lifestyle that the ten percent would have once found in the suburbs. For all of the boosterism and fervor in these articles,  there never seems to be any strong economic base offered up for any of this. It doesn't add up in the long term, or even really the short term, since many of the people driving up the home prices here are over fifty without children.* If the C.O.C. president knows where solid growth comes in for the next generation, he doesn't say. We can't all join the Arkells. The implication seems to be that 1. Bright young people will move here because it's now cool, and 2. They can figure it out. Details to follow! It reminds me of the old observation that campaigns to "raise awareness" amount to saying "You fix things".
Look, it is deeply human to be optimistic. Yet, as Saul Bellow once wrote, let's be warm-blooded, but the wise keep some cold blood on reserve.
I'm skeptical.
*Note: The "bedroom community" argument is still popular here as well, but it sort of negates the "bars and restaurants" argument because people who work and commute for 11 hours a day to Toronto don't tend to hit the bar scene when they get off work. Also, the Canadian Mortgage and Housing Corporation recently reported that our housing market is still "hot" due to the Toronto housing bubble, but that it's also "highly vulnerable" because of a lack of "home demand fundamentals" like population growth, per capita disposable income, and employment here. So, again, we're back to the question of the long term.