Sunday!
The Pop-Up Book is one of the most wonderful art forms. You start with a closed book that looks like any other then open it up and there is an entire diorama. In some mad way, the pop-up book performs the act at the object level what non-pop-up books perform at the meta level. Open it up and it creates a scene to dance before you. How they did Augmented Reality before they had computers.
I did some quick research to find out about the earliest pop-up books thinking that the earliest ones probably started somewhere around the Victorians but, of course, they started WAAAAAAAAAAAAAAAAAAAAAAAAY earlier than that. Ramon Llull, in the 13th century, came up with the Llullian Circle: a bunch of stacked concentric circles that could be spun to make different combinations of the slices of circular sectors.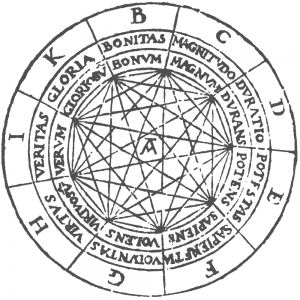 A century later, medical texts used the "lift the flap" technique to show various anatomy features. Lotta stuff in the body in a lot of layers, after all.
The next pop-up precursor involved paper dolls. At the start of the book, you'd get a little doll of the protagonist in his skivvies and the character's starting outfit, then every couple of chapters you'd get an additional outfit to put over him to match the happenings in the book.
What we think of as pop-ups proper, though, started in, yeah, the Victorian Era. Dean & Son books seems to be mentioned by most of the sources I'm googling as "one of the first firms to introduce pop-up books for children" so we'll just assume that they stole the idea from some little guy who couldn't make it scale and they figured out how to mass produce them.
Which brings me to What's Above? and What's Below? (well, we're skipping about 175 years). These two little charming books are pop up books that begin at ground level and then start moving up or down.
What's Above? Takes us from ground level to butterfly level to bird level to skyscraper level to mountain level to satellite level.
What's Below? Takes us from ground level to burrow level to dinosaur fossil level to the bottom of large bodies of water and then back up to subway level (so if you were hoping for some crust, mantle, and core action, you'll be disappointed, as I was). But if you are looking for some cute little pop up books that do a pretty good job of covering the concepts of Up and Down between them, you'll want to check these out.
So… what are you reading and/or watching?