Motherhood and Amy Coney Barrett: Objection-Irrelevant.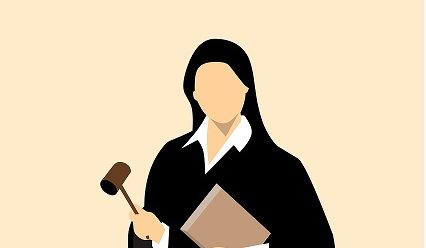 How many children does Supreme Court Justice appointment front-runner Raymond Kethledge have? What about Brett Kavanaugh — is he a father? What about Amy Coney Barrett?
If you follow the news surrounding hopefuls for the empty SCOTUS seat, you undoubtedly know that Barrett, a federal circuit judge and Notre Dame law grad, is the mother of seven children. In fact, judging by the media's profiles of her, this is the most interesting thing about her (rivaled only by her devout Catholicism). Some on social media found this portrayal of her insulting, in light of her actual legal bona fides that have seemingly taken a back seat to her status as a mother:
Hey @CNN, I just saw your profile of three potential Supreme Court nominees (Kavanaugh, Kethledge, and Barrett). The profiles of Kavanaugh and Kethledge described their professional accomplishments and credentials. The profile of Barrett started by saying she has 7 children.

— Jaime Santos (@Jaime_ASantos) July 6, 2018
I find it odd, and disturbing, that when news outlets are discussing Amy Coney Barrett, they ALWAYS say how she has 7 children. But when discussing any of the other possible picks, they never mention the number of children they have.

— Catholic 4 Trump (@Go_Team_Trump) July 6, 2018
Others seemed to find her prolific breeding to be a unique qualifier in and of itself:
Amy Barrett is the one! A woman with 7 children will know how to vote! Just do it!

— Ken Golick (@kjgolick) July 6, 2018
Amy Barrett for #SCOTUS "If any more proof were necessary of the steeliness of Barrett's character, it is worth pointing out that she has managed to have a successful career as a scholar and teacher while raising 7 children." @JanetMefferd @stephenhblack https://t.co/V4hWhd3mvQ

— Martin Ssempa (@martinssempa) July 5, 2018
Whether Barrett's motherhood is wielded as a positive or as a negative—many on the left fear her religious beliefs and large family will translate to votes against reproductive freedom—the fact that it is mentioned it all is unique to her gender.
Professionally, I admire Amy Coney Barrett. I suspect I disagree with her ideologically straight down the line, but I see a woman who has climbed to the top of the same ladder on which I cling to lower rungs. She graduated from a prestigious law school and at 46 years old was appointed to a federal judgeship. But I refuse to add "and she did it while raising seven children!" as a modifier to my praise. I would not do that with her male counterpart, either.
I won't pretend that being a mother and a professional cannot be a harder gauntlet for women, because it is still true that mothers are often doing the lion's share of childcare. It can be more demanding to do all the work of parenting and excel professionally. I have two children and I have often wondered if either my role as a mother, or as a lawyer, has suffered because of the other. But to always tie motherhood in with the bouquet of a woman's accomplishments is illogical. It assumes professional success was achieved "despite" being a parent, or that parenting success was achieved "despite" being a professional.
Why do we assume that Barrett is a super mom, whose skills at juggling jurisprudence are matched only by her talents for play-date arrangements and soccer game schedules? Maybe she is. I have no idea. And it is irrelevant to whether she is suited for the highest bench.  A childless woman would be no less qualified than Barrett, all other things being equal. After all, no one measures the qualifications of a male candidate in terms of offspring produced. Some trivia: Justices Cardozo and Brandeis had no children; Ellsworth (one of the original three Supreme Court Justices) and Scalia had nine. You didn't know? That's because no one cares.
My point, I suppose, is that being a mother should be irrelevant to discussions of whether Barrett is qualified, and of how she may decide cases before her. Much of the hand-wringing at play by the left opposing her nomination concern her anti-reproductive freedom stances. This may be true of Barrett, but the number of children she has is not competent evidence of that position. An untold number of pro-choice advocates are parents; 59% of women who abort have at least one child and many will go on to give birth again. Yet many liberals fear that Barrett's full quiver means she would overturn Roe v. Wade; many on the right believe the same and welcome the thought. Both are wrong; she may vote that way, if the opportunity ever comes before her, but the fact that she has given birth is worthless as far as prognostication.
Simply put: her motherhood is of no relevance to her potential nomination. Mentioning it as part of her biography is absolutely appropriate; lumping it in with facts about her career, professional achievements and federal judicial appointment when discussing her qualifications is insulting. It is insulting to women who want to be seen as professionals, to women who do not have children, and to fathers, whose contributions to parenting are apparently not noteworthy.
Being a parent is hard, and I am proud that my children are reasonably well-mannered and relatively happy. But having given birth to them is not my crowning achievement. If someone is describing me generally, then yes, I would expect and welcome my status as a mother to be included. But if anyone is ever setting forth my professional qualifications and they feel the need to add "mother of two", I will assume that I have not done enough impressive or noteworthy things in my career.
I recall an early episode of that astute American sitcom classic, "Mama's Family", in which Mama was arguing with her spinster sister, Aunt Fran. Mama attempted to insult Fran or bolster her side of the argument by pointing out that, unlike old maid Fran, she had raised three children. Fran responds that she is tired of hearing that line, as though having children was some sort of accomplishment. "Good Lord, Thelma!" Rue McClanahan's Fran retorts, before storming out the front door, "MOSQUITOES can reproduce!"