Daydreams of Impeachment
The impeachment of Donald Trump is the fondest wish of many Democrats. And why not? Reasonable people on all sides can see that Trump hobnobs with shady characters. Robert Mueller is picking them off one by one like Annie Oakley. Where there is smoke there is fire, right? In this liberal fantasy, legal issues build in Trumpworld until his high crimes and misdemeanors become self-evident. Trump is kicked out on his ear to the triumphant cheering of those elusive real American citizens.
This narrative both enervates and frustrates the left. For many the jury is already in. They cannot comprehend why GOP house members and senators still support Trump. It's so obvious he has to go, why isn't everybody in "the resistance?" Given this baffling unwillingness of the GOP to stampede the aisle and become Democrats, a second narrative has taken hold.
In this new story the Democrats win the House of Representatives in November, win a narrow majority in the Senate, pass articles of impeachment, try, and convict Trump, and throw him out to the cheers… well you get the idea. Here's country music sensation and one of my favorite Twitter personalities George Takei (I follow an eclectic group – don't judge me!) in another "Oh My!" moment making that exact argument.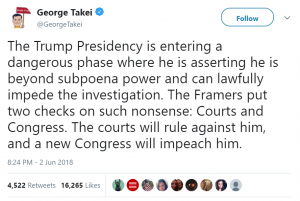 To be blunt, this scenario is extremely unlikely. Democrats may take the House. They will definitely make inroads. They look strong, their base is motivated, and they are attracting new blood. They will need to flip 24 GOP seats. That's a tall order, but they seem poised to give it a shot (Mid-term breakdown – NYT). If they do take the House I have no doubt they can pass articles of impeachment (it only takes a simple majority), but that's where they hit the Trumpian wall.
The Senate seems out of reach for the Democrats this cycle. It's not that they have no momentum or are noncompetitive. They simply lack the opportunity. They have to defend 25 of their own seats (some in Trump country) while picking off at least 2 from the 8 (only 8!) GOP seats up for reelection (Senate Battlegrounds- ballotpedia). The math is brutal.
If by some miracle this happened they would hold a bare majority – and they would need a two thirds vote to impeach. Still, if they do manage to win a majority, possible impeachment will be like chum in the water (ew!). They will be tempted to take the bait, and their base may demand it!
The worst case scenario
If you care about Democratic chances, tamp down that impeachment talk. Remember how the GOP wasted all their ammo firing at a blue dress in 1998. Democrats may think impeachment will serve them by embarrassing the GOP, but the GOP is already embarrassed by Trump. They've become used to holding their noses. Impeachment will energize the GOP base and give them a new, entitled victimhood. And I think it will fail miserably. The numbers are not there. Like the 98 GOP House, Democrats are risking everything on a pair of threes.
Of course, many argue the merits of the case – that Trump is clearly guilty of something egregious while Clinton was being railroaded for personal peccadilloes. I would answer that Trump is a train wreck, but there will need to be more on the table than the current clown car of Trump associates and their bad behavior. Impeachment is essentially a political act. It will hinge on political considerations. The question will not be "what happened", but "what can be plausibly argued." And of course the media's constant overreach in pursuit of a smoking gun makes Trump's task of defending himself easier by the day.
Meanwhile, try to imagine the unhinged, horn-tooting responses of President Trump as he gleefully exhausts the press with 280-character missiles. A failed impeachment might result in his death by Twitter orgasm. He's bad at many things, but he's a savant at mercilessly battering a poor-me story to death. Why hand him unlimited ammunition? I think we can live without the word "ACQUITTED" peppering our social media for the next 2 years.
If Democrats really want to impeach Donald Trump they will have to recognize their essential need for GOP support in the endeavor. I know it seems crazy given such a strong hand, but they will have to give ground, compromise, and work across the aisle to find a way forward. Each GOP senator who crosses the aisle to vote in favor of conviction will need sufficient political cover to do so. The country will need to see the impeachment trial as a clearly bipartisan initiative taken on reluctantly by all for the good of the union. It cannot be seen as one party punishing the other. If it is seen as punitive no GOP senator will be willing to vote aye. Does anyone believe that the members of either party have the courage to make that bargain? That's Koolaid I'm not willing to drink.
The Current State of Things
Circumstances change. Indeed, with this administration they change hourly. As more and more head scratching things come to light it may become obvious to all comers that Trump has to go. The most likely scenario – unless he shoots someone on fifth avenue to test his own political doctrine – is that, on impulse, he does something blatantly obstructionist where no plausible deniability exists.
There is certainly an obstruction case building around all of his comments and tweets aimed at influencing the investigation. Yet obstruction and abuse of power charges will require more than tweets and comments to make them stick. I've been wrong about many things since 2016. I'm in good company. We will simply have to wait and see.
Photo by allenallen1910