"Annihilation" Movie Review
As I wrote in my 2017 top 10 column, I love the moment in a film when you know you're in good hands. And the earlier, the better. Those scenes that make you sit up and take notice, that make you go "Oh yeah, this is gonna be great!" In Alex Garland's "Annihilation" – now available on streaming and disc – it was a small moment with big consequences. After an opening scene that's dripping with intrigue, where biologist Lena (Natalie Portman) is interrogated by Lomax (Benedict Wong), the film cuts to a meteor rocketing toward Earth. The "camera" is positioned right behind it such that the screen is engulfed in the flame of its passing. And the soundtrack? No theater rumbling roar or ear shattering scream that we often hear in movies (whether scientifically possible or not). Just a plaintive acoustic guitar.
It's beautiful, but as we'll come to realize, hugely significant.
I haven't read Jeff VanderMeer's book on which this film is based, but my understanding is that this adaptation follows a very different track. That's probably not surprising to fans of Alex Garland. He's a filmmaker who's both a lover of genre and fiercely independent. This is only his second feature as director, though he's written a number of projects, including Danny Boyle's "28 Days Later." If you saw "Ex Machina," Garland's directorial debut – and you should if you haven't – it'll give you a sense of his fertile imagination as well as the chilly intellectual and emotional temperature of "Annihilation."
Lena's husband, a serviceman named Kane (Oscar Isaac), returns home after being presumed KIA while on a secret mission. He's disoriented – he can't tell Lena where he was, what he was doing, or how long he's been back. As he's rushed to the hospital after convulsing and coughing up blood, his ambulance is intercepted by a government agency. Lena learns that her husband was investigating the meteor crash site, which is located at a lighthouse in the southern coastal United States. A large, membranous bubble has formed around it and it's expanding. The area is appropriately deemed "the Shimmer." Many have gone in to investigate, but Kane is the only person to have come back. A group of women is to be sent on a research mission, the theory being that all previous teams have been men or mix gendered, so maybe changing this variable will change the result. The group consists of psychologist Dr. Ventress (Jennifer Jason Leigh), paramedic Anya (Gina Rodriguez), and scientists Cass (Tuva Novotny) and Josie (Tessa Thompson). And now Lena.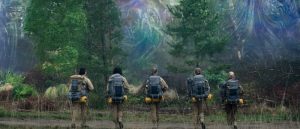 Astonishingly, the film carries a price tag of $40 million. It looks like it cost twice that much. Garland and his collaborators – production designer Mark Digby, set decorator Michelle Day, and cinematographer Rob Hardy among them – craft visuals that are at once horrifying and alluring. A man seemingly exploded from inside, like something out of Ridley Scott's "Alien," with his remains spread across the wall of a drained pool. The remains themselves have developed pastel-colored growths resembling mold or coral. Many shots include a prismatic glare, sunlight filtered through the Shimmer, indicating the pervasiveness of this presence. And there's a scene involving a bear that I won't spoil here, but suffice it to say it hit me on a deeply existential level. It's not terrifying in the look-out-there's-a-knife-wielding-maniac-behind-you way. It's terrifying in the sense that what you're seeing and hearing – especially hearing – shouldn't be. And yet, there it is.
Indeed, "Annihilation" is a thrilling and disturbing slice of Lovecraftian cosmic horror. In part, it's about how the universe is, at best, indifferent. And at worst? Well, you'll just have to see. But the film is also about the intersection between creation and destruction (or…annihilation). On a cellular level, a relationship level and a societal level. One character has cancer, another cuts herself, "to feel alive." Still another has engaged in an affair. And as the women go farther into the Shimmer, the group dynamic begins to break down. Dr. Ventress describes these impulses explicitly: "Almost none of us commit suicide, and almost all of us self-destruct."
The Shimmer itself is capable of rearranging genetic codes and combining them with others. When told that it's destroying everything, Lena counters that it's creating something new. But this is most chillingly dramatized in a scene involving the team member who cuts herself. For the first time in the film, she wears a short-sleeve shirt and we see the scars on her arms. Then something happens – something new comes of that destruction. It's beautiful and will also send a shiver down your spine.
I've been kicking myself that I didn't get this review out while the film was in theaters. Paramount Pictures gave it a modest marketing push and sold off the international rights to Netflix. They were concerned that the film was too cerebral and whacko for major box office success, and so viewers weren't able to see it on a big screen outside the US. But having re-visited it on disc at home, it absolutely holds up. Studios rarely make science fiction films of this sort – big, ambitious, smart, genuinely disturbing. And when they're this good, it's important to support them.