The Fighting Movie is Dead
The artistic value of video media is debatable. When we consider it low art, we call them movies. When we want to indulge their pretensions to be high art, they are cinema or film.
This trick isn't available to all movies though. Action movies, and fighting movies in particular, are unlikely to be considered high art.
That is a loss to high art though, because fight scenes can be truly well done.
Every Frame a Painting has this wonderful explainer of why Jackie Chan movies work:
Jackie Chan - How to Do Action Comedy
Jackie Chan's work, in contrast to most modern American fight scenes, is comprehensible. This means
– You can see where Jackie is.
– You know how many opponents there are and where they are.
– Time progresses normally. It isn't sped up or slowed down.
– The camera perspective doesn't change. If it does change, it does not disorient the viewer.
Compare this with any Bourne movie. All fight scenes are disorientinig to the viewer. You don't have any sense of where people's bodies are. Things like punches are sped up to make them appear super-human. The lighting in the room is replaced with a strobe. The scene is undexposed. Finally, the musical score overpowers any attempt to make sense of what is going on in any more detail than the general idea that Matt Damon is probably beating someone up.
Here's the first Bourne fight scene I found:
Jason Bourne - Bourne vs. the Asset Scene (10/10) | Movieclips
Obviously, these scenes work for a lot of people, but if you care about the choreography of fighting, there is nothing here for you to learn. The implied movements are supernaturally fast. You don't have a solid sense of who has the upper hand when. Appendages are rarely visible. You don't know where in the dark hallway they are or where they are moving. Things are happening, but you don't know why they are happening. There's nothing you can learn from this. It's clear no one involved really needs to be fighting at all, because no action is shown from start to finish. You don't see a person getting punched. You just see reactions and sounds accompanying implied violence. That the violence comes across as intense is an impression not supported by what is actually on screen when viewed critically.
Compare that Bourne scene to this fight from Crouching Tiger, Hidden Dragon:
卧虎藏龙 Crouching Tiger Hidden Dragon [BEST Fight Scene]
Here, we see a fight that is literally supernatural. The actors sometimes do floaty things, and the whole thing is impressionistic. Even so, it's a delight to watch and we actually see fewer signs of supernatural abilities than in the Bourne clip. Yes, there are cuts in the film to allow for the use of stunt actors, but we at least can follow what is supposed to be happening. We see multiple attacks on the same camera take before it switches. Many aspects of the fight scenes in Crouching Tiger, Hidden Dragon are inferior to a Jackie Chan movie, but it's at least succeeding in conveying the content of its fight scenes, in ways the Bourne movies can't be bothered to attempt.
All this is to say that fight scenes can be good or bad. Among bad ones, however, the light saber battle between Obi-Wan Kenobi and Anakin Skywalker deserves some sort of medal starting at about 4 minutes into this clip.

The fight presumably happens in a very interesting location--a lava planet wrapped with danger. Nevertheless, none of it touches the green-screened fighters. When they fight balancing on a tripwire-width beam, they fight exactly the same way they do everywhere else. When scalding steam erupts near them, they are unfazed. When they balance on unstable rock floating in molten lava, they do not sweat.
One could argue these things don't matter because they are Jedi, but if they don't matter, they shouldn't be in that location. (Additionally, Anakin is burned to a crisp at the end, so apparently these things do matter.) The true reason the characters do not interact with the scenery is because they are not in the scenery. They are in a green room and the scenery is generated in a computer somewhere. The actors can not interact with what is not there, and the filmmakers certainly weren't going to put in the work to make it appear that they could.
That's in our past though. Could we ever see a resurgence of good fight scenes?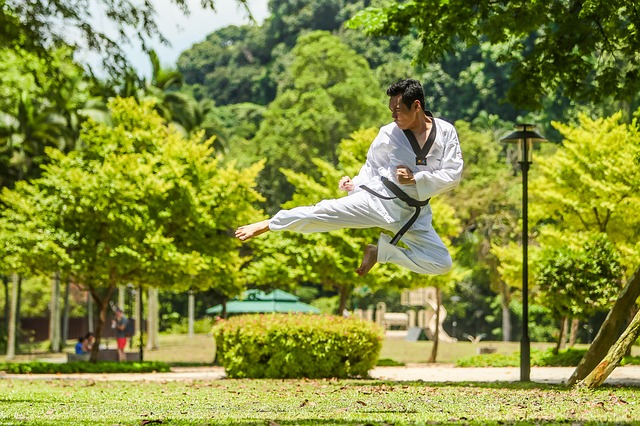 The evidence is not promising. I grew up watching in amazement at Jackie Chan. Now, children and adults alike pay good money to see Robert Downey Junior pretend to fly around and pretend to hit things. Computer animation has improved greatly from the Star Wars prequel movies, and viewers seem to find such fights more satisfying to watch than choreography grounded in what the human body itself can perform. Viewers interested in such work have to turn to American Ninja Warrior and the like. It seems now that the true fighting movie is dead.