The Uses and Abuses of Donuts
Rape of the Lock(e)
It is thus, like a ship by its sails and wind, is the body by agents twain and diverse carried along.  –Lucretius

Looking Southward, blinking against the gelid light of noontide, half astride and half perpendicular to Locke Street, we angle our way to file between fatty packs of middle aged brawlers clustered on street corner launching pads waiting for a signal. She in her belly shirt and knit cloche hat, and I in a windbreaker and somewhat absurd silk scarf; we look unserious and I catch the flinty glares of a few very serious men. The air is charged with the promise of violence- "threat" would be a lying word- and it crackles with energy. The mood is like that before a schoolyard fight or a July 4th fireworks display that is running late to begin. The police file past in constant blue and yellow waves. All I want is breakfast: French toast and eggs Neptune with a pint of beer for the nerves. In the 1920s, the Communists and Fascist groups swelled and broke against one another in the streets of Berlin, Rome, and across Europe, vying for the trajectory of Western Civilization, since expired. In 2018, they are vying for a donut shop.
What mighty quarrels arise from trivial things. –Alexander Pope
This is a post about group dynamics and how they coalesce around in-groups and out-groups over the issue of gentrification.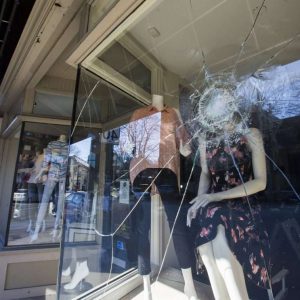 This is the attention grabbing lede: Twas a frigid night one month prior, Saturday, 3 March, that a brigade of twenty young people in black clothes and masks marched down this street of high end boutiques, lighting off fireworks and lobbing rocks through plate glass windows from behind a banner reading "We are the Ungovernables". Especially hard hit was a gourmet donut shop called "Donut Monster" that shed all of its windows and became a symbol of the city's resilience in the face of vandalism. Police eventually arrived in force and the group fled the scene, abandoning their black clothing and masks as they went. It's perhaps telling that, while the horde made no statement of principles or even why they were marching, nearly everyone has assumed their target was "gentrification".
I suggested, unhelpfully it seems, that the mob might have thought they were fighting an actual donut monster.
This is burying the lede: Three days later, Tuesday, 6 March, upwards of 200 people met at the Central Library in Hamilton to discuss the City's Planning and Urban Development "Plan for Downtown Development". The downtown core of Hamilton (where I live) has become a celebrated "hot spot" for condo building in recent years, so rezoning is to be expected. What was striking about the plan was the extent to which the city gave developers leeway to rebuild a large portion of downtown with condos of over thirty stories. Any bargaining power the city government could have used to shape development in a way that benefits residents was thereby surrendered before any negotiations could begin.
 By contrast, many cities in the United States have addressed the problems caused by gentrification by demanding concessions on the part of developers: You must build one low-income apartment for every ten luxury condos, etc. In Ontario, this sort of bargaining is done with what are called "Section 37 funds" given by developers and used to finance public art, affordable housing, parks and recreational facilities. However, the Hamilton plan has been called a "blank cheque" for developers.  To quote a local website:
The common thread is that this plan is great for developers and investors and not so great for average people. There are fears of displacement of the poor, elderly, and immigrant populations that currently live downtown. There are also concerns about shrinking green spaces, destruction of heritage builds, loss of the arts and culture scene, and more.
The March 6th meeting aimed to draft a positive, productive, workable response to the City's plan, dubbing it "The People's Plan for Development". Artists, activists, business owners, social workers, musicians, and other concerned residents brainstormed in focus groups to come up with proposals that both accept the benefits of development and aim to shape the course that development unfolds. I took part in the Music Community focus group and found it a positive experience. Most of our concerns were subsequently addressed in the final plan, albeit in a somewhat toothless way.*
The local news media did not cover this meeting to any extent.

2. Lord of the Fryer
By contrast, the spree of vandalism was covered every day for two weeks in the local newspaper, The Hamilton Spectator, often with multiple articles. The city government held an emergency meeting to denounce the vandals as "terrorists". The paper bizarrely demanded that a local coffee shop where "anarchists" probably held meetings five years ago prove that the owners weren't involved in the vandalism The local anarchist collective The Tower, which held an "anarchist book fair" the same weekend was accused of being connected, vandalized repeatedly, broken into, ransacked, and saw its members assaulted by "alt-right" gangs and finally arrested for possible conspiracy in the Donut Shop Riots.
Local outrage radiated outwards to the police for not using force, the public school that allowed anarchists to hold a book fair, "Antifa", "Marxists", "welfare recipients" and a local heavy metal bar where the regulars also wear black. More positively, locals rallied around the shops with benefit concerts and organized days of shopping, also well-covered by the local media. Prime Minister and selfie model Justin Trudeau even came and had a donut from the shop.
One month later, my girlfriend and I came looking for breakfast, on the same morning that local anti-immigrant, white identity groups had organized a "Patriot March" for the street with hopes of confrontations with anti-fascist groups. In response, the police shut down the street with a full battalion of officers, including many from surrounding cities, so that there would be no clash as the alt-righters ate their pastries. A friend joked about pestering the shop owners: "No, do you have white powder donuts? White powder! I'm looking for white powder!"
As another friend, Simon Orpana, aptly summarized it, "the police temporarily turned my neighbourhood into a de facto gated community in order to protect private property and let some neo-nazis buy expensive donuts."
3. The Fear
         Now, let's talk about fear. It's easy to understand why people are tense in this town. When I began paying a mortgage a little over a decade ago, our house went for around $170,000 and we were told we were "crazy" to move to this "dirty" blue-collar town. Now, the house, which my ex-wife occupies, would be valued around $500,000 in this "gritty" gentrifying city. Then, we were told it was cheaper to own a house than pay rent. Now, I am told a working class man like myself will never again afford a house in this town.
When I left my wife about five years ago, an apartment rented for $650/month. Now, the norm is over $1,000. We pay $1,150 for two bedrooms and have been told the market rate should be more like $1,400- by our landlord, naturally! So, we anticipate the new owners will try to evict us at some point. A two-bedroom apartment in a nearby building that was recently purchased by the "CLV property management group" now rents for an absurd $1,860 a month, and is notably smaller and tackier than ours. (That company, incidentally, is now experiencing a rent strike in two other buildings they recently purchased in town in order to do what are called "reno-victions" and nearly double the rent)*.
And it's a heyday for evictions. Ontario law offers tenants some protections, along with one major loophole for landlords: a landlord can evict if he plans to move in himself or a family member. So, many will simply evict the tenant, do renovations, "change their mind about moving in", and raise the rent to whatever they think the market will bear. Another popular strategy is to make cosmetic improvements and claim them as capital expenditures in order to raise the rent past the guideline legal rate of 1,5%. Finally, there's old fashioned harassment. A friend's hot water has been off for five months. Elevators in buildings are shut off indefinitely, laundry rooms remain locked- things that are basically illegal, but working people rarely fight against. One friend's mother fears complaining about the black mold in her building in case the landlord decides to evict her and claim Aunt Tilly needs the room.
Understand that this is a predominantly working class city, for generations, and that many of the people who live here are on the margins already. Now, understand that the "demographic shift" happening is a concerted effort to push these people off the edge of the table and replace them with their social betters from Toronto. What is happening here is something the Guardian, among others, calls "second hand gentrification": it's not being driven by major growth in our local industries, but by an influx of people who can no longer afford to live in nearby Toronto moving here and making a "bedroom community".
Couple this with the decades-old effort by employers to phase out luxuries like overtime pay, benefits, regular scheduling, and pensions… Well, you can see why, after a certain point, every other conversation you have with a local is about the fear that seems to seep into your bones. It starts to occupy all of your thoughts. It turns up in your dreams. It seduces you in some way. Finally, it feels like you're boiling in fear all of the time.
There has been a steady drumbeat of hype in Hamilton about "growth" and "revitalization" for the last few years, about pumping new life into a moribund body. Even articulating these fears feels like an unburdening and an act of defiance because it's so at odds with the "legitimate" view on the "revitalization" of Hamilton. In that Guardian article, a University of Toronto professor states: "As a direct result of Toronto's gentrification, Hamilton too is gentrifying – and I think you'd be hard-pushed to find anyone who would see that as a bad thing." It's hard to imagine a better expression of hegemony: not only is the other opinion invalid; but nobody actually holds it.

4. Glazed New World*
Which brings us back to donuts. It is completely understandable why people would be outraged and upset by hooliganism and vandals. After all, they targeted local small businesses at a time in which many locals already feel threatened, and really they targeted exactly the wrong people, blaming small donut makers for the fairly concerted actions of landlords, property developers, property management firms, and investors.
But the intensity and duration of that outrage seemed disproportionate somehow. Reading locals calling to burn down these kids' homes with them inside was a bit unnerving. It felt more like a neurotic symptom- Freud's "return of the repressed", an unleashing of pent-up anxieties. My friend Simon also noted, at one point, the similarities between the neo-Nazis and anarchists: they both fear that "outsiders" are coming in and pushing them out because it's the only way they can articulate the reality that they are, in fact, being pushed out. We all are.
What has happened in cities over the past three decades parallels what I watched happen in Universities. Previously, these were places where people would go seeking possibilities and resources they couldn't find at home: creative, social, sexual, intellectual, economic, or familial. Increasingly, though, those places have been made into the domain of a specific class and those resources have been filtered upwards and away from all other classes. The suburbanization of the cities that we call "gentrification" has really been about the class divide and has been justified by the same sort of vague bullshit about "market forces" that generally serves as an ideological justification for siphoning resources upwards. In fact, that is as good a definition as any for what gets called "neoliberalism": vague bullshit about market forces being used as an ideological justification for siphoning common resources upwards. The end result, in the cases of universities and cities, is that places that were once democratic commons are increasingly becoming luxury items for those who can afford them.
And, unfortunately, all the donuts in the world won't change that.
Postscript: Good news. The final draft of the Downtown Plan for Development was a marked improvement over the draft issued in October. Unfortunately, the new plan tries to make all sides happy by using language like "encouraging"- as in "encouraging" developers to build affordable housing and "encouraging" new condos to be greener in their building. It has, however, incensed local builders by bringing back in measures to trade height for Section 37 funds.

In fact, the very first line on the CLV homepage claims they are "one of the top choices for investors who are looking to minimize risk and maximize return on investment." Purchasing existing buildings and greatly increasing the rents seems to be their business model, judging by conversations I've had with current residents in Hamilton and Burlington.
Okay I am sorry for some of the puns. I will note that I (almost) refrained from "Donut Quixote".