I Have a Beautiful Dream
I have a beautiful dream. My dream is that Flagstaff, my hometown, could become more beautiful as it grows. This is likely to seem a little strange to most Americans, who associate population growth with traffic congestion and sprawl. It probably also seems strange to my fellow citizens of Flagstaff, who have complained and protested about much of the recent growth, especially the large student housing projects that have accompanied the growth in enrollment at the local university.
A few years ago, I used to see bumper stickers sporting the slogan: Don't PHX FLG. Most residents of Flagstaff prefer the smaller, quieter feel of our college town to the unending sprawl of the Phoenix area. I do too. However, growth is coming, has come, whether we want it to or not. I see this not as a crisis, but an opportunity, and I think we can do something different from what we are doing now.
We could choose to do something different than the kind of development that we see now, and preserve what is distinctive about Flagstaff, what draws people here despite a relatively high cost of living, and ease the pains of growing a bit.
Background of Flagstaff's growth
My family moved to Flagstaff in 1984. In the years since, the population of Flagstaff has approximately doubled, from around 35,000 in the early 1980s, to more than 70,000 now. The Flagstaff Metropolitan Statistical Area, the surrounding unincorporated communities whose residents often work and shop here, also approximately doubled over that same time period, going from 75,000 to 148,000.
This rate of growth has been slower than the rate of growth for Arizona as a whole for the same time period. I could hazard a guess that this is because of how much it costs to live here, compared to the Phoenix area. Population growth has been accompanied by a surge in housing prices as well. During the housing crash of 2008, prices did not fall as far, and recovered far more quickly here than elsewhere. The median house price here is $350,000, compared to $230,000 for Phoenix, the most populous city in the state.
The cost of rental housing tells a similar tale. Rents are often more than a mortgage payment on a property, so investment properties abound, both long-term and short-term rentals. One hears stories of buyers offering cash for single family homes the moment they go on the market.
So why do people want to come here so badly? The economy is OK, but Flagstaff doesn't have a reputation as a hot jobs market. What Flagstaff does have is natural beauty and a pleasant climate. Outdoor sports enthusiasts find a lot to like here. Both mountain and road biking are excellent, as well as hiking and rock climbing. The high altitude attracts athletes in training for major sports events. In addition, this is a college town with a highly educated populace. The USGS Astrogeology Science Center is located here, along with three observatories. There are six microbreweries in town, many of them located in a high-density historic downtown district.
Downtown Flagstaff is one of my favorite places. Lots of restaurants and shops. Parks. Historic buildings, people watching, summer festivals. The pink gothic chapel I married my wife in. This is the place to be in Flagstaff.
I have pondered how we could have more of the good things that Flagstaff's downtown district has. I think we could both expand what we have, and perhaps even grow similar urban centers in other parts of town.
The example that follows was inspired by Andrew Price's article, "Let's Infill a Traditional Neighborhood".
The core of downtown Flagstaff is very close to what Andrew describes as a quality urban neighborhood
Mostly fine-grained blocks and lots
Mostly narrow streets for people
A mixture of land uses
The city block just west of the pink chapel is where I am going to conduct my thought experiment in development. The property used to house the Catholic K-8 school, which just moved to a brand-new building. There is also a historic house on the property, which I'll entertain moving because it is a grand old home.
There is a large open park a block away. A grocery store is half a mile, a bit on the far side, but pretty close. In the summer, the farmer's market is only two blocks, so that is plus. Of course, lots of restaurants and bars are within easy walking distance. The hospital, one of the biggest employers in town, is also half a mile away. Northern Arizona University, the next biggest employer, is further, but this is an easy bike or bus ride.
In reality, this lot isn't available any longer, but we are going to proceed as if it were. The location is perfect for what we want. It is just outside the densest part of downtown, and we can use the whole block for our purposes. The block is 300 feet square, giving us 90,000 square feet, or just over two acres to work with.
Just like with a neighborhood of single family homes, we are going to purchase land in bulk and subdivide it into lots for sale. There are a variety of ways we could do so. I picked a simple crossing pattern that gives some smaller streets intended for people on the inside of the block. It is possible to get a vehicle into the streets if you need to, but that isn't what they are intended to be for. Since this is a relatively small block, that should work fine.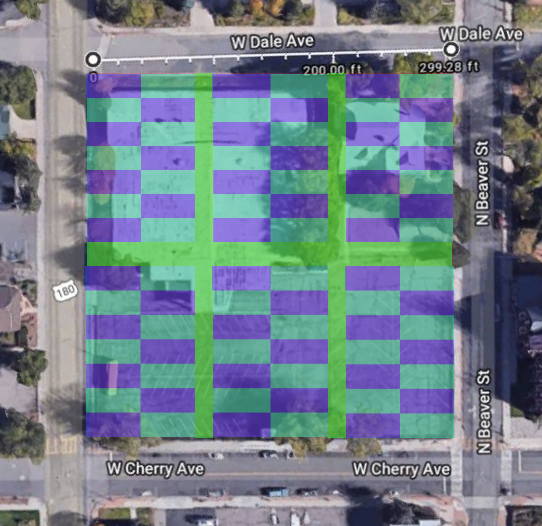 The wider east-west street is 20 feet wide, and the two narrower north-south streets are 15 feet. That is about the scale we are looking for, and it divides up our space into eighty-four 20 x 45 foot lots, or 900 square feet each. This is very small for Flagstaff, except for the core of downtown. 25 foot shop fronts are common, and this is exactly the scale we are going for.
#streetoftheday London, U.K. pic.twitter.com/fLLdOmiKjt

— Nathan Lewis (@NathanNWE) May 17, 2016
https://platform.twitter.com/widgets.js
So what can we do with 900 square feet? That is the size of the apartment I lived in when I was first married, two bedrooms, two bathrooms. Except we can go up, two or three stories seems reasonable for this location. Looking outside of Flagstaff, there are high density urban centers that have multistory townhouses on lots this small, or even smaller. Like this one in Jersey City, a place I have been recently.
We could easily fill out this space with townhouses averaging 3 bedrooms, and even have some room left for courtyards. I'll copy Andrew's methodology for estimating costs, except I'll substitute in what I know of Flagstaff costs instead of Hoboken costs.
| | | | |
| --- | --- | --- | --- |
| | $ per square foot | Square feet | Total cost in $ |
| Land | N/A | N/A | $1,200,000 |
| Construction | $120 | 226,800 | $27,216,000 |
| Paving | $15 | 14,400 | $216,000 |
| Legal, engineering, planning | N/A | N/A | $5,443,200 |
| Total | N/A | N/A | $32,875,200 |
Here are the assumptions I am making:
The three roads fill up 14400 square feet.
The houses average three stories
The cost of construction is around $120 per square foot. This is the most significant element in the total cost, and consequently the final profit. If you go with $150 per square foot, the profit goes down to $7 million. Not nothing, but a lot less.
Assume a sale price of each home of $215 per square foot, which seems reasonable in Flagstaff for a condo/townhouse right now
| | | | |
| --- | --- | --- | --- |
| | $ per square foot | Square feet | Total revenue in $ |
| Sales | $215 | 226,800 | $48,762,000 |
| Profit | N/A | N/A | $15,886,800 |
That is a lot of money! Except, this is a thought experiment, and we should remember this is not my speciality. In particular, this proposal does not meet the current zoning for this parcel in many ways. For example, the lot coverage is too high, 84%, with a maximum allowed of 80%. Also, I didn't include any parking at all. This was on purpose, because I wanted to look at what the value of a parking spot really is.
Let's look at some of these requirements in detail [keeping in mind that I am just an interested amateur and this is not what I do for a living].
For T5-O, transect 5 open as defined by the Flagstaff Zoning Code, we need 1 parking space per 1,500 square feet of residential uses, and a number for business uses that varies depending on the square footage. I had been considering reserving a couple of parcels for a small green grocer, and perhaps a coffee shop, and rooftop bar, so why don't we go with that and see what it gets us?
If we lose 4,500 square feet to retail uses, that leaves us needing about 150 parking spaces. If we assume 350 square feet are needed to for each space, including access and whatnot we end up with about 52,000 square feet required. Oof. Even if we go with three or four stories in a parking structure, that will be about a third of the total block. That seems like too much to me.
I suspect this is why we don't actually see much walkable urban construction in Flagstaff. The parking requirements make it functionally impossible. I do know that a plan was submitted for luxury apartments on the same block I am considering. They were later withdrawn, and the reason I heard was that the geological survey wouldn't allow for underground parking, which was needed for the 328[!] planned parking spaces.
I am going to suggest a compromise, with ground level tandem garages in each townhome built. We could either lose living space to the garage, or add one story to the overall height. Four stories is allowable in this zone, but three might be easier to get built. We could also add a small parking structure on the north side for visitors and shoppers. We could give up about half of the north center block, 5,400 square feet on the first floor, which would be fifteen spots, a little less with ADA accessible spaces. We could still put some apartments over top though, so we would lose less. Let's see what that would cost us:
| | | | |
| --- | --- | --- | --- |
| | $ per square foot | Square feet | Total cost in $ |
| Land | N/A | N/A | $1,200,000 |
| Construction | $120 | 219,600 | $27,216,000 |
| Parking | $65 | 58,500 | $3,802,500 |
| Paving | $15 | 14,400 | $216,000 |
| Legal, engineering, planning | N/A | N/A | $5,270,400 |
| | | | |
| Total | N/A | N/A | $35,640,900 |
| | | | |
I ignored the retail space in calculating sales. If we assume $150 per square foot construction costs, the profit drops to $2.7 million. Now we are getting very sensitive to construction prices.
| | | | |
| --- | --- | --- | --- |
| | $ per square foot | Square feet | Total revenue in $ |
| Sales | $215 | 215,100 | $46,246,500 |
| Profit | N/A | N/A | $10,605,600 |
I think this is still doable, but it illustrates that this kind of thing is super sensitive to the number of parking spaces required, and the cost of construction. Anything that helps keep those two things down will result in more profit, and consequently an easier sell to the people who put up the money to build things like this.
There are some things I didn't get into here, like the requirement for at least two different plat sizes, or the need for some kind of HOA to take care of snow clearance, trash, and whatever kind of landscaping we put in. However, I think these things don't change the essential character of what we are looking at. In principle, the Flagstaff zoning code allows for things like this, but in practice it isn't getting built. Instead, we get stuff like this:
It meets the code, but it is widely disliked. I think we can do better.
It is clearly pretty hard to get right, and at the moment, most of the energy of people who care about this kind of thing is focused on opposing zoning changes, asking for bigger setbacks, insisting on more parking and bigger streets. I think this is counterproductive, it actually produces more of what we don't want, as developers try to meet market demand by building higher within the spaces we have allowed them.
Instead, I think we ought to be trying to make it easier [and more profitable!] to build the kind of things we really want, instead of trying to put even more restrictions on the builders of the (very necessary) extra housing. Density isn't really the problem, but it potentially is the solution. The 3 or 4 story townhomes I have suggested could have a density of of around 210 bedrooms in just over two acres. This could be even higher with apartments instead of townhomes. If we built them close to where people wanted to be, we could make more of our valuable space into homes, business, and parks, instead of parking lots.
I have a beautiful dream, but it doesn't have to just be a dream.