Weekend!
There was a meme floating around a while back that was pretty funny.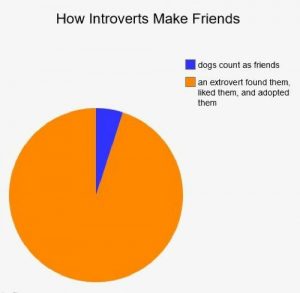 As an introvert, this resonates with me. I find myself in a strange place, though, where I am one of those introverts who has started doing something with groups of people EVERY WEEKEND and I find myself asking "how did this happen?"
To the best of my knowledge, I haven't been adopted recently.
I mean, when it comes to human interaction, it's nice to go out to dinner with Maribou and/or see a movie with her (or a different movie at or around the same time that she's seeing on in an adjacent theater). Perhaps going with her to run some errands and turn walking up and down the aisles into a date in its own right by discussing exactly how many different colored pens in a Costco colored pen set is too many different colors. After that, though, my idea of a good day is one spent in a dark room and getting up every hour or so to switch loads of laundry over and then, when the last load of laundry is done, going back to spend time in the dark room without getting up at all. Maybe to pee.
And so it is with saying that that, once again, I'm doing stuff this weekend with groups of people. Friday Night is a Work Morale Event. We're doing a quarterly celebration of the birthdays with an Official VR night. Last weekend was just the dress rehearsal. This weekend is The Real Thing. We're going to be playing Star Trek Bridge Commander, Job Simulator, and we're going to do Keep Talking and Nobody Explodes.
This last one is an asymmetrical party game where one person has a bomb in front of them and everybody else has the manual. It's the job of the people with the manual to walk the person in the headset through disarming the bomb. Succeed and you don't blow up.
(We'll also have a second rig in the corner for people who just want to play quietly and maybe experience stuff like Skyrim or The Blu without the raucous jumping up and down or spinning around or yelling that those other games entail.)
And then Saturday is the gaming night and we're going to be playing our Superheroes.
And then Sunday is a little AA baseball game down at the stadium.
And through it all, we're going to have to do all of the little things like going to the pet store or Costco or King Soopers for the weeklies.
That means that laundry will consist of starting something, then leaving. Coming home after the doing something, then swapping loads over. Perhaps Sunday night will hold some time spent sitting in a darkened room.
So… what's on your docket?
(Image is "Play" by Clare Briggs. Used with permission of the Briggs estate.)