The Magic of Ben Shapiro
Ben Shapiro recently tackled the firing of Kevin Williamson from The Atlantic via a Twitter rant. He expanded on his tweets in a National Review column. Shapiro's thread made me want to do a deep dive into his archive of writing, which isn't an easy task given how prolific Shapiro is as a writer. As a disclaimer, I disagree with most of Shapiro's political views, but the columns I'm going to highlight are ones that stood out in the context of his tweets.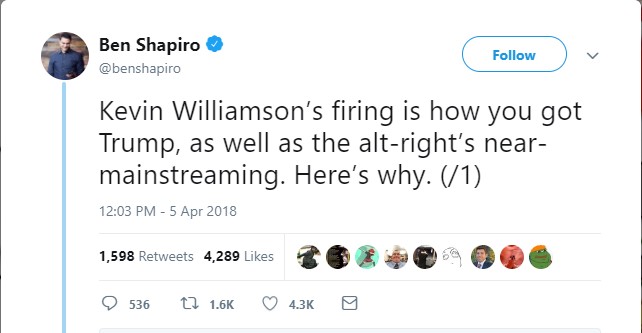 The first place I want to start is the very specific question of "How we got Trump" – the latest answer to that question for Shapiro is Kevin Williamson's firing from The Atlantic. Of course, from now until 2021, anything from Lena Dunham, Antifa, or the campus left will also be the answer to this question for Shapiro. However, can he admit that part of how we got Trump was the "mainstreaming" of him as a serious political candidate? Did anyone do that better than Shapiro v.2011 when he advocated for Trump as the 2012 Republican nominee?
Even more telling than simply advocating for Trump was Shapiro's justification for his endorsement. He rules out the eventual nominee, Mitt Romney, solely because of his support for RomneyCare in Massachusetts. He argues that "though brilliant, Newt Gingrich is chameleonic and impossible to peg down to principle; therefore, he's unacceptable to many primary voters." He rules out the other nominees for various reasons, and ultimately gets to who he thinks is the "ideal" candidate: Donald Trump. Shapiro's support for Trump doesn't come in spite of birtherism; in fact, he sees birtherism as a tool that Trump can effectively use in a primary and a general election.
In reality, the birth certificate issue is specifically geared toward certain political ends for Trump. First, it is obviously calculated to attract the most anti-Obama segment of the conservative base — and it has already succeeded, if primary polling is any indicator. Second, it is designed to force Obama into defending his character — Trump has already suggested that at best, Obama refuses to come clean with the American people. Finally, it shows Obama that if Trump is nominated, the campaign will not be a McCain-style hands-off lovefest. It will be a knockdown drag-out brawl. Trump will stop emphasizing the birth certificate issue, to be sure, but not until he's milked it for all it is worth.

Is Donald Trump the best Republican candidate for president out there? It would be tough to argue otherwise. He's got all the makings of a breakout star; he's got bravado and the cash to back it up. If he really runs, he won't have any trouble finding supporters. And as he puts it, he is the Obama administration's "worst nightmare." So far, who can argue with him?
This isn't surprising – I don't think Shapiro was ever a birther overtly, but he did think that the conspiracy could be used politically. As late as May 2012, Shapiro was feigning outrage that the media was suppressing an Obama "born in Kenya" story even though Breitbart itself (which published a story about a 1991 bio) didn't feel like it was evidence that Obama was in fact, born in Kenya.
Shapiro did milk Obama's past in other ways, though. He had no problems dabbling in the "maybe Obama is secretly an Islamist" cesspool. Here is what he wrote about Obama's childhood and his current political base:
First, they tell us that he always had — and still has — a tremendous love for Islam and radical Muslims. Obama famously described the Islamic call to prayer as "one of the prettiest sounds on Earth at sunset." Traveling to an Islamist country would scare most people — for Obama, it was like traveling back to his childhood. It's no wonder that Obama took the opportunity to bash Israel while in Jakarta, Indonesia, this week — that, too, must have brought back nostalgic memories.

Second, Obama's childhood shows us that he was comfortable with militant homosexuals, black racists and communists/socialists, along with radical Islamists. That's an odd combination for a child, but Obama had an odd childhood. And that conglomeration of interests — gay rights militants, black racists, socialists and radical Muslims — now form the core of Obama's idealistic base.
By July 2015, Shapiro was no longer on the Trump bandwagon, and like many other pundits, he believed that Trump no longer had any chance to win a Republican primary. However, he still wrote that the presence of Trump provided a positive opportunity for Republicans. Among the reasons why? He generates attention (he'll come to regret that one), attacks the media, and channels anger.
Trump Generates Attention. Former New York Mayor Rudy Giuliani recently pointed out, "Trump is in that debate, it's going to get three times the audience." That's exactly right. Primary debates aren't exclusively designed to help Republicans pick their candidate – the debates are also designed to allow future general election voters to get first impressions of the other candidates. The more direct contact between voters and candidates without the filter of the media, the better. Furthermore, Republicans have been caught in the vice of media malpractice when it comes to issues like illegal immigration: the media won't cover such issues unless a Republican makes a mistake, in which case the cameras descend en masse. Trump solves that conundrum: he says outrageous things, the media show up, and the other candidates get a chance to speak rationally on topics the media nearly always ignore. Never underestimate the benefit of someone who can bring busloads of media down to Laredo, Texas just to listen to him talk.

Trump Attacks The Media. In 2012, Newt Gingrich played the designated anti-media attack dog. He did it well, and he did it effectively: it moved him to the top of the polls. Trump does the same now. He has rhetorically punched members of the media ranging from CNN's Anderson Cooper to MSNBC and Telemundo's Jose Diaz Balart. He seems uncowed by media pressure – in fact, he embraces it. Were Trump not attacking the media, someone else would have to do it. Thankfully, other Republicans like Carly Fiorina have jumped on the anti-media bandwagon, and are punching just as effectively – or even more effectively – than The Donald.

Trump Channels Anger. Republicans seem pathologically fearful of the anger of their base. Taught by the media that "angry white men" cannot fuel a party, they instead insist that they will out-compassion the left, a foolhardy proposition given that the left's only calling card is compassion. Never mind that the left has consistently fueled its campaigns with rage against George W. Bush, "white privilege," sexism, and other built-up monsters. The right has internalized criticisms that it must never humor the justified anger of its base. Not Trump. Trump embraces the feeling of frustration from the base, and does so in unapologetic fashion. That unapologetic nature is attractive to conservatives who feel as though they have elected Republicans, then watched those same Republicans surrender again and again. Other Republicans should watch Trump's outrage-channeling and take notes.
By May 2016, Shapiro had now evolved past the "Trump can be useful to us" narrative and published a scathing column that only he could write without any sense of irony: Conservative Leaders Who Back Trump Shouldn't be Leaders of the Conservative Future. The entire column is a fairly amusing one given Shapiro's past, but the best part is how he concludes the article:
This is a clarifying election. We've learned that certain media members were willing to sell out long-held principles for ratings. We've learned that certain conservative voters were willing to let conservatism go by the wayside to hero worship a godking. Now we're learning that the Republican leadership is everything we thought they were. We will remember their names. It's time for a new brand of conservative leadership – and those who kowtow to Trump shouldn't be a part of it.
Now, defenders of Shapiro will say that he's not on the Trump bandwagon any longer and to some extent this is true – I regard him as a mostly anti-anti-Trump figure. The real problem I have with Shapiro is that he's intellectually dishonest, hypocritical, and highly prone to hyperbole.
Nathan Robinson broke this down in his column – Shapiro has never been a free speech absolutist. During the Bush era, when it was the anti-war left triggering conservatives, a 22-year old Shapiro (2nd year Harvard Law at the time) argued for reinstating sedition laws. Part of his argument? We won World War II with internment camps but "during the Vietnam War, the Supreme Court repeatedly upheld the free speech rights of war opponents, whether those opponents distributed leaflets depicting the rape of the Statue of Liberty or wore jackets emblazoned with the slogan F— the Draft. America lost the Vietnam War."
Perhaps this callousness towards Japanese internment helps explain his column where he argued that the Supreme Court decision upholding the Affordable Care Act (ACA) (specifically, the individual mandate) was the worst ruling since Dred Scott. In his own words, the decision was worse than Plessy vs. Ferguson, Buck vs. Bell, and Korematsu vs. United States. Notably, in this column, he never mentions Roe vs. Wade. An interesting omission, though I would argue a deliberate one. I think even he realized that his readers would be confused about why someone who believes abortion is equal to murder somehow thinks that the ACA decision was worse than Roe vs. Wade (both on moral and legal grounds). This type of hyperbole is incredibly common in Shapiro's writing. For instance, he argues that the US Preventive Services Task Force standards are somehow going to lead to death panels because he disagreed with their evidenced-based recommendations on prostate and breast cancer screenings.
Another consistent theme in his writing is that the left overuses terms like racist, fascist, Nazi, etc. In fact, in his thread about Williamson, he argues that the left's use of these words against mainstream conservatives benefits the alt-right. Not too long ago, he also wrote a column criticizing the media for trying to label Trump as a racist.
Perhaps Trump is a racist. Perhaps not. Either way, we can have a productive conversation about whether particular Trump statements or actions are racist. But we can't have a productive conversation that starts from the premise that Trump is a racist overall, and that every action he takes and every statement he makes is therefore covered with the patina of racism. That conversation is about insults, not truth.

None of this excuses Trump's idiotic and obscene statements. And none of it means that the media are wrong to criticize those statements. But applying the "racist" tag to Trump as a human being isn't journalism. It's laziness and opportunism masquerading as bravery. And it only alienates Americans who would prefer to analyze events and statements with clear eyes, rather than through the prism of Trump's supposed bigotry.
While I don't necessarily agree that labeling Trump a racist is out of line, I do agree to an extent that we should judge him on his appointments, his policies, and the bills he signs. Quite frankly, I don't really care about what is in Trump's heart. It's the same reason I don't care about his private positions on abortion or LGBT rights. I just care about the end product. But Shapiro didn't have any problems with labels when it came to the Obama administration. While he didn't explicitly call Obama a racist, he did call his administration racist and argued that Obama was trying to push a race war against whites.
The Obama administration is racist. They are using that racism to let black criminals off the hook, justify illegal immigration, hamstring law enforcement across the country, and push redistribution as a solution to supposed continuing discrimination against "people of color." The predictable result of this policy will resemble the results of the 1876 election: federal abdication on racial violence, state abdication on racial violence and local abdication on racial violence. The next race war will come not from racist whites, but from racist blacks and Hispanics who feel empowered to act on their racism by an administration that excuses all minority misbehavior.
Based on the paragraph above, I would argue that Shapiro has been wrong for chastising the left and the Black Lives Matter movement for pushing the narrative that systemic racism still exists. At the highest levels of government, including the President and the Department of Justice, systemic racism was happening under Obama… against whites.
The narrative that Obama was cultivating a race war or that he was acting on his anti-colonial instincts made Shapiro turn even trivial decisions (e.g., renaming Mount McKinley) into huge stories – usually by neglecting to provide historical context (either deliberately or because of confirmation bias). He writes:
He did not explain the decision, which frustrated Ohio legislators upset at the slap at President William McKinley's legacy; he is expected to speak on the topic today in Anchorage. Sen. Lisa Murkowski (R-AK) thanked Obama, however, stating, "For centuries, Alaskans have known this majestic mountain as the 'Great One.' Today we are honored to be able to officially recognize the mountain as Denali."

Why did Obama choose to change the name now? Presumably because Obama has now solved all the world's problems, and decided against his second choice, Mt. Trayvon. But more seriously, Obama likely opposes the legacy of President McKinley, given that McKinley led America to victory in the Spanish-American War and rejected inflation by sticking with the gold standard. By the end of McKinley's tenure, the United States had taken military control of Cuba, Puerto Rico, Guam, the Philippines, and annexed Hawaii.

Assassinated in 1901, McKinley, who presided over an economic boom and massive growth in American power, once stated, "We need Hawaii just as much and a good deal more than we did California. It is manifest destiny." Regarding the Spanish-American War, McKinley explained that Cuba "ought to be free and independent." Obama would have opposed both moves.
Shapiro hinted at it with the Murkowski line, but what he fails to mention is that Alaskans had long supported the name change. In 1975, the Governor of Alaska (following a resolution passed by the state legislature) formally requested that the Secretary of the Interior direct the United States Board on Geographic Names to change the name of "Mount McKinley" to "Denali." Various Republican Congressman over the years have tried sponsoring resolutions in Congress to change the name. When Obama finally did sign the Executive Order, Republican Senators Lisa Murkowski and Dan Sullivan both supported the name change as well as the Independent Alaskan Governor, Bill Walker.
When it came to anti-Semitism, Shapiro wasn't quite as generous in terms of the way he labeled Obama. Not only were his administration's actions anti-Israel, Obama himself was an anti-Semite. Just a few notable headlines: The Jew-Hating Obama Administration, The Presidential Anti-Semite Strikes Again, Barack Obama Proves His Anti-Semitism. I guess in this case, applying the "anti-Semite" tag to Obama as a human was "journalism and not laziness masquerading as bravery." Amusingly, a very common right-wing criticism of the left (and one that I actually agree with) is that Democrats refer to conservative minorities as Uncle Toms. But Shapiro essentially does this exact thing when referring to Jewish people who voted for Obama – to quote him, they are "Jews in Name Only."
As far as overusing terms, it would be hard to point out every Shapiro article where he labels Obama as one extreme thing or another, but here are just a few instances on Twitter where Shapiro refers to Obama as an anti-Semite, a Marxist, or a fascist.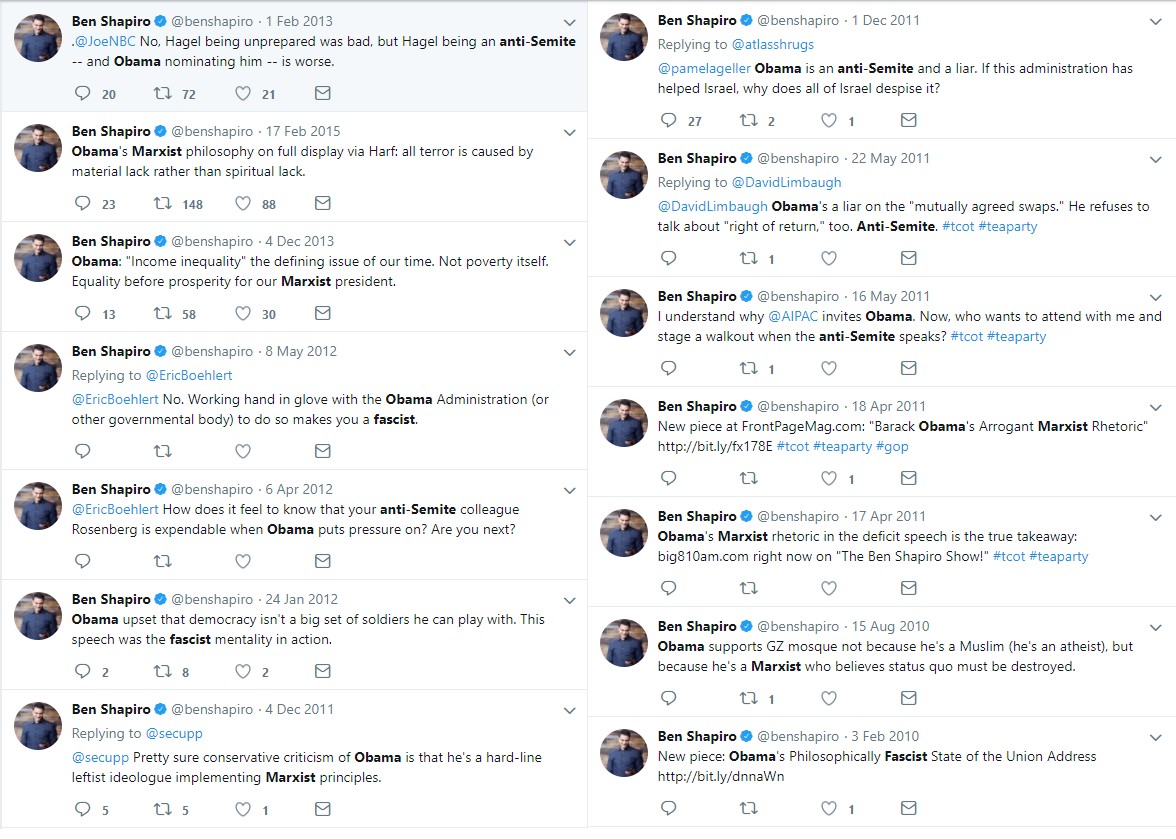 The aforementioned hyperbole is a hallmark of Shapiro's inability to write with any level of nuance. Here is just another small sample of Shapiro's headlines:
Why the Left Bears Responsibility for the Arizona Shootings
Why Hillary and Obama Prefer Islam to Christianity
The Right to Try: How the FDA Is Killing Americans
Antonin Scalia's Death Could Mark End of Constitution
Stephen Colbert's Vile Political Blackface
What is even more frustrating is that Shapiro never demonstrates any sense of self-reflection or regret. For instance, he missed an opportunity in his column about the aftermath of the Marjory Stoneman Douglas High School shooting to cite himself as an example of why you shouldn't allow teenagers to have national platforms to discuss public policy. He would know best – as an 18-year old nationally syndicated columnist, he wrote a column with the headline: Enemy 'civilian casualties' ok by me. He started that column with the following introduction:
I am getting really sick of people who whine about "civilian casualties." Maybe I'm a hard-hearted guy, but when I see in the newspapers that civilians in Afghanistan or the West Bank were killed by American or Israeli troops, I don't really care. In fact, I would rather that the good guys use the Air Force to kill the bad guys, even if that means some civilians get killed along the way. One American soldier is worth far more than an Afghan civilian. For the past decade, the United States and Israel have been attempting to prove their moral superiority by attempting to minimize civilian casualties. That's all well and good. Unfortunately, this policy also means that politicians put our soldiers in harm's way in order to save "non-combatants."
The "How we got Trump" point is overplayed, and the real answer is certainly multifactorial, but my contention is that Shapiro and others like him helped cultivate an environment in which Trump could be successful within the conservative movement. The irony is two-fold – first, Shapiro doesn't seem to realize or care about what he helped build. If you listened to his latest speech at CPAC, almost the entirety of it focused on channeling audience anger towards the left and attacking the media. Second, the very methods he criticizes the left for using, he employs. If you accept his premise that the reactionary right has only emerged because of the left, then you should at least acknowledge the danger of radicalization of the left if you use the very tactics you bemoan.
Finally, Shapiro isn't going away. He'll be one of the most influential conservatives of the next 25 years. He'll have tremendous influence on young conservatives, particularly because of his college campus speeches. His books are bestsellers, and he churns out several columns a week across different outlets, including his own site, The Daily Wire. His podcast is one of the most popular in the country and he just received radio syndication. This is unfortunate, because for a lot of us on the left and hopefully some on the right, we wish people would take Shapiro's advice: Don't allow conservatives like him, who once backed Trump, to ever have a future in conservatism.