Sacramento Police Department Murders/Executes/Kills Stephon Clark
The Story
On Sunday, March 18, 2018, the Sacramento Police Department received a report that somebody had smashed out a truck's windows. The SPD sent two officers to investigate, then summoned at least one more set of eyes in the air via helicopter. Upon arriving to investigate, the two officers saw somebody in a driveway, but at no point do they identify themselves. Although ordered to show his hands, the man fled. Police pursued, while the eyes in the helicopter advised that the individual had picked up a "toolbar" and had smashed out a window. The officers cornered Stephon Clark in his grandmother's backyard. Both officers had their guns drawn. The officers ordered Clark to show his hands, and within seconds, one of the two officers screamed, "Gun, gun, gun!" The officers shot at Clark, ultimately firing twenty times in his direction.
Clark would die shortly after. A subsequent search of the area would reveal neither the reported "toolbar" or the "Gun, gun, gun!" that would justify the officers' actions.
In a subsequent search, police found a cellphone nearby. Clark's girlfriend had loaned it to him. It was in a rose-gold colored case and featured a clip for holding onto credit cards. As of this writing, California law does not declare it illegal to be in possession of a cellphone, even a borrowed one. And, even if possessing such a phone were illegal, it would almost certainly not be considered a capital offense.
The Aftermath
All of the following has happened since Clark's murder/execution/killing:
The SPD released footage of Clark's final moments. It can be seen here. It is not easy to watch. It features police officers making an almost instantaneous decision to end a man's life based on a wildly incorrect assessment.
The SPD also refused to explain why officers muted their body cameras in the aftermath of Clark's killing. One of the officers can plainly be heard telling the other to mute their worn cameras – to keep them running, in other words, but with audio no longer being recorded – without any explanation for why such an action would be necessary.
Sacramento's mayor, while desperate to calm a tense situation engulfing his community, inexplicably declared that he was not in a position to even question his actions taken by SPD officers, declaring, "Based on the videos alone, I cannot second-guess the split-second decisions of our officers and I'm not going to do that."
Protestors shut down the Golden 1 Center, the home arena of the NBA's Sacramento Kings, immediately before a game against the Atlanta Hawks was set to begin. Numerous fans were turned away from the venue as a result. Vivek Ranadive subsequently addressed the few fans who made it into the arena before the protest began, and the accompanying television cameras, with comments that did not make a bad situation worse. Ranadive called the incident a "horrible, horrible tragedy" and acknowledged the power of peaceful protest.
Protests have been an almost daily phenomenon in California's capital city, with residents predictably wanting to know why it is exactly that any of this happened, and with a local government doing it everything it can to quell understandable anger without also admitting any fault of any kind.
What Is Next
If one had to venture a guess about how Clark's story is going to play itself out, the most reasonable guess is this: in the usual way. The officers who murdered/executed/killed Clark will be investigated. Local prosecutors will almost certainly declare that they cannot bring charges against the two officers, whose behavior was justifiable because one of the officers believed that Clark had a gun, even if he actually did not. A less likely outcome is that local prosecutors will charge and prosecute both officers, but local juries will end up excusing both of them, using the same, "It didn't matter that he didn't have a gun, because they thought that he did have a gun," justification that local prosecutors tend to use themselves. Clark's family will then sue the city, which will settle out of court for several million dollars.
Meanwhile, all of the following questions will never be satisfactorily answered:
Why did officers pursue Clark with their guns drawn, and why did they not announce themselves?
Why did officers decide to mute their cameras just as they were figuring out that Clark was unarmed?
Why did officers decide that Clark's phone was actually either a "toolbar" or a "Gun, gun, gun!" and why was Clark given no opportunity at all to account for himself?
More broadly, why is it the case, in all interactions between the police and the policed, that only the police are allowed to feel, and react to, fear? Why are the policed not allowed to fear the police, and why are they expected to, in all cases, give police the benefit of the doubt (at the risk of their own lives), when they themselves receive nothing similar in return?
And finally, why is it that officers can so often restrain themselves from killing some suspects – Nikolas Cruz, for example, is still alive, and was arrested without a shot being fired, despite having killed 17 people moments earlier – but not others? What is the fundamental difference between somebody like Dylann Roof, who was arrested alive with no shots fired, and Clark? Would it have helped Clark if he had been more like James Holmes, who, like Cruz and Roof, was arrested alive with no shots fired?
Media Coverage
Before police had shot Clark, before they even knew who he was, they had received a description of somebody six-feet tall, in a black hoodie. One of the more popular images circulating of Clark is this one, below: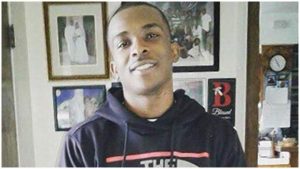 That's Clark, in a black hoodie. There is something off-putting about the attempt to so perfectly match Clark to the description of the suspect. It is worth noting that the SPD has not clarified if Clark was, beyond being unarmed, actually the man they were searching for. But it is also off-putting because that isn't the entire photo. That one is cropped, and although it hopefully was not done with any sort of malicious intent, it does not pack the punch that the uncropped original does: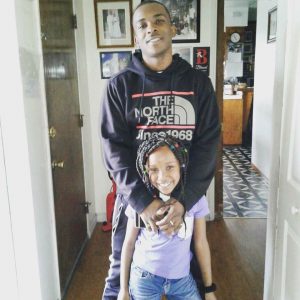 That is Clark with his younger sister. He happens to be wearing a black hoodie.