Weekend!
Life is difficult.
That's the opening to Dr. M. Scott Peck's book "The Road Less Travelled".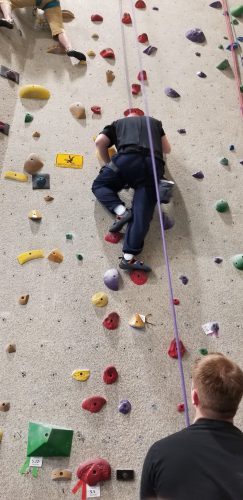 His opening in full says:
Life is difficult. This is a great truth, one of the greatest truths. It is a great truth because once we truly see this truth, we transcend it. Once we truly know that life is difficult-once we truly understand and accept it-then life is no longer difficult. Because once it is accepted, the fact that life is difficult no longer matters.
Now, I'm not sure that I am willing to agree with everywhere he went from that first line… I mean, "the fact that life is difficult no longer matters"? Stealing a base or three, Doc.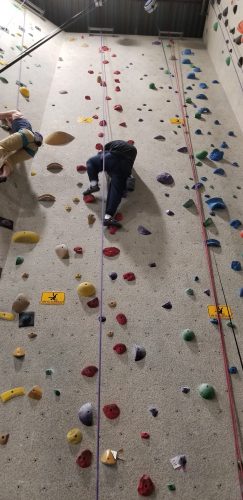 But that first line? That first line sticks with me and, yeah. I find that it's something that, when I remember it, it is something that helps me get unstuck when I get stuck. Well, sometimes. Sometimes I just get stuck. But sometimes, when I get unstuck, it's because I was able to take a step back and remember something as simple as life being difficult.
And sometimes, when I fail at something, I remember that life is difficult and then I try it again. Then, sometimes, I get better at it the next time and fail at a further point. And then, again, at a further one yet.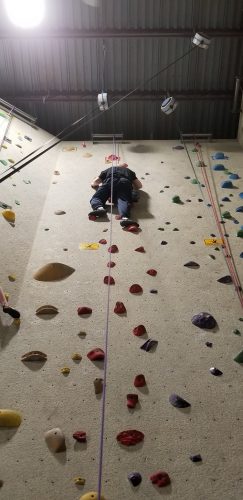 So I got a membership at the rock climbing gym. I'm a full-fledged member, now. Which means that I can go to the gym whenever I want and it's part of my membership.
So this weekend, I'm probably going to go to the gym for a *THIRD* time this week.
I mean, if I stop hurting.
So… what's on your docket?
(Image is "Play" by Clare Briggs. Used with permission of the Briggs estate.)