Briefly, On Andrew Sullivan, Katie Roiphe, and Due Process
(Editorial content note: There is a brief but graphic description of child sexual abuse at one point in this post. It's a photo of text.  I think it's pretty clear that it's coming up from the body of the post, but wanted to make a note in case you're one of those folks whose eyes skip to the pictures first.– Maribou)
Authorial note: Because it is now impossible to keep up with the current flow of national news, this post will be hopelessly out of date by the time it is published. Such is the ebb and flow of the current culture.
#MeToo and The Shitty Media Men List
A quick primer: in October 2017, #MeToo started trending on Twitter. It presented an opportunity for women to speak publicly, to whatever extent they wanted, about their experiences with everything from harassment to sexual assault. That same month, the Shitty Media Men list was created; it was an anonymously-sourced document describing the behavior of various men in media. It was created as a warning for other women, allowing them to know what to expect when interacting with the men listed.
Predictably, almost immediately after this meteoric outpouring of women speaking openly about their experiences, the inevitable backlash began. It was led, as these things so often are, by aggrieved men and sympathetic women, both of whom believed that women speaking freely on such matters risked the well-being of innocent, or perhaps clumsy, men. It was a hell of a claim. Among the critics voicing these concerns were Andrew Sullivan and Katie Roiphe.
Andrew Sullivan
Sullivan wanted the world to know that the #MeToo movement had gone too far. Although he objected to a great many things about the movement, the one that seemed to trouble him the most was its alleged refusal to embrace due process. It was an odd complaint given that the movement seemed to be constructed around the idea that due process could not be trusted, but here was Sullivan, repeatedly appearing to insist that women were obliged to simply quietly endure everything that they were unwilling to provide men the opportunity to rebut.
His examples included Moira Donegan's Shitty Media Men list. Sullivan was outraged that it even existed:
"It's worth recalling here exactly what she and others did. They created an online forum in which anonymous people could make accusations about men whose careers and reputations would potentially be destroyed as a consequence."
Ignore, for a moment, that Sullivan appears to be less concerned with what had happened to the women who created and contributed to the list, and more concerned with the men whose reputations might be hurt by appearing on it. That is a current that runs throughout so much of the ongoing objections to the list ever having even been created. Instead, focus on this bizarre passage:
It includes charges that have absolutely nothing to do with workplace harassment. Someone is accused of "creepy DMs or texts especially when drunk," "weird lunch dates," or "being handsy — at the very least — with women at parties." One man is accused of "secretly removing condom during sex," with no claim of workplace misconduct at all. Another is damned for "flirting," another for taking "credit for ideas of women of color," another for "multiple employee affairs, inappropriate conversation, in general a huge disgusting sleaze ball." And this chorus of minor offenses is on the same list as brutal rapes, physical assaults, brazen threats, unspeakable cruelty, violence, and misogyny.
That Sullivan apparently views "secretly removing condom during sex" as a "minor offense" gives away an apparent ignorance about what might be concerning to women, although he later apologized, barely.* And that he thinks women are obliged to endure men who send creepy direct messages and who get handsy at parties is its own oddity. It is perhaps unreasonable to expect Sullivan to have any familiarity at all with what women report experiencing, for a variety of different reasons. More interesting perhaps is that Sullivan's commitment to intentionally ignoring the list's intent. Donegan has been entirely frank about why the list was created: to offer women in media information that they would not otherwise have about the men that they might interact with. Think of it as Consumer Reports in a world where no such document would otherwise exist. The information would allow its readers to make more informed options about the men they might interact with. Those disinterested in receiving "creepy DMs" might choose not to share their phone numbers, for example. Donegan was explicit about this too:
In October, I created a Google spreadsheet called "Shitty Media Men" that collected a range of rumors and allegations of sexual misconduct, much of it violent, by men in magazines and publishing. The anonymous, crowdsourced document was a first attempt at solving what has seemed like an intractable problem: how women can protect ourselves from sexual harassment and assault.
Sullivan either skipped that paragraph, or did not bother grappling with what it said, as he viewed the list as McCarthyism:
The act of anonymously disseminating serious allegations about people's sex lives as a means to destroy their careers and livelihoods has long gone by a simple name. It's called McCarthyism, and the people behind the list engaged in it.
And because that was not enough of an accusation – again, the list's creator made it very clear why the list was created – Sullivan doubled down to insist Donegan, and those that contributed to it, believed that what they were really doing was fighting the patriarchy, almost as if they were simply using their own safety as a cloak for their real intent:  
Sure, they believed they were doing good — but the McCarthyites, in a similar panic about communism, did as well. They believe they are fighting an insidious, ubiquitous evil — the patriarchy — just as the extreme anti-Communists in the 1950s believed that commies were everywhere and so foul they didn't deserve a presumption of innocence, or simple human decency.
It is a hell of a thing that Sullivan, seemingly with a straight face, manages to insist that Donegan (who created a Google Spreadsheet designed to give women information they would not otherwise have) is the moral equivalent of McCarthyites (government actors who were fully empowered to root out and then punish Communists using the power of the state itself) before, in his very next breath, insisting that men are owed the presumption of innocence and human decency that women attempting to protect themselves are not. 
Two weeks ago, Sullivan went back to the well. He rampaged again about the importance of due process and the presumption of innocence, and he once against implicitly reminded his readers that he apparently believes, with a genuinely heartfelt sincerity, that men are owed women's ignorance, that women warning other women is worse than women walking blindly into potentially dangerous situations, that it is unfair to men if women can make more informed decisions about which men to risk interacting with. Sullivan remains furious that Donegan continues to not apologize, despite him having insisted upon it:
"Moira Donegan has yet to express misgivings about possibly smearing the innocent — because the cause is far more important than individual fairness. Besides, if they're innocent, they'll be fine!"
The "cause," as Sullivan writes derisively, is the literal safety of women, although as he has already made clear, he is not convinced that these women have much of anything to worry about. He has described much sexual harassment as ham-fisted attempts at flirtation, which is, of course, an entirely normal way to describe behavior that he neither knows or understands. Confronted by women telling him that the list was created to document dangerous behavior, Sullivan concludes that these women are lying, and that they are obliged to remain quiet instead, lest an innocent man suffer even slightly for his behavior having been misconstrued. Men, in Sullivan's world, trump women. He writes as much below, making it clear that he believes that male reputation is of far greater concern than female safety, burying his claim within an apparent belief that Western civilization was founded upon willful ignorance.
"And yet this principle of preferring ten guilty people to go free rather than one innocent person to be found guilty was not so long ago a definition of Western civilization."
"Found guilty" is particularly instructive here, as Sullivan – just as he did when he compared Donegan to McCarthyites – seems to think that one woman telling other women about a potentially dangerous man is, or at least ought to be, the equivalent of American jurisprudence. Sullivan then goes farther, conflating an attempt by women to protect themselves with a broader cultural conversation about who does and does not benefit from our structures as they currently exist:
The idea of individual merit — as opposed to various forms of unearned "privilege" — is increasingly suspect. The Enlightenment principles that formed the bedrock of the American experiment — untrammeled free speech, due process, individual (rather than group) rights — are now routinely understood as mere masks for "white male" power, code words for the oppression of women and nonwhites.
That Sullivan looks at the American experiment and imagines that untrammeled free speech, due process, and individual rights were ever part of its bedrock is, on its face, ridiculous. Our national history tells us that, right from the jump, these were things only afforded to some. Everybody else has had to fight, and continue to fight, for the same. And then look closely at that first bedrock idea: untrammeled free speech. Sullivan, it would seem, is all for an untrammeled free speech right until the point at which it starts saying things that he does not like, as is the case with Donegan's. Of course, women like Donegan creating a spreadsheet is the free-est speech imaginable, but Sullivan views it only as a threat to men, one that must be eliminated and apologized for. Untrammeled free speech for him, Sullivan seems to be saying, but not for her. This fits within his broader project though. After all, Sullivan would rather sacrifice ten women to abuse than even consider the possibility of risking one man's reputation. 
Katie Roiphe
Sullivan's fury extended beyond Donegan and #MeToo. It also extended to the reception that Katie Roiphe has received since staking out her own position in opposition to both #MeToo generally, and Donegan specifically. Roiphe, it should be noted, has spent her career focusing her fire on women, insisting repeatedly that they are at fault for how they are treated, and objecting to the idea that women are victims of anything. Roiphe came in for specific criticism this time around because she hatched a plan to out Donegan in the pages of Harper's Magazine (before Donegan voluntarily outed herself), which was all part of her broader assault on what she considered to be the excesses of #MeToo movement. Those excesses were crystallized by Donegan's list: its existence unjustly risked the lives and reputation of men.
Sullivan has repeatedly defended Roiphe. He blustered about an attempt to undermine Roiphe's proposed outing, insisting with a straight face that Nicole Cliff's willingness to purchase articles that had been slated for publication in Harper's Magazine was itself an act of anti-speech sabotage designed to "silence" Roiphe and end her career, whatever that means; once again, we see somebody's free expression (Cliff's willingness to outbid Harpers) as untenable and unacceptable, whereas Roiphe's plan to out Donegan is not. Sullivan used Roiphe's example as one to pillory anybody who has defended both #MeToo and the list's existence. Sullivan's alleged concern is that the response to Roiphe "chills open debate" although it is not too terribly difficult to note that this formulation of open debate is one in which Sullivan (or people he agrees with) speaks freely, and those that they disagree with do not speak at all.
Roiphe's thinking is in remarkable lockstep with Sullivan's. In a podcast with Slate, Roiphe unbelievably compares the reaction she received to threatening to out Donegan (something she first lied about having done before then insisting the threat was actually the factchecker's fault) to Alfred Dreyfus, a claim as histrionic as Sullivan's insistence that the list itself was McCarthyism. Dreyfus, it should be noted, spent years in jail on false charges, whereas Roiphe's changed article did appear in Harper's Magazine and then she appeared on the aforementioned Slate Podcast, and in other publications, and for somebody who was being silenced, nobody had a very difficult time hearing from her.
Roiphe, echoing Sullivan, wants us to believe that her foremost concern is due process. She said as much at Slate:
To me, that's sort of depressing, along with what I see as a lack of interest in due process. To me, it would seem important that any man who's accused of something has a fair hearing, and that we give them the benefit of our American judicial system, which does presume innocence. There is a little bit of impatience with that due process, which also makes me nervous.
And again here:
To me that idea, that kind of shadowy accusation, does remind me of the Hollywood blacklist, does remind me of the most hysterical or we could say shameful moments in American history, where we are sort of abandoning our principles. Even if it's not death or prison, it's just losing their job, obviously for many people that's a pretty terrifying prospect. So I think there are some things about the list that are legitimately creepy.
Forget the principles for a moment: note what Roiphe finds "creepy" is the existence of the list itself, but not the men on it accused of sending "creepy" DMs, which Roiphe (like Sullivan) likens to clumsy attempts at romance rather than a red-flag, as if women are supposed to know, without any additional information that something like the list might have provided, the substantive difference between the two. Then, in just the same way that Sullivan did, Roiphe reveals that her belief in free speech seems to become negotiable just as soon as she is done talking.
There are a very large number of people who are setting the conversation who really think, and they do believe, that someone like me who should be reviled from humanity and cast out, shouldn't be allowed to write for a magazine. The mere mention of my name means I should be boycotted or fired. There is a Stalinist element to that, I have to say. It's a lack of belief in freedom of expression.
Roiphe, like Sullivan, seems to actually believe that the importance of free expression ends immediately after she has freely expressed her belief that those opposing her are themselves edging up against actual Stalinism. Free expression, in this case, seems involve Roiphe getting to say and do whatever she wants, without criticism or pushback, or even competition, all while those who disagree with her remain silent. It is an odd form of free expression, one that is frustratingly absurd.
Perhaps the bigger issue here is the idea that Donegan, the other women who contributed to the list, and women in general owe men whatever due process that Sullivan and Roiphe are imagining. Both of them obviously believe deeply that men are owed such treatment in all matters. And unless these men are given this opportunity for due process, women must agree to remain silent. Sullivan and Roiphe would both deny women the ability to warn one another of potential danger before they would ever consider risking the possibility than an otherwise innocent man might be misidentified. And this they pin on Enlightenment principles, which oddly seem to benefit them while restricting those who disagree. 
This, though, misunderstands both the #MeToo movement and the list's existence. Neither exist because of a contempt for due process; they exist because due process routinely and predictably tends to fail in favor of abusive men.
Due Process (Larry Nassar and Rob Porter)
Sullivan and Roiphe want the world to believe that the women backing #MeToo, including Donegan, are being unnecessarily unfair to men. Surely, if these women were willing to realize this inherent unfairness, they might realize that they are risking false positives, and would be willing to either tread more carefully or abandon the effort altogether. This is an odd implication.
Start first with Donegan. She made it clear that the issue is not that she has not considered due process, but rather, that due process routinely fails specifically because it is designed to fail, Enlightenment principles or not. Donegan noted as much when she wrote:
The police are notoriously inept at handling sexual-assault cases. Human-resources departments, in offices that have them, are tasked not with protecting employees but with shielding the company from liability — meaning that in the frequent occasion that the offender is a member of management and the victim is not, HR's priorities lie with the accused. When a reporting channel has enforcement power, like an HR department or the police, it also has an obligation to presume innocence.
Donegan is not ducking this issue. She is acknowledging it while noting that the ongoing and persistent failure of due process is what necessitated the list's creation. She knew, as did the list's other contributors, that she could not count on the processes that existed to handle such issues. Had other avenues taken concerns seriously, women would not be forced to create whisper networks in an attempt to protect themselves from aggressive and dangerous behavior. If women could count on police departments or human resources departments, it might not be the case that such a list would ever need to be created. But the failure to take seriously the claims made by abused parties is precisely what forces women to pursue other means of achieving desired outcomes. Sullivan wrote that women like Donegan were abandoning the idea that it is better that ten guilty men go free than one innocent man go to jail; Donegan's retort (which was actually a pretort, given that it came before Sullivan's jeremiad) is that the victims of those ten men matter too, something which Sullivan and Roiphe both seem to willfully ignore (when they are not too busy recontextualizing abuse as men's ham-handed attempts at romantic gestures).
Lest this turn into an academic exercise absent real-world examples, the broader American culture has been busy churning out reasons to be extremely leery of the idea that due process can be counted on to substantively deal with claims of abuse. Yes, there have been plenty of identified abusers – including Harvey Weinstein, Roger Ailes, Bill O'Reilly, Matt Lauer, and so, so many more – but each of them operated for decades, protected by the mechanisms that are allegedly designed to prevent their behavior. Due process repeatedly gave these individuals a thumbs up while victims were left to quietly endure unbelievably objectionable behavior. In those cases, would Sullivan and Roiphe have us believe that due process worked? Wait, do not answer that. Let's go much bigger.
Let's think about Larry Nassar, the doctor convicted of abusing hundreds of his female patients over the course of a decades-long career.
Both Nassar's victims and their parents repeatedly reported his abuses to those with the ability to do anything about it, and at literally every turn, due process failed. Nassar was reported to higher-ups at the United States Olympic Committee and the United States of America Gymnastics, and both repeatedly punted on the issue, assuring parents that Nassar's behavior was perfectly acceptable. Nassar was reported to Michigan State University on multiple occasions, and MSU's repeated conclusion was that Nassar was not molesting athletes. Nassar was reported to various policing agencies, including the Meridian Township Police Department and the Federal Bureau of Investigation, and none of them did anything but choose to believe Nassar and disbelieve his hundreds of victims. Since investigations of Nassar first began, it is estimated that he has abused at least 265 known victims.
Repeatedly and methodically, due process failed these girls, and women, and families. It concluded again and again and again that Nassar was telling the truth, and that all of his victims were lying, and if not lying, then simply incapable of understanding that what had seemed inappropriate was actually medical treatment. Here are literally dozens of stories about the stories that officials everywhere failed to take seriously.
For those wondering what it was exactly that Nassar did, it was this: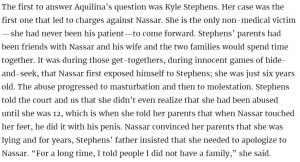 Nassar's victims told the same stories, over and over and over again, and nobody took them seriously, at least until there were so many voices that ignoring them became an impossibility. Do Sullivan and Roiphe account for this sort of systemic failure? Of course not. To them, it is the principle of the thing that matters, not its outcome. As both have made clear, Nassar's behavior having been excused is, presumably, due process working perfectly: claims were investigated and dismissed repeatedly after all. One wonders if either of them believed Nassar was guilty until a court told them so. One wonders if they genuinely believed that it was more important to believe Nassar than it was to believe the more than 100 women who testified at his trials. But one does not wonder too hard.
Is it worth noting that the authorities who repeatedly excused Nassar are the same ones that Donegan was describing above, the ones who put institutions ahead of individuals, the ones who put abusers ahead of the abused? Yes, it absolutely is. Sullivan and Roiphe want to dichotomize this conversation, insisting that there is no middle ground between ten guilty men going free and one innocent man being imprisoned but…actually, let's get back to that.
Nassar is hardly the only case wherein officials in positions of power – cultural, religious, sporting, legal – failed to act in the best interest of victims. There as in here, we see the opposite: due process failing repeatedly as it both excuses abuse and enables abusers. But if Nassar does not put a fine enough point on it, the example of Rob Porter should.
Rob Porter is the now-former White House Staff Secretary. Several weeks ago, rumors started swirling that he had abused both of his previous wives. These rumors were bolstered almost immediately by photographic evidence of Porter's assaults. These assaults themselves prevented Porter from getting a security clearance, something that apparently did not end up stanching his meteoric rise in the Trump Administration. And when all of this became publicly available, his enablers tried desperately to excuse his past behavior, before he ultimately left his job. In the aftermath of his departure, Donald Trump tweeted this:
People's lives are being shattered and destroyed by a mere allegation. Some are true and some are false. Some are old and some are new. There is no recovery for someone falsely accused – life and career are gone. Is there no such thing any longer as Due Process?
The message could not be clearer: men and their reputations are simply more important than women. And if that argument looks familiar, it is because it is precisely the same one that Sullivan and Roiphe are making. To be fair, Sullivan and Roiphe have both been making this argument because they apparently genuinely believe it, or at least, they are both better at putting a veneer on their ask that women trust in a system that has repeatedly failed them; Trump's belief in due process begins and ends with whatever is most beneficial to him at any particular point. But there is no denying that one side in all of this is demanding that men are owed the due process of a system which very routinely ends up protecting those very same men. All three see it as fair that the Enlightenment idea of due process – the very foundation of Western civilization, claimed Sullivan – repeatedly seems to excuse the bad behavior of those who tended to benefit most from that same Enlightenment idea. 
For whatever their shortcomings, and there appear to be very many of them, Sullivan and Roiphe both seem to be smart enough to understand that due process routinely fails to substantively handle issues of abuse. Yet, despite the mountain of available evidence that suggests this faith will go unrewarded, both continue to insist that women – and particularly, younger women – trust in it anyway. This alone is an absurdity.
Sullivan and Roiphe go much, much further. Both want to see these women voluntarily deny themselves the ability to try to protect themselves, insisting that men are owed due process in a court of reputational opinion – a court that does not exist – and that the refusal to do so, coupled with their refusal to cotton to such absurd demands, is evidence of their scant commitment to free expression itself. Which is a hell of an accusation to be making when your fundamental belief is that these particular women have been expressing themselves too freely.
Neither Sullivan nor Roiphe is going to change. They have been at this shtick for decades, both braying loudly at younger people for having the outright audacity to wonder if our cultural norms are really all that great. We see it here, with both going to bat for due process, without ever once acknowledging that maybe it is not working as well as advertised –nevermind that girls and women are being hurt as a result. Sullivan and Roiphe worry incessantly about the possibility of misidentifying an innocent party, and cannot be bothered to be troubled at all when entirely guilty parties go free. "This is what it means to have ideals!" both scream to those who, like themselves, would prefer to believe that it is the kids who are the problem.  
It remains entirely unclear what Sullivan and Roiphe would prefer that women do, or if they would simply prefer that women not do, or say, anything at all. What is clear is what we do know: that both are opposed to women warning one another about dangerous men in a methodical way, that their belief in free expressions ends (curiously) as soon as they are done freely expressing themselves, that their belief in idea of due process matters more to them than does the systemic failure of due process, and that, ultimately, their belief is focused far more intensely on reputations of men than in the safety of women.
As long as this commitment to men continues – as long as the needs and wants and desires of men are considered more important than the realities of what women face – this will not go away, and the commitment to due process that both Sullivan and Roiphe demand of those that they criticize will only get more tenuous. Such is the damage done by refusing to listen, to account, to reckon, and to struggle with a principle's shortcomings, no matter how obvious those shortcomings are. Such too is the fundamentalism of refusing to acknowledge, even for a second, that maybe something needs to change.
___
*Sullivan would later insist that he had not intended for the sentence to be read in the way that it was written, but apologized nonetheless. But because heaven forbid Sullivan admit that he had (badly) screwed up, he added this:
"to note that such charges had nothing to do with sexual harassment or abuse of power – which meant that the movement had morphed into policing sex outside the workplace."
He wrote this without acknowledging that Donegan had specifically dealt with the idea that the list was only meant to capture the things that happened within an office's walls:
Last summer, I saw two of the most notorious of these men clutching beers and laughing together at a party for a magazine in Brooklyn. "Doesn't everyone know about them?" another woman whispered to me. "I can't believe they're still invited to these things." But of course we could believe it. By then, we'd become resigned to the knowledge that men like them were invited everywhere.
It Sullivan does understand that secretly removing a condom during sex is not, in fact, a "minor offense," then he can damned sure figure out why women might want to know if a man was prone to engaging in such behavior, whether or not that behavior was occurring within an office's four walls.